It's arguably the most important piece of furniture in the house. From family time in front of the TV to social gatherings, it all happens on the sofa. Buying a sofa might not seem like the hardest task, but there's a lot more that goes into finding that perfect mix of comfort and style. We give you the inside knowledge on what to look for when buying a sofa.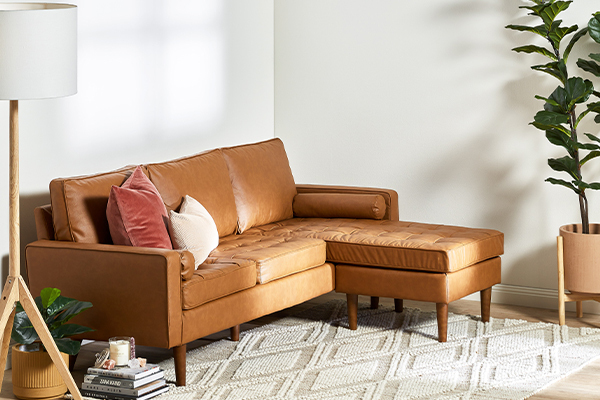 Questions to ask yourself when buying a sofa
- How many people will be using the sofa on a daily basis?
- How do they all sit - straight, curled up or with their feet tucked under?
- Do you want a sofa that you can fully recline on?
- How big is the space for the sofa?
- Do you have pets or children or are you prone to spills?
These are all important for determining comfort levels, durability and how it will sit in the room. People who like to nap or read might like something a little more plush and families with young children might opt for something easy to clean. It's all well and good to buy a sofa that you like, but if it doesn't meet your lifestyle needs you'll inevitably end up regretting the purchase.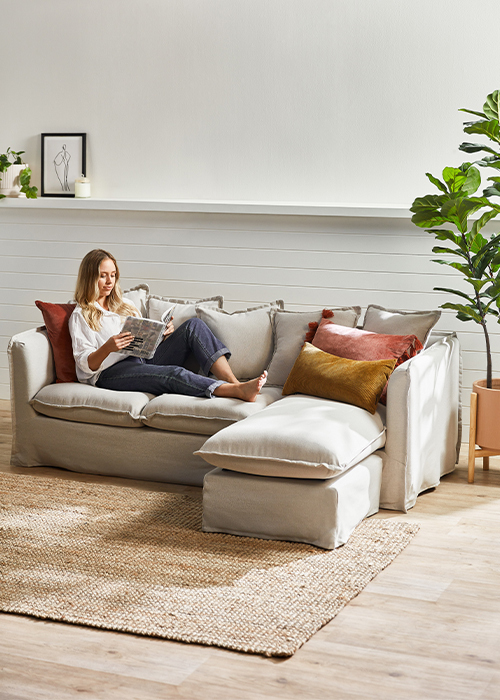 Why is sofa length important?
The length that you choose is important to both how many people you expect to be using the sofa regularly and how much space the room has to house it. If there is only one or two of you living in the home, a l
oveseat
or
2
-seater
will be more than sufficient for day to day, especially if you're lacking space. Just ensure that you have other seating like an
ottoman
if you expect to host guests. If you do have the room though, consider a
3-seater sofa
for two-person households, so you both have ample room to relax when sitting together.
Sectionals, chaise or modular sofas
tend to be a bit larger and work well for families or households that host a lot. There's plenty of room for people to sit upright or even a few people to lie flat, making it a great social sofa. They're also great for sectioning off an open plan room, separating the living space from the kitchen or dining space. Be sure your room has enough space for this type of sofa, accounting for the arms and extra space for
side tables
or
coffee tables
.
Reclining sofas
are a better option for people who enjoy stretching out but live in a smaller space. You can have a two- or three-seater sofa with varying reclining options, making it easy for individuals to choose their own level of comfort. You'll need to make sure there is enough distance between the edge of the seat and any coffee tables so legs and feet aren't injured when the footrest comes up.
Then there are
sofa beds
, which usually come in either two- or three-seater length. These are a great option if your home doesn't have a guest room, or can even be fun for a cosy movie night.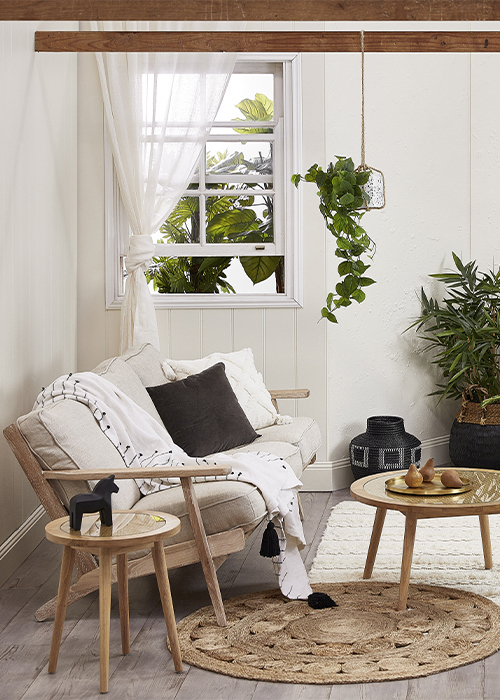 How do you work out sofa seat depth?
Don't confuse your seat depth with the sofa's overall depth. The seat depth is the space in which you occupy when seated; it measures from the front of the seat cushion to the back cushion rather than to the back of the sofa. For ultimate comfort, the seat should allow you to sit easily without a cushion supporting your back, your thighs should be supported and your knees should be bent at a 90-degree angle.
The average sofa's seat depth is around 53-60cm. If you tend to sit more upright, go for a seat depth between 50-55cm, or if you like to slump into the cushions or lie down, consider a seat depth of 58-66cm. Keep in mind that
decorative cushions
will decrease the seat depth.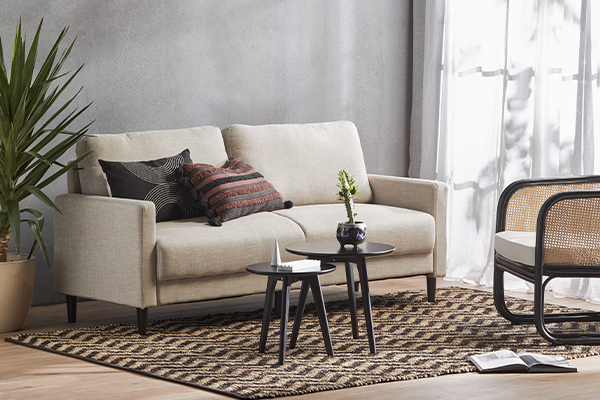 Determining the correct seat height for sofas
Seat height refers to the distance from the floor to the top of the seat cushion, which can range between 38-50cm. This is important for ensuring that your feet reach the floor and your thighs rest comfortably on the cushion. However, you'll also need to factor in the firmness of the cushions; if they're quite soft you will sink in, making the height while seated lower than you originally thought. Depth is also important to consider, as a deep sofa will be harder to get out of the lower it is.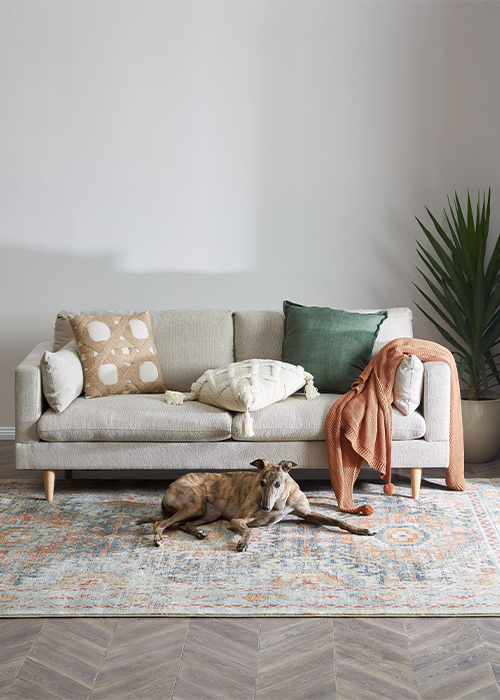 Why does back height matter?
When thinking about back height, you'll want to keep in mind your torso height; how you sit back against the cushions; and where the sofa sits in the room. If it's going to be in the middle of an open plan room, a tall back may obstruct the view of the space and make it feel smaller than it really is. Having a smaller back height, however, may not be so comfortable if you're finding your head and neck aren't fully supported.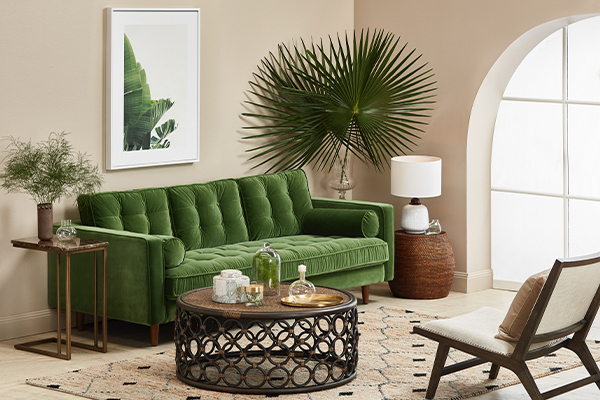 Styles of sofa
Now onto the fun part: finding the perfect style to suit you and your home. Think about the overall theme of your home or of the room the sofa will reside in. Is it more
Mid Century
or
contemporary
Hamptons? These have quite specific 'looks' and deviating from this style will have your sofa sticking out like the sore thumb.
Create a calming space with neutral colours like white and tan in soft wearing fabrics like linen. Go all out with a green
velvet
sofa
to add a little fun into your life. Give your space some formal elegance with a
leather
chesterfield. Your sofa will help you evoke a feeling in your living room, so consider how you want the room to make you feel when you step into it.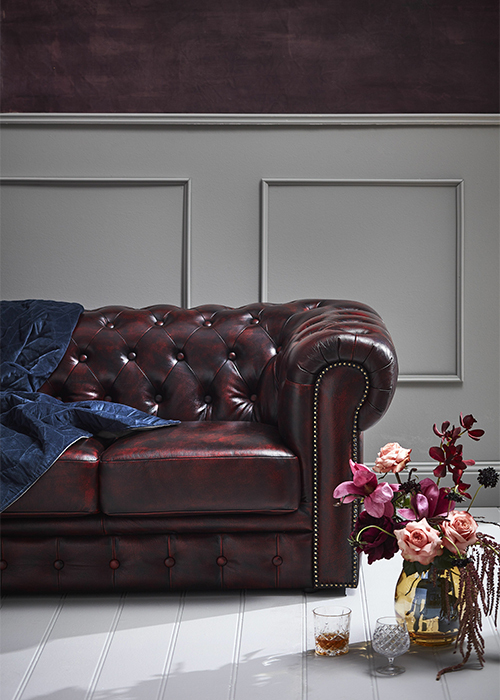 Sofa materials
Each material has its benefits and drawbacks, the most important thing to consider is what you want to get out of the sofa and your environment.
​
Fabric
A fabric sofa is cost-effective and instantly comfortable, though can be difficult to recover from spills. While durable, over time with general wear and tear, you will start to notice some fading and thinning.
Slipcover
This is a great alternative if you want a fabric sofa, but can't guarantee that it'll remain stain-free. Slipcovers are easy to whip off and put in the washing machine and its relaxed look will give a room that soft, casual feel.
Leather
Leather is incredibly long-wearing and will become more supple with age, adding to its look and feel. Leather sofas are easy to wipe down in case of spills and won't retain pet odour or hair, but it's still important to care for them. Pet claws will scratch or rip it, direct sunlight will damage leather over time leading to cracks, and in the summer, it can stick to sweaty skin. Find more information on buying leather sofas including faux leather options in our
guide to buying a leather sofa
.
Find exactly what you're looking for with our wide selection of sofas.