Batter up! When whipping up a vegan treat, there's no bigger winner than these mouth-watering pancakes from Temple & Webster Chief Photographer Denise Braki. Blending wholesome, natural flavours for a tasty morning meal or a delicious dessert – they are simply unforgettable
!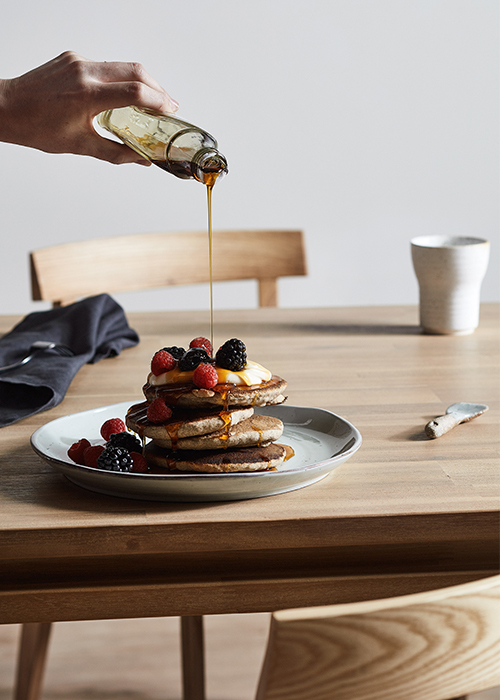 Prep
5 mins |
Cook
4 mins per pancake |
Serves
approx. 6 pancakes
Ingredients
:
1/2 cup (blonde) buckwheat flour or regular buckwheat
1/4 cup quinoa flakes/flour
2 tbs tapioca starch
1 tsp baking powder
1/2 tsp cinnamon
1/4 tsp salt
1/2 cup non-dairy milk
1 flax egg
1-2 bananas, mashed
1 tbs maple syrup
1 tsp vanilla
Instructions
:
1. To prepare the flax egg, blend 1 tbs of flaxseeds in a blender until completely ground. Add the ground flaxseeds with a 1/4 cup water and allow to sit for 20 mins. After 20 mins the consistency should resemble that of a runny egg.
2. Whisk all the dry ingredients and set them to the side.
3. In a separate bowl, beat the wet ingredients together. Pour the wet ingredients into the dry ingredients and mix to combine. If the batter is too thick, add a splash of milk.
4. Heat a non-stick pan over a medium heat. Allow the pan to heat before spooning in the first mixture. Scoop 1/4 cup of the batter and cook until bubbles appear on the top. Cook for at least 3 minutes then flip & cook for another 1 minute. Buckwheat need more time than regular wheat pancakes. Low & slow is the aim here.
5. Serve with coconut whipped cream, berries and lashings of maple syrup.