With some beautiful bakeware and bananas to spare, try your hand at this superb banana bread from Temple & Webster Stylist Allira Bell. It might not be traditional bread, but this recipe still counts as breakfast (or at least according to us). Simply serve with a generous dollop of vanilla ricotta on top.
​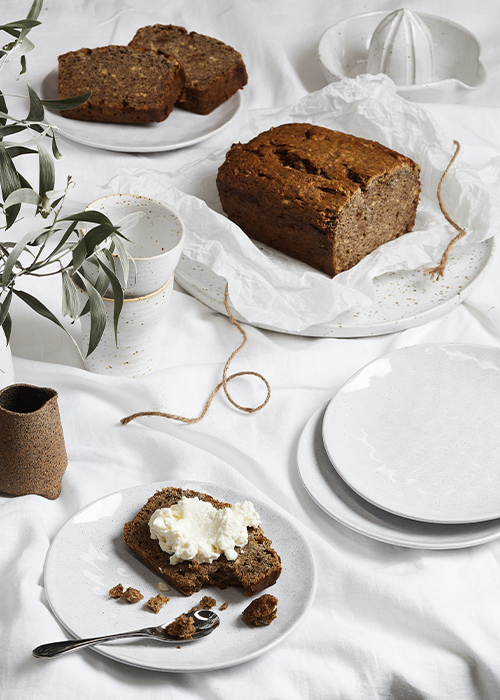 ​Prep
30 minutes |
Cook
60 minutes
Ingredients
:
Banana bread:
125g butter, softened
175g dark brown sugar
2 eggs
2 cups overripe mashed banana
100g sour cream
50g crunchy peanut butter
75g maple syrup
200g plain flour
50g self-raising flour
2 tsp baking powder
1 tsp cinnamon
50g almond meal

Ricotta topping:
250g fresh ricotta
1 tbsp maple syrup
1 vanilla bean pod
Instructions
:
1. Preheat oven to 160°C. Prepare 2.5L (26cm x 11cm) loaf tin with butter and baking paper.
2. Place the butter and sugar in a large bowl and beat with an electric mixer until creamy (about 8 - 10 minutes).
3. Add the eggs one at a time and beat well to combine. Add in the banana and continue beating until smooth.
4. In a separate small bowl, mix the sour cream, peanut butter and maple syrup together. Add mixture to the butter and sugar mixture and stir until combined.
5. Add in the flours, baking powder, cinnamon and almond. Mix until combined, being careful not to overmix.
6. Pour mixture into prepared tin and bake for 60 - 75 minutes or until cooked when tested with a skewer. Cool in tin for 15 minutes and turn out onto a wire rack.
7. For the ricotta topping, split vanilla bean pod and scrape seeds into the ricotta. Using a fork, beat the maple syrup through the ricotta mixture. Chill until ready to serve.