Without the endless array of colourful springtime posies, one might think that wintery florals are relatively dormant. Sure, there is less choice. But lack cultures creativity! Embrace rich foliage and cold season flora for an interesting and striking bouquet in just five easy steps.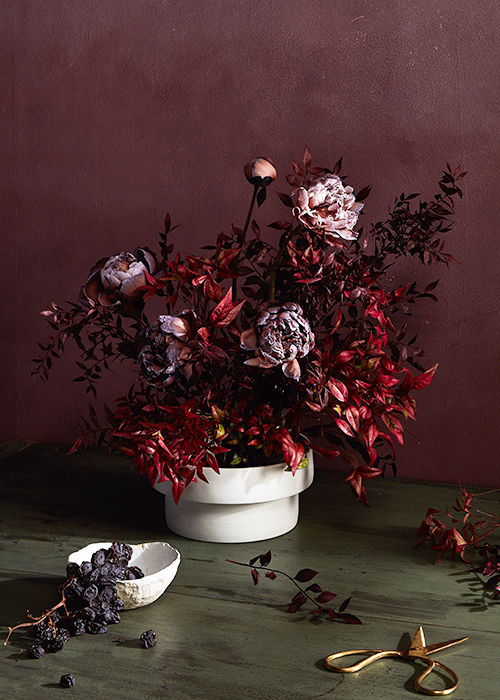 1. Select
Be bold and select different shades of the same deep colour for a harmonious arrangement. Choose dried foliage for structure and small bushy cuttings for fill. Delicate flowers work well as the hero, so pick something lighter in shade for contrast. Thin petals tend to have shorter lives, but the great thing about colder weather is that flowers last longer.
2. Prepare
Want to know the secret to lasting bouquets? Floral foam. Floral foam is readily available at craft stores and florists - simply soak in water prior to use (about 30 minutes) until fully saturated. While soaking, condition the flowers. Trim excess leaves from the base of stems and using secateurs, cut stem bases at a 45-degree angle.
3. Structure

Position stems into the floral foam. Start with the most rigid and structured foliage, clustering the longer stems on one side and the smaller stems on the other to create asymmetry. At this stage the arrangement will look bare – don't worry!
4. Accent
Place the accent flower at varying heights, with the larger blooms mostly on one side. Flowers can either be clustered or spread out, depending on your preference.
5. Fill

Now is the time to fill in the gaps. Add the bushier foliage into the arrangement but try not to go too wild! Leave some areas sparse to allow light to travel and for an overall delicate feel. Step back and enjoy for days!