You may recognise this style of cutlery with its elegant coloured handles, polished stainless steel and distinctive bee symbol, but did you know the rich history behind Laguiole cutlery?
Laguiole, the name
Laguiole is actually the name of a mountain village in the Aubrac region of southern France, which is renowned for its beef, cheese (that's also named after the village) and its artisan knife production, which dates back to the early 19th century. To make matters more confusing, Laguiole is also the generic name that's used to describe the style of cutlery from this part of France, as opposed to an individual maker, company or brand.
Quality Laguiole sets are produced from a heavier gauge of stainless steel of 1.8mm or greater. As the name is not protected, there are many imitations labelled Laguiole, which are not necessarily made in France.
Genuine Laguiole cutlery will have the words 'Made in France' etched into the products and will bear a country of origin marked on its authenticity certificate and/or box.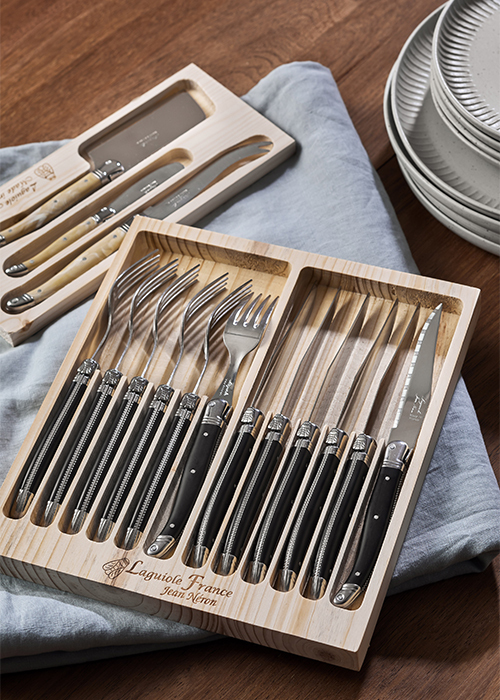 Laguiole by Jean Neron
After the First World War, many of the knife workshops moved from Laguiole to Thiers. One such business is Jean Neron, which is based in Chabreloche, not far from Thiers. This family business has been in operation for more than three generations and its exquisite cutlery features handles made in resin, olive wood and stainless steel in a range of colours.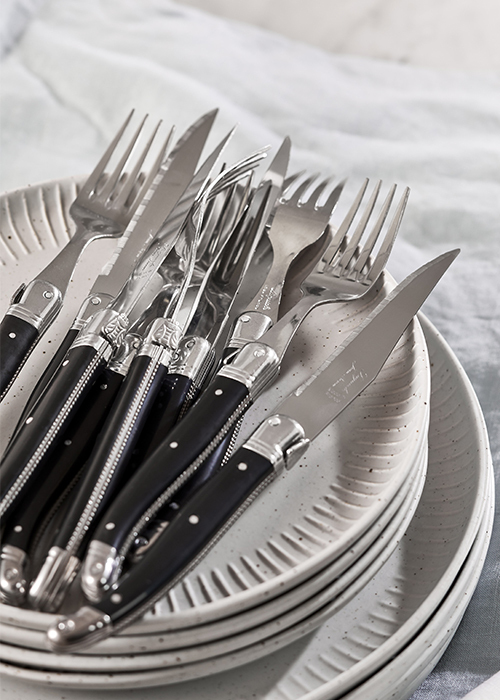 Discover our
Laguiole Jean Neron
range now.