Different materials lend different personalities to spaces. Get the lowdown on rattan, timber, marble, velvet, leather, jute and linen.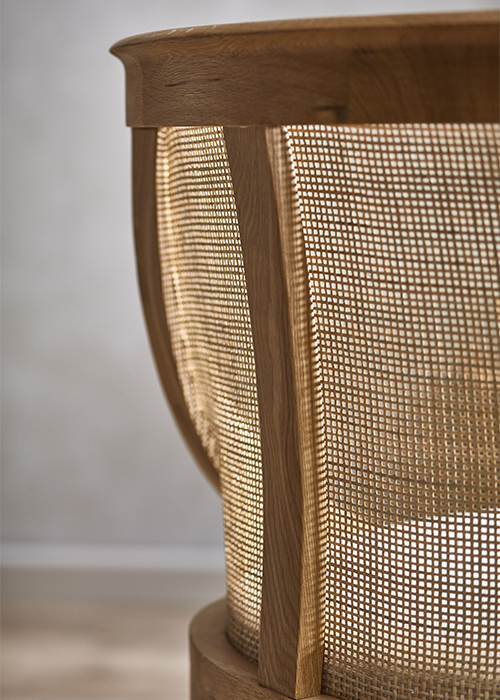 Rattan
Hardwearing and easy on the eye, this natural material can be stained or painted, but is more commonly left untouched to highlight its warm honey colouring and natural grainy texture. Not to be confused with wicker, which refers to the type of weave, rattan is a tropical palm species that has been cut and manipulated into shape by flexing and braiding.
Both light and strong, rattan can be moulded into complex curves to provide comfort and subtle bend for furniture, and woven into intricate detailing for decor. Blurring the lines between indoors and outdoors, rattan inspires a raw yet elegant aesthetic that goes way beyond the typical beach shack look. For a stylish look, pair a
rattan bedhead
or
rattan armchair
with rich
velvet cushions
, or decorate with palm prints and black accessories for a colonial-inspired vibe. There's no such thing as too much rattan.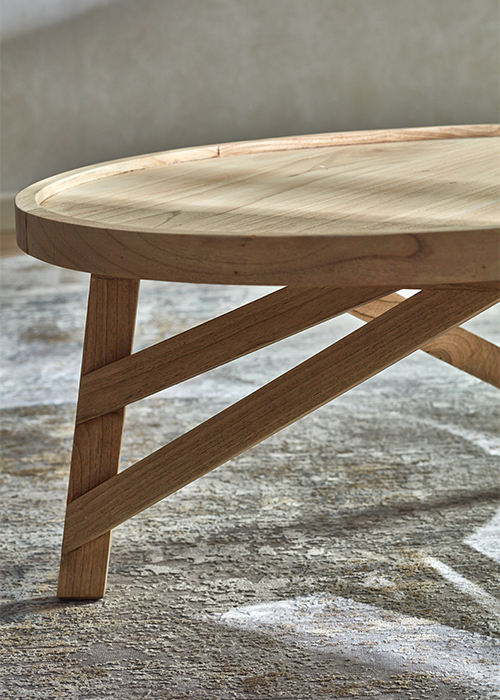 Timber
Raw or polished, timber adds warmth and character to spaces. While softwoods such as cedar and pine have rougher grains and better workability, hardwoods like oak and teak are structurally dense and can withstand the wear and tear of family life. Allow timber to shine by selecting furniture with large surface areas, like
wood coffee tables
or
sideboards
to showcase unique iterations within the natural grain.
Timber is at its finest when manipulated into sculptural pieces; think tapered legs in Nordic-inspired pieces or beautiful woodwork details in provincial-style furniture. When it comes to mixing pieces within the same space, furniture shape is often more important than timber colouring, so blend different woods with confidence by sticking to similar furniture styles.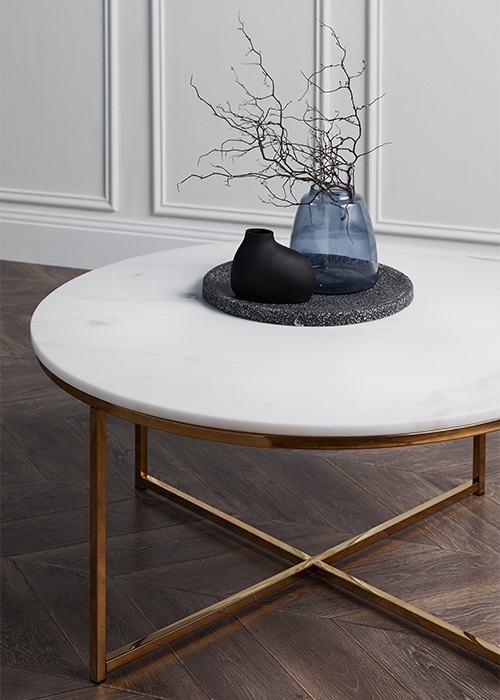 Marble
Constantly reinvented, this beautiful stone is traditionally cut from limestone and sealed to prevent stain or damage. Lusted after for its unique striations and colourways, marble doesn't have to be pricey and adding smaller pieces like
vases
or
side tables
elevates any space. Pair with natural timber to offset its sleekness or highlight its lustre with brass accessories - marble can embrace many different styles!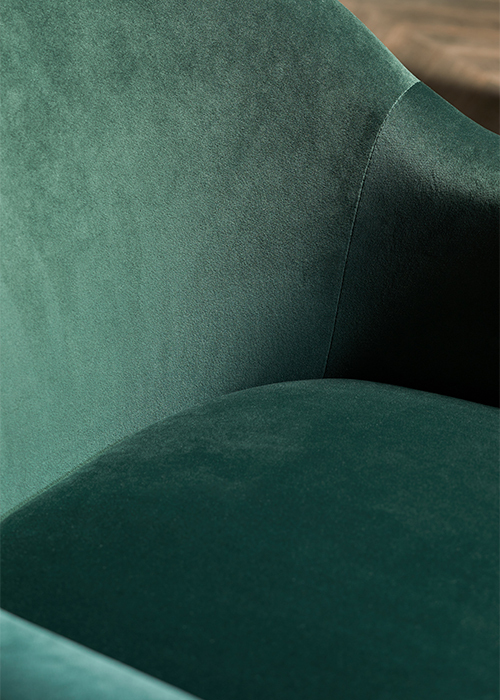 Velvet
Modern and sophisticated, velvet is composed of natural or manmade fibres which reflect light and entice attention with its sheen. Unlike other fabrics, rich and saturated colours in velvet appear lighter, and work particularly well to highlight curved furniture pieces like plump
velvet armchairs
or rounded
velvet ottomans
. Multiple velvet items can happily exist in the same space, but are best tempered with other materials, so consider layering velvet and linen cushions together. Embrace the aging process of velvet as it develops subtle bruising and patina, especially when investing in upholstered sofas, and velvet will love you forever.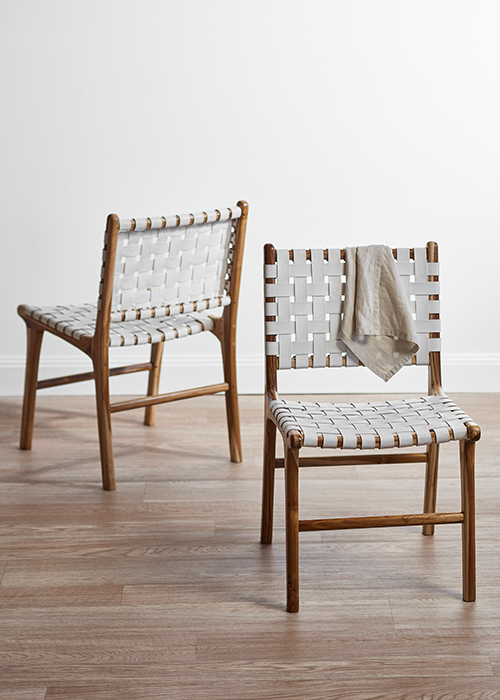 Leather
Dyeable to any colour, leather is produced from bovine hides which have natural properties that are resistant to wear and tear, whereas faux leather is made from polyurethane for a more affordable, low-maintenance option. Larger furniture pieces like
leather sofas
shine in either material, so invest in neutral tones like tan or black, and shake up the look by updating soft furnishings when the mood strikes.
Dining chairs
are an easy way to bring leather into your home, with woven strapping and stitched detailing. If you're not after a major furniture update, smaller leather accents like handles or cushions add lovely tactile moments to your home.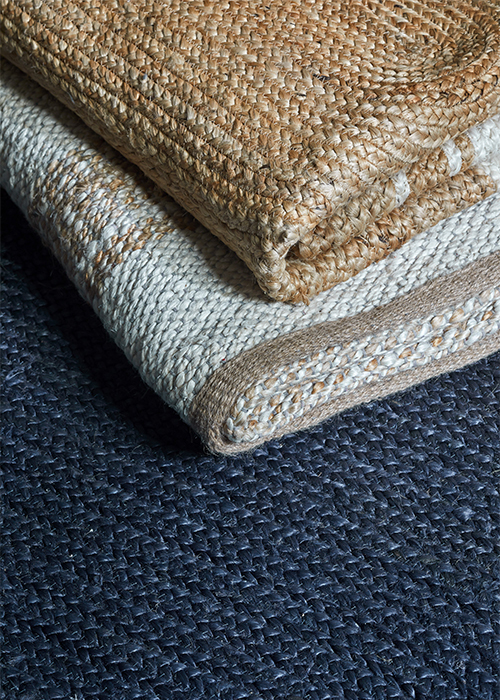 Jute
Renewably produced from vegetable fibres and woven into hard-wearing flooring, jute is highly suited to high traffic areas and busy living spaces. Not just for coastal and summertime styling, bring this material into winter by opting for darker colours to create a grounding and cosy feel - plus it's very forgiving when it comes to stains! Add touches of jute to your table with pretty
jute placemats
, mix jute cushions into your sofa arrangement, or use this hardy material to corral mess with
storage baskets
.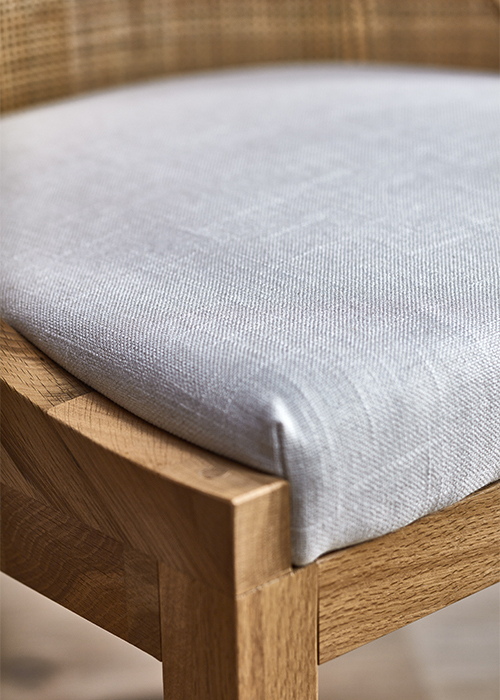 ​Linen
Both rustic and refined, this textile is made from flax plant fibres and is one of the oldest woven natural fabrics. Linen has an intrinsically uneven texture, featuring charismatic creases and irregularities which make it uniquely different from synthetic materials. Drying faster than cotton, linen is strong and absorbent while also having antibacterial, anti-static and hypoallergenic properties. Consider linen for anything from upholstery to bedding for a sophisticated yet lovingly worn look. Linen works beautifully layered with (you guessed it) more linen, so blend seasonal colours with
linen cushions
and
linen bedding
for the ultimate in casual luxury.