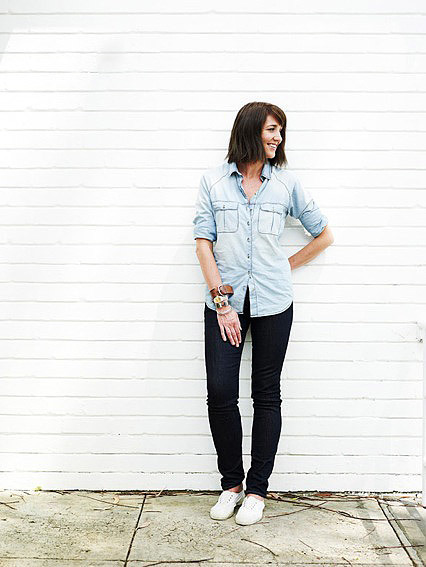 Hooray - more of Megan Morton's magical unicorn style! The launch of her second book Things I Love seemed like a good excuse to go all-Megan-all-week, so here's another dose of things she loves, Instagram style. Megan is a confirmed Insta-addict, so you'll find loads more MM-isms on her Instagram feed (she's at megan_morton) or on her Megan Morton Stylist Facebook page. Her styling & decorating work, her excellent crafty school, and her books can be found on her website.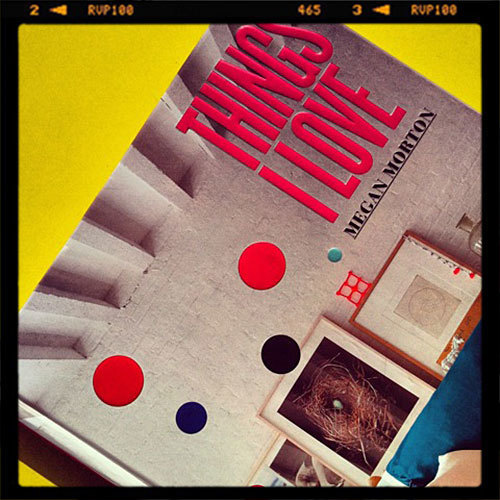 I sometimes think Kevin Systrom and Mike Krieger had people like me in mind when they invented Instagram. It's the best thing since decorator Briony Fitzgerald put velvet tabs on the bottoms of linen curtains. To me, Instagram is styling in its purest form - its 'cave woman-est' form. It's rare for me to use filters and I try not to spend more than three seconds on a picture. It's part of the reason why I appreciate all of the wonderful, seemingly endless, imagery shared from so many different perspectives. Please join my instafeed. It's basically my photo studio, styling props room, and school. I take pictures of amazing things that fall right in front of my eyes; it's unfair
not
to share them. I approach my styling and design work with a knowledge that there is plenty for every one. The more we can all share, then the better our mantels, rooms, houses, and studios will be!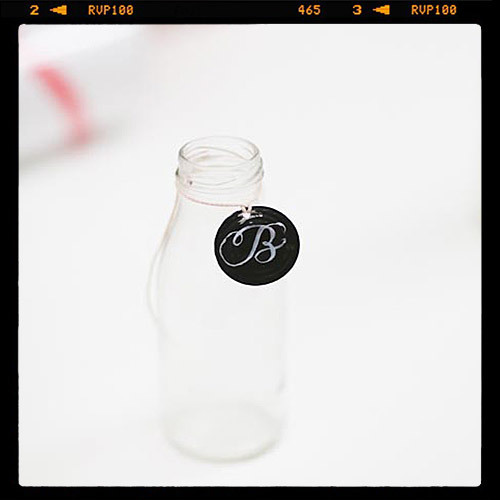 Sometimes it's as simple as hammered bottle tops and painted DIY gift tags. Lucky B! Thank you Maya Vidulich for your craft savvy and always beautiful photography.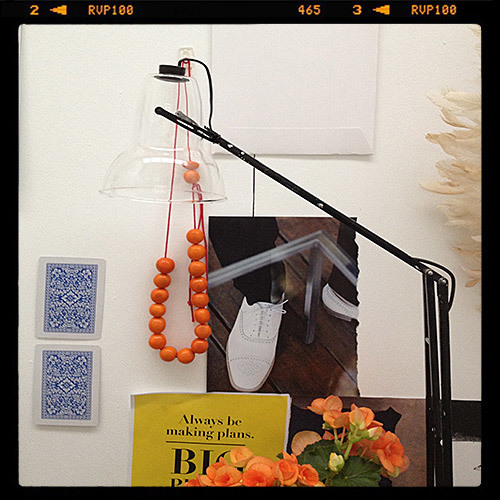 I love Henry Wilson's glass shaded anglepoise task lamp. There is so much I love about it. I am forwarding it to a client in hopes they love it as much as I do!
It's not just the huge ceilings, the nude brickwork, or the kind staff; it's the goodness of genuine design that is all things Koskela. I have stopped entering my side section office through Koskela's store because I can't help but buy everyone I know the wooden toothbrushes (a steal, let me tell you at $12!). It's also nice to witness the first impressions of people when they come in and secure
that
piece for their homes. I begin most of my furniture searches here.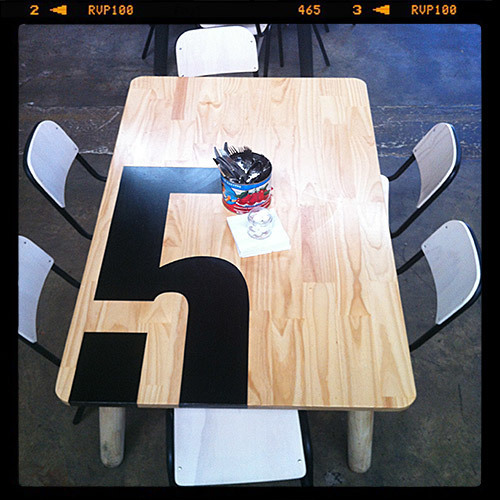 It's hard to bring a packed lunch to work with Kitchen By Mike next door. Its ingenious atmosphere is inspiring and Mike's food… lets just say I've been told 'you know you will die if you eat pork belly every day'. Apart from pork (anything porky is my Toblerone!) the salads and stews are a knockout. Koskela has made a perfect atmosphere for Mike to shine with his food. (I have not shown plated food here, for fear it will send you into a frenzy!)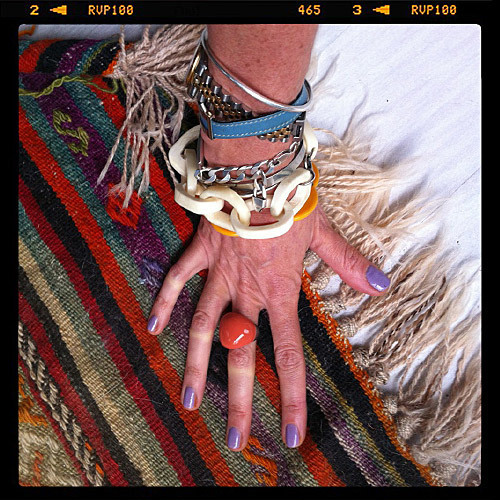 A rug meeting, with
Cassie Karinsky from Kulchi
, has me mad over floor coverings again. M.A.D for it!!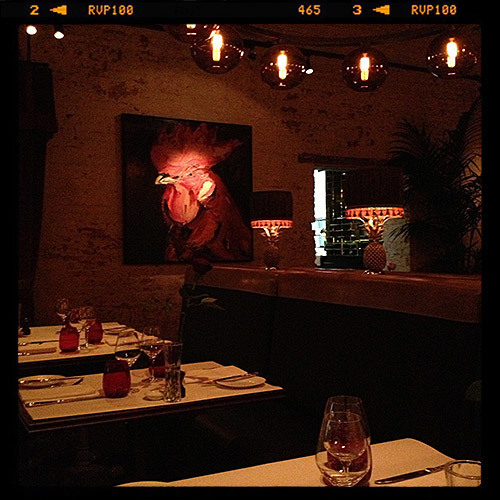 Ananas translates into 'pineapple' . Did you know most countries call the pineapple ananas? Well, this eatery in The Rocks (
Ananas Bar & Brasserie
) has its feet firmly planted in French flavour, but decoratively in the land of pines! It's fun, spirited, and a reason to think again about going to Argyle Street, The Rocks without friends from overseas!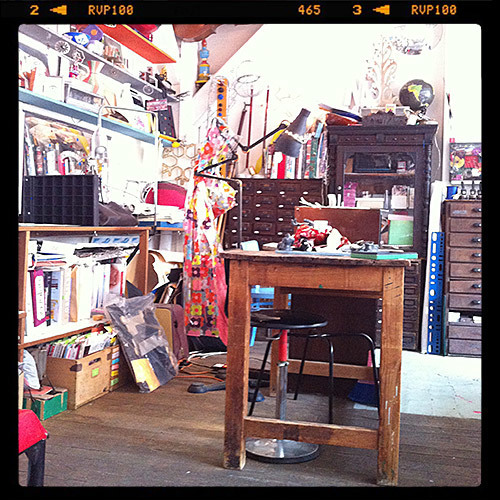 One of the highlights from my recent trip to France was having tea with my design heroes
Tse & Tse
. This is a corner of their office. I have lots of their works in my home and props room, so it was a magical unicorn experience to see the office in the flesh. They are also in my Things I Love book, as people I love, so it was a joyous afternoon all-a-round sharing the book with them.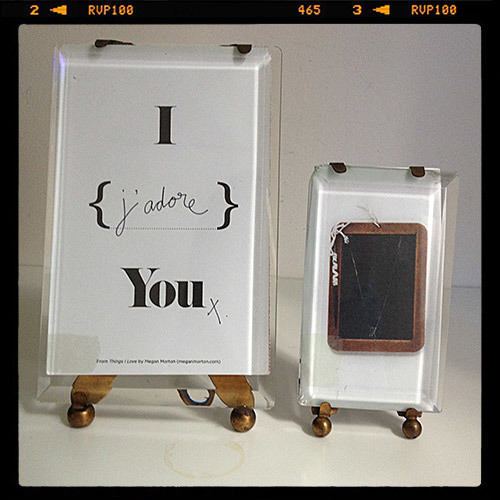 These are the backsides of postcards from my new book – they are put in frames I found at the Lille flea market. J'adore France, that is for sure.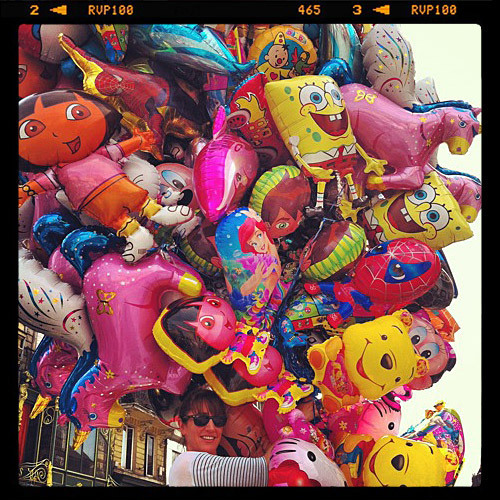 This is how we found one another in-between the 2 million other flea market goers this year in Lille, France. Every day we bought an additional balloon and tied it to Michelle's wrist! It's my best travel tip. So pick one per day, tie to your belt loops, charge on and never lose your friends again!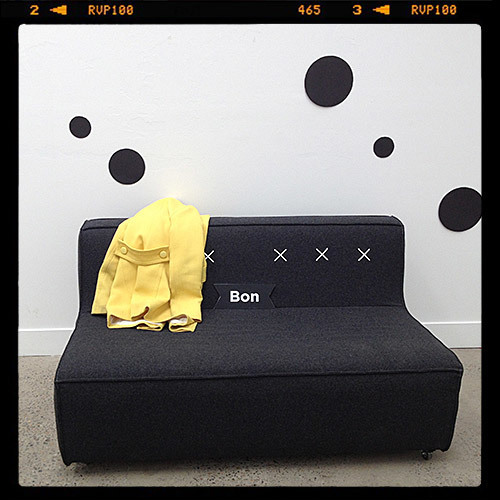 Back at home at the studio. Its all a bit 'Bon'!
Follow Megan on Instagram @megan_morton