Setting your table for Christmas is one of the easiest and most creative ways to spread a little festive cheer. Dressed up, more casual, or in true Australian style getting together with family and friends in the great outdoors - whichever way you plan to spend your day, it pays to think ahead.
We're making Christmas easy by putting together everything you need for a beautiful festive table, three different ways. Today's sale events feature complete looks for a
traditionally elegant table
, something
classic but more modern
, and a
relaxed outdoor Christmas table
. Read on for tips from our in-house expert
Jessica Bellef
on how she created each look, and click straight through from the image to shop the look for your own festive table.
For even more inspirational ideas, we've called on some of our favourite stylists – namely
Megan Morton, Glen Proebstel
and outdoors guru,
Paul Joseph Hopper
– for their advice on making Christmas cool, contemporary, and most importantly, lots of fun.
The elegant table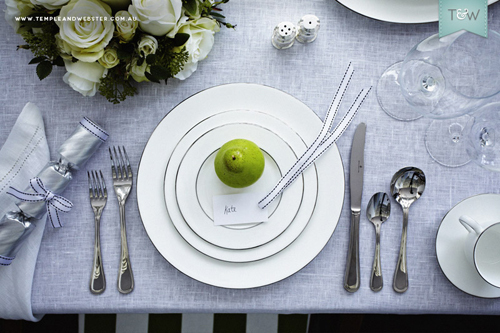 If a three-course meal with all the trimmings is your idea of festive heaven our stylist Jessica Bellef suggests using precise placements of cutlery and dinnerware and a touch of silver for that hint of Christmas. "If you can't find bonbons that fit your colour scheme, customise store-bought ones by adding a bow and a ribbon trim to basic silver bon bons," says Jess, who used the same ribbon for the nametags to tie the look together.
Going casual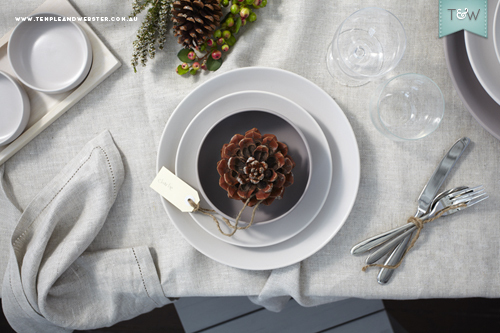 For a casual, modern look Jess created loosely grouped place settings and added decorative elements with rougher textures such as pinecones and branches, which she found on a stroll at the beach. The tableware range includes platters and dishes. "If people are serving themselves at the table, it can instantly add to the casual feel of the meal," says Jess.
Let's go outside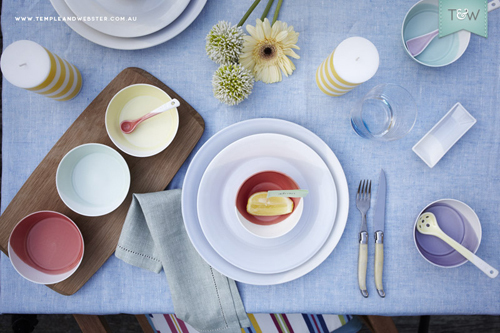 Celebrate the fun of a family lunch outdoors with colour and stripes, and plenty of bowls for snacks, which your guests can enjoy while the barramundi cooks on the barbie. "Colourful flowers grouped in mismatched jars equals instant cheer!" says Jess. Nametags using lemon quarters and toothpicks with a flag attached are also great for serving up seafood.
A stylish Christmas with . . . Glen Proebstel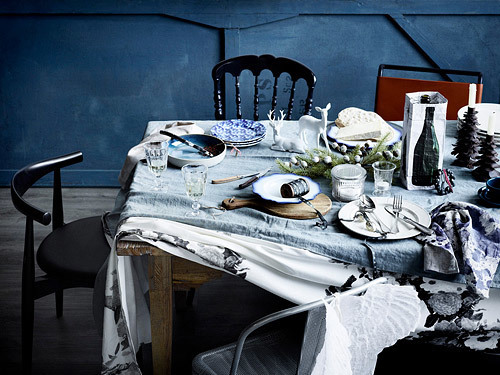 Talented stylist
Glen Proebstel
of
The Establishment Studios
in Melbourne is currently based in New York, and looking forward to a chilly Christmas. Based on the beautiful image above by photographer
Sharyn Cairns
for
Inside Out
, his top tips for adding a little elegant beauty to your Christmas table are:
1. Use basic simple, white dinnerware to set your table then visually overload everyone with colourful platters and serving ware to make the event memorable.
2. Add some fun. Why not ask your guests to bring one small vintage decoration in silver to lunch and then use these to create a whimsical table centrepiece for the day. That way everyone is involved in pulling together a stylish table.
3. Opt for decorations and accessories that fit into a neutral colour palette. Each year you can add to your collections and re-use objects in different ways. I find that if you stick to silver, greys, whites and blues you can't go wrong.
A stylish Christmas with . . . Megan Morton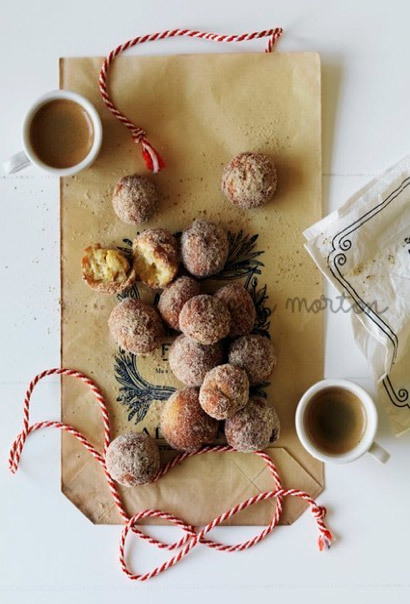 Stylist and author
Megan Morton
needs no introduction. If you've been paying attention you'll know she's generously shared her styling wisdom with us on many an occasion. Megan's new book, Things I Love, is out now (win a copy
here
on the blog, or buy one
here
)
.
To sprinkle a little magic on a more laid-back Christmas Megan suggests:
1. Stick to one colour – it's Christmas and in my opinion the time to really go out on a limb.
2. Music is key. It's the essential mood maker. Do the play list before you set out your table palette.
3. Don't under estimate the power of a watermelon vodka keg. It only needs five mins prep and then put into the freezer up to two days prior. Bingo. Best. Day. Ever.
A stylish Christmas with . . . Paul Joseph Hopper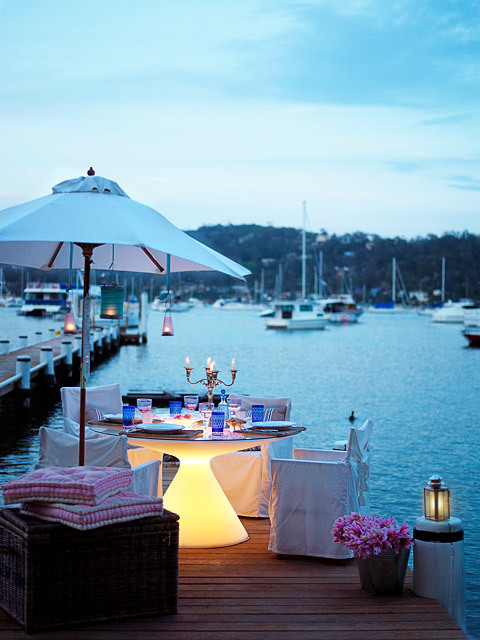 Stylist
Paul Joseph Hopper
is also co-owner of Sydney-based specialist store,
Terrace Outdoor Living
. Right now he is busily preparing to open a Terrace pop-up shop at Moore Park Supa Centre in time for Christmas, and has only just completed a beachy Christmas decorating story for the next edition of
House and Garden,
so
we thought him the perfect candidate to offer up advice for an outdoor Christmas celebration.
(Image credit: William Meppem).
1. Think about the weather. If it's going to be a scorcher, look for a shady spot under a tree. The branches are always good to hang extra decorations and lanterns from. Otherwise choose an outdoor umbrella or parasol, which adds to the décor. I personally love the stunning collections from Basil Bangs.
2. Use lanterns to add a festive glow as the evening draws in. Fill these with citronella candles to keep the bugs at bay. Look out for solar lanterns and fairy lights. Rope lights are great for flexibility and easy to use. Light-up furniture pieces and amazing polythene floating garden lights add a funky festive statement.
3. Flowers cans sometimes wilt in the heat so use potted plants in clusters and groups as an alternative and jazz up the pots with pretty ribbons. You can even scatter succulents, shells or fruit such as baby lemons along the middle of your table mixed in with your lanterns or fairy lights. Complement these with coloured glasses and tableware. There are some fab acrylic and melamine options available.
Feeling festive? Visit our Christmas Table sale events today to get started on creating your own stylish setting.