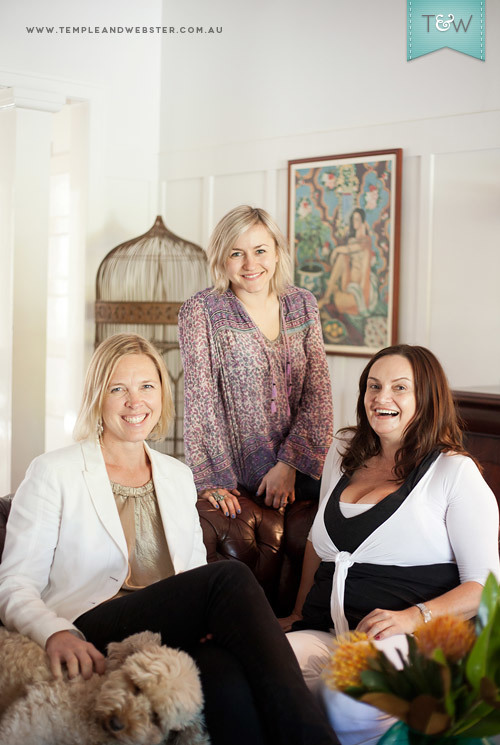 Victoria Baker (left) & Jessica Bellef (standing) with T&W member Susan (right) and her dog Honey at home in Brisbane. In the background is her favourite Matisse print.
"I'm addicted to Temple & Webster!" When we heard these words from Susan, we knew it was time for some group therapy, T&W style. Stylist Jessica Bellef and I headed to Susan's home in Brisbane to learn more about her style, see her favourite T&W purchases, and spread a little styling magic around.
We found a gracious old Queenslander-style home, where Susan lives with her daughter Eliza, son William and gorgeous dog Honey. Built in 1912 as the gatehouse for a grand house nearby, it features original floorboards and timber detailing, beautiful verandahs and more recent additions which have transformed it into a comfortable family home with beautifully spacious, airy feel.
After talking to Susan about her decorating style, which she described as classic colonial/plantation/tropical, she showed us around, pointing out her favourite older pieces such as a Victorian sideboard, artworks by her great aunt and a Matisse print which she has owned and loved for years.
In Brisbane, Susan's top interiors sources are
Soho Interiors
in Ascot (owned by her sister-in-law Sandra Huybers) and Robyn McKendry's
Magnolia Interiors
in New Farm. Having discovered Temple & Webster, she admits to logging on every day to see what's new, and has found lots of things she loves. Although very clear about her style, Susan was happy to have some help with incorporating her new T&W finds into her existing decor and pulling it all together.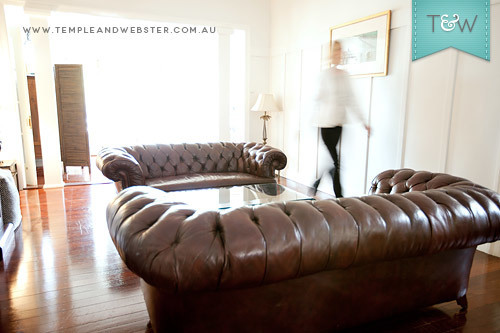 We started in the more formal living space, with its beautiful Chesterfield sofas and grand columns, leading out to a light-filled sunroom and verandah. Jess's first step was to open up the flow of the room by taking out a wooden sideboard on the right hand side (near that blurry person - if only I was so ethereal in real life.) Next we hung a blue/green painting in a gold frame, and Susan's favourite Matisse print. Both were hanging in other rooms, but they made perfect sense together. We also moved Susan's colonial style palm tree table lamps to the corners of the room, reinforcing the symmetry of the columns. Now we were on a roll.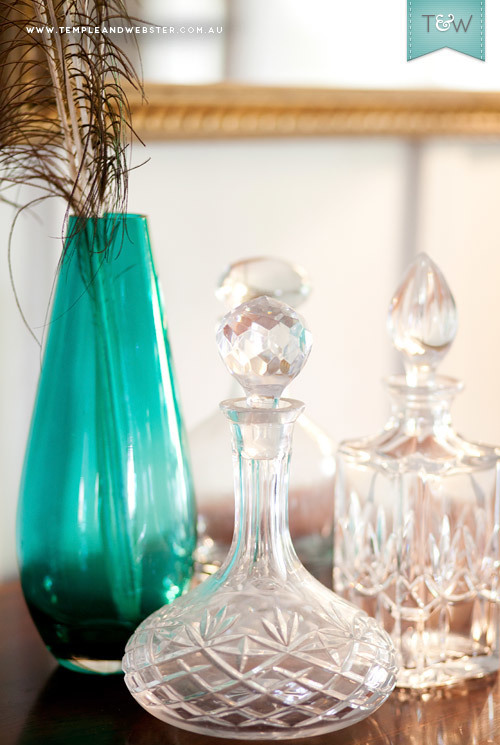 The Victorian sideboard, a family piece, was home to crystal decanters, to which Jess added Susan's green glass vase and peacock feather. They caught the light beautifully.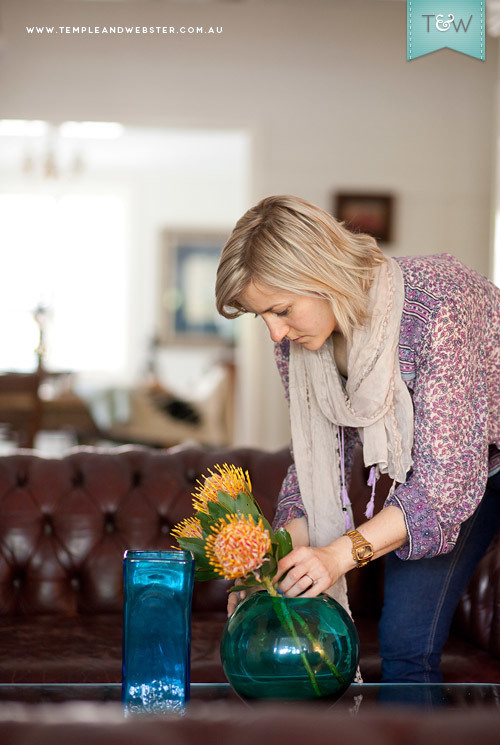 Jess arranged more glass on the coffee table between the sofas, as a light counterpoint to the substantial sofas. The flowers and magnolia leaves we'd brought with us looked perfect in the green vase.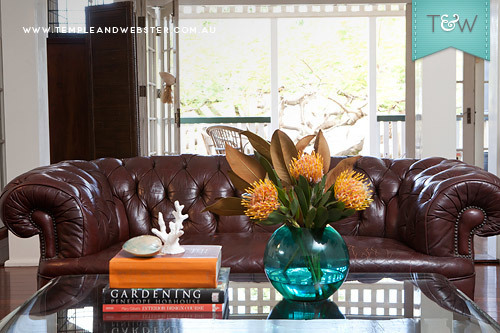 Jess chose a few similarly-hued books from Susan's shelf and arranged them with shells and coral for a nice little touch of the tropics, without overdoing it.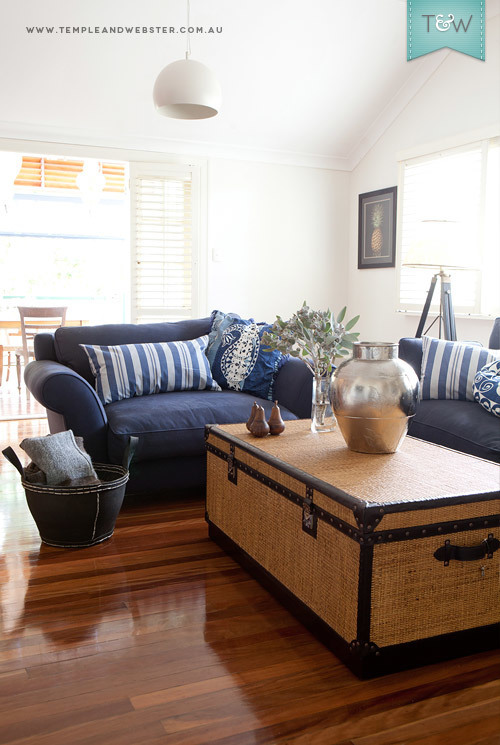 Next was Susan's more casual living space, with its deep blue sofas - very Ralph Lauren. This cane-covered chest with leather trim is Susan's favourite T&W purchase, and fits perfectly in the space as a relaxed, put-your-feet-up coffee table. We also spotted a large silver vase and black recycled rubber basket, both T&W finds.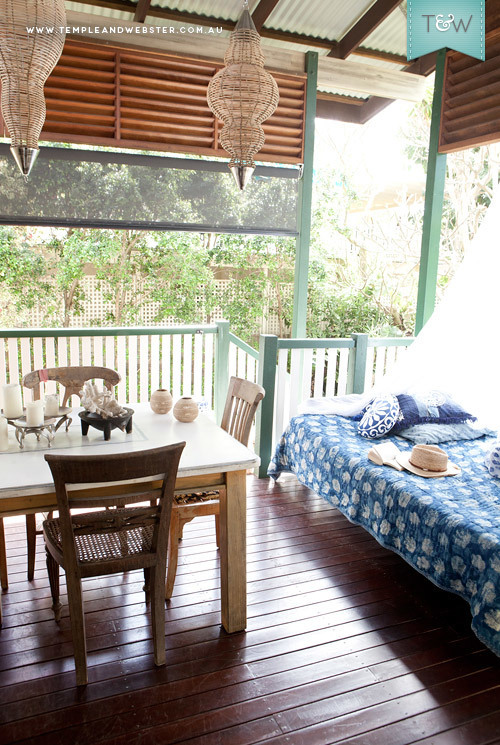 Finally we headed out to the covered verandah, where Susan admitted to spending the odd quiet hour with her book on the daybed. We covered it in a beautiful indigo quilt from T&W, and accessorised with loads of indigo & white cushions Susan found at Ikea, and hung the sheer fabric mosquito canopy she'd found at
Far Pavilions
in Fortitude Valley. We loved the way Susan had hung her cane finial lanterns over the table for a sense of occasion (you can buy the same lanterns in our
Natural Treasures
sale event today), and Jess arranged her candles, votive holders (T&W again) and Fijian coral to complete this relaxed space.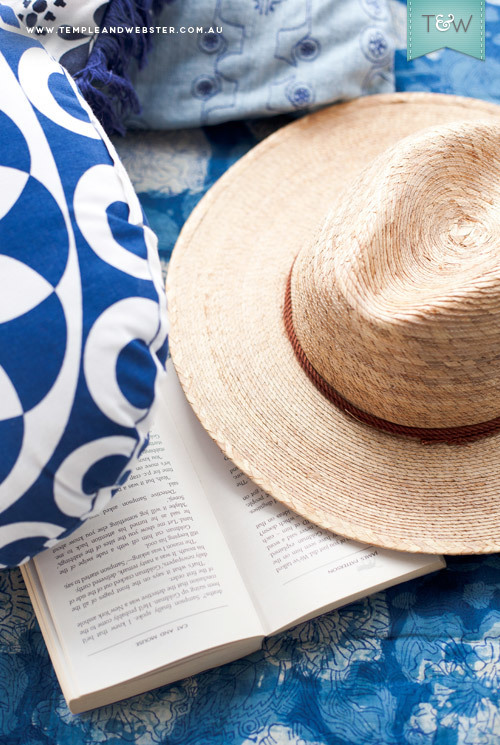 After glass of wine (well, it might have been two) with Susan on the verandah, it was a little hard to drag ourselves away. Jess talked to Susan about her next decorating project - a beautiful bedroom based around the amber 'Victoria' quilt cover from
Aura Home
she'd snapped up from T&W - and what she might need to make it work.
We absolutely loved spending time with Susan, and were so grateful to her for welcoming us into her home and sharing her style. There were too many images for one post, so we've created a
new Pinterest board
for our home styling session -
click through
to see more.
Image credits: Photos - Elleni Toumpas. Styling - Jessica Bellef.