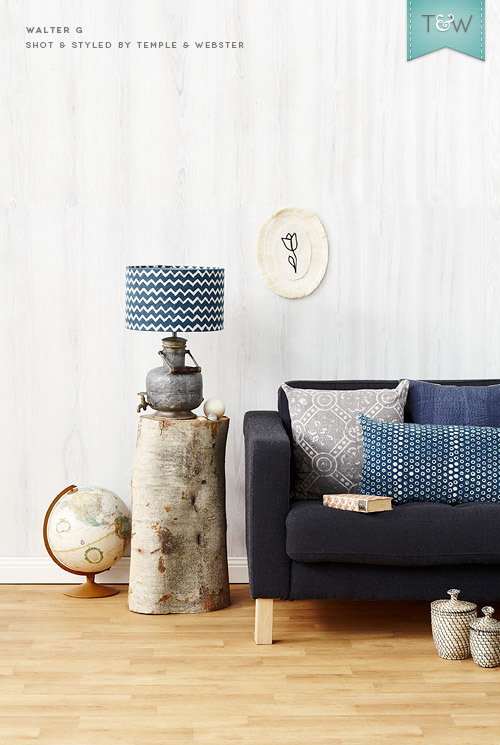 Walter G's beautiful repurposed lamps with shades made from vintage turbans or hand-printed fabrics have that rare quality: they tell a story. Friends Lauren Bennett and Genevieve Fennel started the company based on the discoveries of colour, pattern and texture they had made through travel to Vietnam, South America, China and India. From creating new designs by updating traditional patterns to working with Indian artisan families to realise their vision, the story of Walter G is all about passion.

What is the Walter G philosophy?
The home is a sacred place for most - where you can be yourself, relax, wear the most 'uncool' item you own, shamelessly recline in a big chair with the paper and sip tea from your favourite chipped mug. We believe that the home is a place that should be filled with things that YOU love, that speak to YOU, that make YOU feel comfortable, not things that you think you SHOULD have in your home. Mix and match the things you love, whether it be colour, pattern, new or old. The most exciting homes are created from years worth of collecting different things from here and there and throwing it all together! If you adore blue and white, why feel pressured to update to the current trend of pink? Surround yourself with colours and patterns that made you smile - that is a sure fire way to never have buyer's remorse!
Where did your love of textiles come from?
(Genevieve)
I was born in Sydney and grew up next door to the zoo – I'm still living there now! My mother was a textile designer and I grew up being surrounded by beautiful patterns, textiles, paints, curios and colours. I think she really fostered within me a deep love for all these things from an early age.I have never 'learnt' about design in an academic sense; I wish that I had done that at uni.
(Lauren)
I was born in Sydney and grew up in the beautiful salty shores of Avalon beach. With my father an architect, mother a woman of many trades and a brother who is an artist/film producer, I grew up being surrounded by an innate appreciation for design, paint, colour and all things visual. I just couldn't shake the creative bloodline and ended up with a Bachelor of Design from COFA (College of Fine Arts). Being constantly surrounded by the sea, sun and the naturally weathered landscapes created my style and approach to design.
Is there a story behind the name Walter G?
Within a year of each other we both experienced the sad passing of our grandfathers and both inherited a small sum of money. We decided to invest this into something we truly believed in and something that would make them proud as punch. Hence the name is a tribute to these two wonderful men - 'Walter' and 'George'.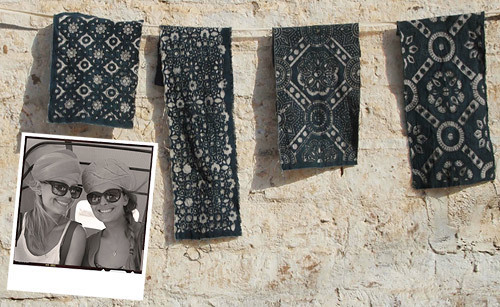 Can you tell us about the printed fabrics?
All our fabrics are printed in a town called Sanganer, which is just outside Jaipur, Rajasthan. This is pretty much the block printing hub of India. The majority of our designs are mud printed using natural dyes. Basically mud printing involves mixing a mud paste and then printing with it using wooden hand blocks. After this, wood chip is sprinkled all over the the fabric and dried in the sun. From here the fabric is dipped into a big 10 foot indigo dye vat and again dried in the sun. This process can be repeated a number of times depending on how many tones of colour you want. The mud acts as a resist, so wherever you see white in the print is where the mud had been printed. Mud and natural dye are a match made in heaven.
And what about the vintage lamp bases?
Our wild lamp bases are all hand picked by us in Jodphur, Rajasthan. They are vintage Indian army canisters, tea urns and wattle vessels. We team these with some even wilder vintage turban shades. This is one of our guiltiest pleasures! Trawling through an abundance of Aladdin's caves to find the pinkest, brightest turban really gets our hearts racing.
How do you work with the craftspeople in India?
The two of us collaborate together on the designs, and we work with the artisans in India. We love a lot of the very traditional designs but we like to breathe a new life into them. Sometimes we will source a vintage block printed piece of fabric, get new blocks made, sample it in a different process (e.g. mud or pigment), remove some of the original blocks (some may have originally 5 blocks per design and we might only use 2) and so on - it is a long sampling process.
We work with three different families of artisans, each of them specialising in a particular variation of block printing. Shankar and Om Ji, a father & son team, are the most amazing mud printers and natural dyers. For our silks we work with the vegetable dye Master Ghanshyam and his wife Kantha who is a beautiful printer, and super fast! Ghanshyam is currently grooming his eldest son Garaj to take over the family business. Finally, all our block printed pigment fabrics are created by the Darbar family - Master Darbar has been block printing his whole life and his son, Manmohan decided to become a colour mixer - what a team. All are very colourful characters and welcomed us both into their homes and lives with open hearts. We cannot wait to be back there in two weeks.
Surround yourself with colour, pattern & texture - visit the Walter G sale event now.
Top image: Photo - Denise Braki Styling - Jessica Bellef. Bottom image courtesy of Walter G.