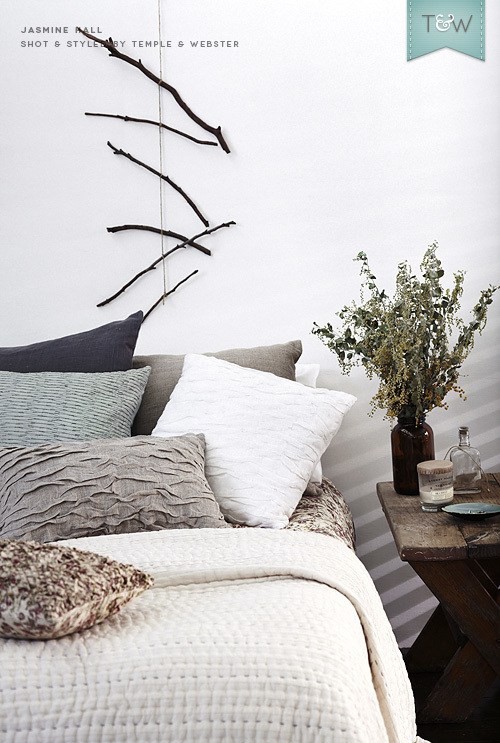 After falling in love with the simplicity of the designs in the Jasmine Hall collection on sale today and the quality workmanship that so obviously shines through in each and every product, I decided to sit down with founder Mike Hall to learn a little more about the inspiration he draws on for his brands, and what led him to start his business in the first place. Mike, what is your background and what led you to start Jasmine Hall?
I worked as a journalist for 20 years, as a correspondent in Africa and India and as an editor in Australia. I had a lot of fun as a journalist, but I'd always liked the idea of creating a business and doing something creative that didn't involve only words. I had a passion for India after working there and I also witnessed the difference that sustainable trade makes to the livelihoods of craftspeople – so starting a business involving textiles and craft seemed an obvious way to combine my interests and do something useful.
And what has been your inspiration for the various brands in the Jasmine Hall range?
In India, I met David Housego and Mandeep Nagi, a couple who between the both of them have set up a manufacturing unit in Delhi specialising in high-end home textiles, and who design textiles. Their team designs and manufactures for some of the best-known luxury brands, and they have taught me a lot about textiles. Jasmine Hall distributes their
Shades of India
brand in Australia. The Shades of India summer collection is inspired partly by textures and colours you would see in urban environments such as Venice and Rome.
Two years ago I decided to create my own brand,
Secret River
, with a very different look. The inspiration for Secret River is really the Australian landscape and casual lifestyle – I love the water, beach and bush walking – the more deserted the better! I've also really come to admire good fabrics – that's the basis of everything Jasmine Hall does.
Can you tell us about the collection we are featuring?
The collection you are featuring combines elements of Secret River and Shades of India including the hand-quilted "Fields" bedcover in soft cotton voile, plain and textured "Breeze" cushions in linen, and a classic "Garden" floral print in silk, meticulously hand-quilted. We're also offering a sheer curtain panel with some subtle woven stripes.
Any final tips for our readers on decorating with cushions and soft furnishings?
Cushions are great to add warmth to a room, soften a harsh interior with an accent, colour or texture, or make a statement. What's great about cushions and soft furnishings is that you can update them as often as you like with minimal effort to reflect your seasonal mood or personality. In that sense, they are much more dynamic than furniture pieces and I'd encourage experimentation with different styles and designs because of this. Some furnishings are purely functional and others can be small works of art – it's all very personal in the end.
Thanks for your time Mike!To access our Jasmine Hall sale, click here.Tessa