When a new furniture piece arrives in the Temple & Webster studio, we get pretty excited! Our new Milo coffee table is a beautiful classic design with striking bold metal detail and is a piece that can work in lots of different spaces. To show you how, we challenged our three amazing stylists – Jessica Bellef, Allira Bell and Drew Lewis – to style the Milo coffee table and share their top tips and tricks. Read on to learn how it's done!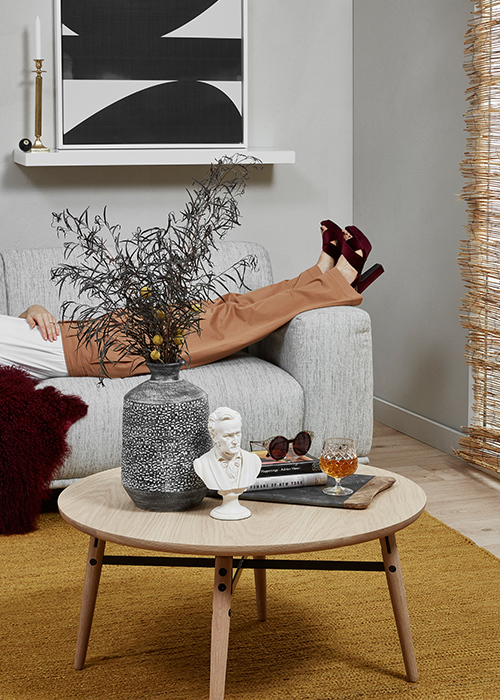 Jess; New Nostalgia
Your theme:
New Nostalgia, where old meets new and makes up its own rules.
Who lives here?
A city-living fashion PR darling who has a penchant for adding natural texture to her home and is inspired by a beautiful mash-up of the past and present.
What's in the scene?
The clean Scandinavian lines of the sofa and coffee table are given a new context with lots of natural materials and vintage pieces like the plaster bust and brass candlestick holder. The colours and textures of the
Gold Burma jute rug
and the
wine red Mongolian sheepski
n adds warmth to the space while the large black wash
Mahlo ceramic vase
filled with dried greenery makes a statement on the coffee table. The fussiness of all the texture is balanced out with the bold
"Totem" stretched canvas
, framed in clean white and displayed on a floating white gloss shelf.
Top tip for coffee table styling:
Repurpose a stone or marble chopping board and use it as a platform to corral vases and books. It will also give you a place to rest your cup (or your cut crystal goblet filled with whiskey) in lieu of coasters.
Every coffee table should have:
A vintage plaster bust of some old guy, judging you silently as you hit play on yet another episode of your latest binge series.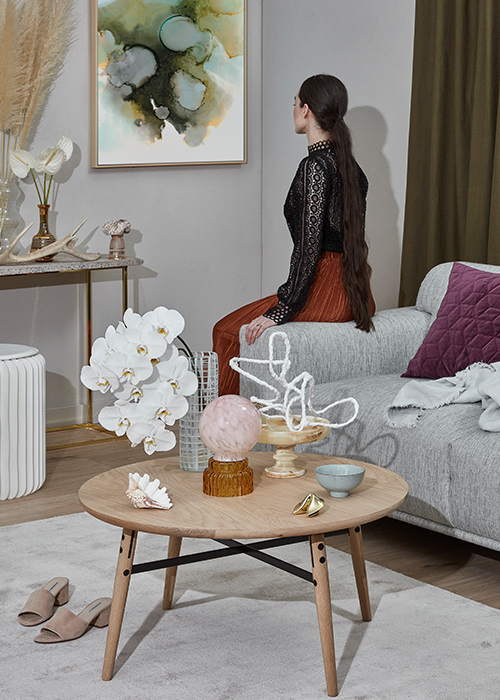 Allira; Contemporary Pastels
​
Your theme:
Contemporary Pastels, an elegant but unruly space with geometric shapes and textural delights.
Who lives here?
A demure cosmopolitan girl boss whose attraction to vintage glamour and natural textures leads to an excessive amount of time spent scouring vintage stores - we all need a vice right (besides champagne)?
What's in the scene?
The punchy black detailing of the coffee table is softened by a luxurious
beige rug
to help lighten the room. Saturated colour from the
abstract artwork
and sumptuous
velvet cushion
add richness, while the understated
blue bowl
on the coffee table adds subtle pastel vibes. It's always handy to have extra seating and the origami-inspired
paper stool
in the background doubles as both sculpture and chair for art lovers short on space.
Top tip for coffee table styling:
Coffee table styling can be inexpensive, even something as simple as a shell helps give life to your arrangement. Handmade crafts like the wire sculpture add individuality and can be super fun to create. For extra personality points, consider stacking vintage objects on top of one another to recreate new and unique decor - just beware of toddlers!
Every coffee table should have:
Some sort of crazy craft created after one too many wines.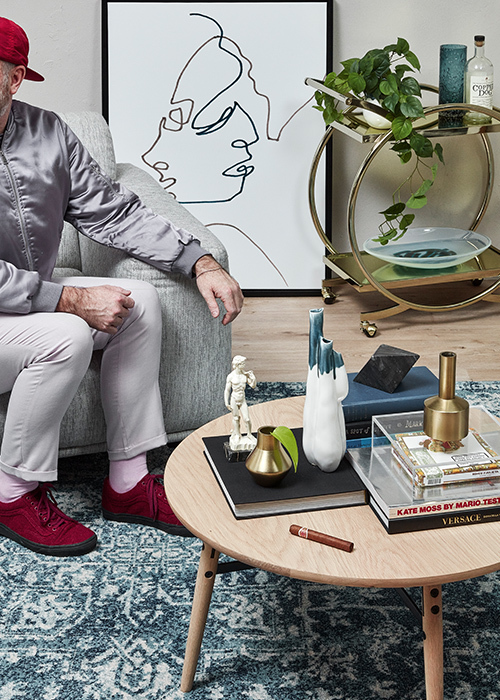 ​​
​Drew; Vintage Eclectic
Your theme:
A unique, eclectic mix of new and vintage pieces curated by life experiences.
Who lives here?
A creative couple who have been collecting fabulous finds for years, to create a reflection of the world around them.
What's in the scene?
The mix of ceramic, perspex, metal, wood and paper pieces on the Milo coffee table create a modern, travel-inspired feel.
Gold
adalie
and
ceramic bud
vases are grouped together for height, with a vintage version of Michelangelo's David adding interest. A perspex box holding cigars, picked up on the streets of Havana, is stacked atop fabulous fashion books and design bibles. The striking blue rug and sculptural
black and white abstract artwork
give the room plenty of bold, sophisticated personality.
Top tip for coffee table styling?
Stack books to create different heights and interesting platforms to showcase your favourite finds.
Every coffee table should have:
A conversation starter - be it a favourite book or newly acquired vase - choose something you love and you can't go wrong!
​
Shop our
Milo coffee table
here (and our
huge range of other styles
if this one's not your taste!)