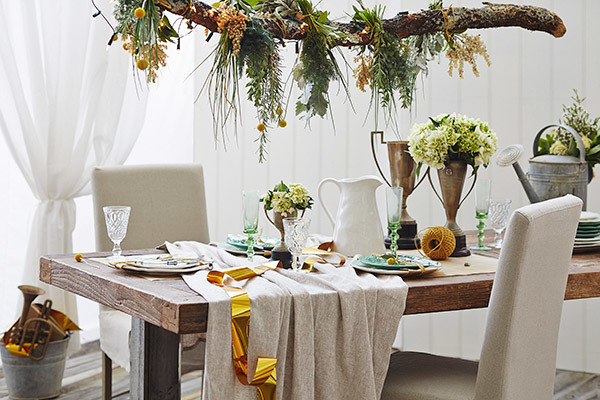 Stylists Adam Powell and Jono Fleming teamed up to create a gorgeous Christmas table - we pull out 5 style ideas to use at home, including Jono's recipe for rainbow trout baked in paperbark.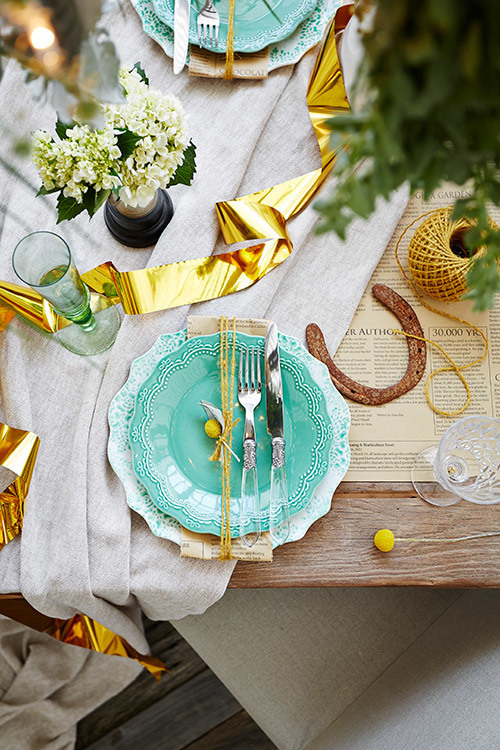 1. Consider colour
The table setting works off a neutral base, with natural timber, beige linen and white hydrangea. Decide on one main colour element - here it's green, which features in the plates, glasses and of course the foliage. Then use a related colour in smaller quantities - here that's the pops of bright yellow. The gleaming gold ribbon adds a festive feel, and since it's the one shiny element in a sea of natural tones and textures, it doesn't feel over the top.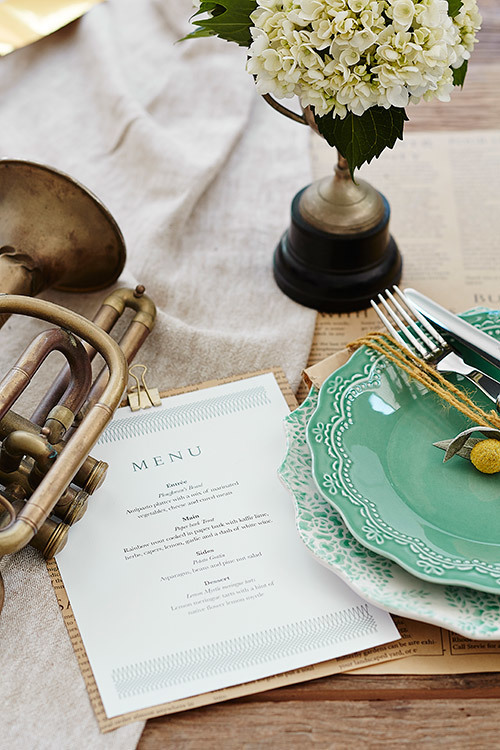 2. Make a meal of it
Food stylist Jono created a printed menu to whet the appetites of guests and add a sense of occasion. If you've gone to a lot of effort cooking (or assembling!), why not make a big deal about it. Have fun with your dish names and descriptions - and if graphic design isn't your thing, search for a template or try
Canva
.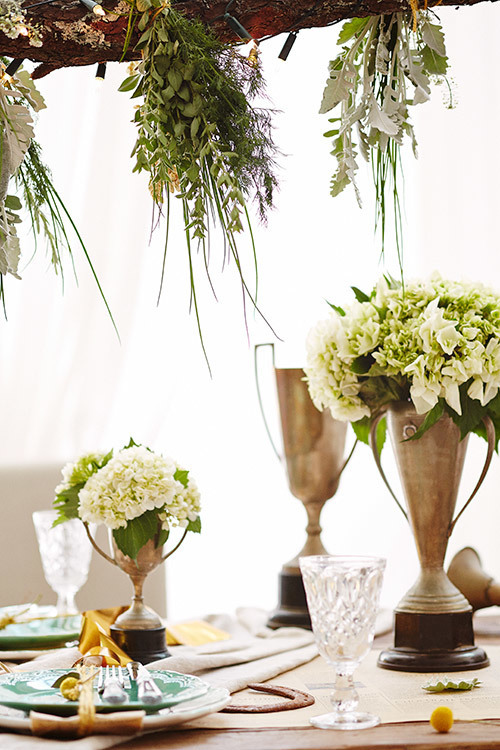 3. Versatile vessels
Hunt around for vessels for flowers - and don't just limit yourself to vases. Look for a variety of sizes, shapes and heights, and try for at least one consistent element - Adam used vintage trophies and a watering can in matte tarnished metal.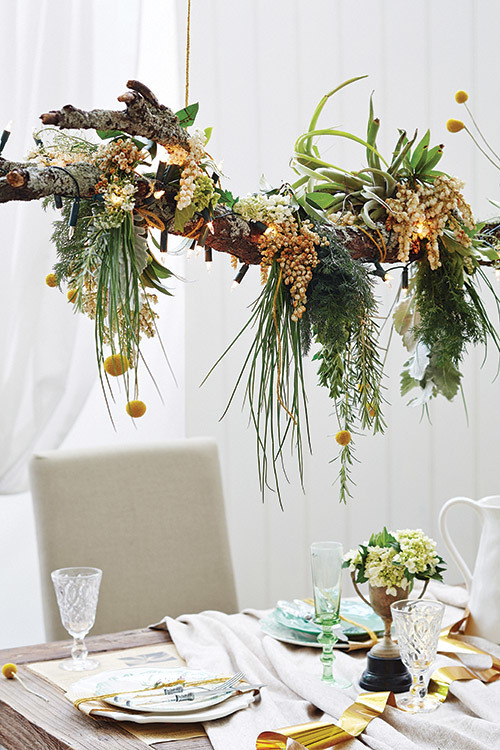 4. Hanging gardens
To create the spectacular hanging centrepiece, Adam hung a bough (often available at the florist if you can't find anything locally) and tied foliage and flowers onto it with the same yellow string used at each table setting. He included chives, sage and rosemary for easy access by herb-hungry guests and topped up with flowers including stylists' favourite Billy Buttons. Fairy lights are guaranteed to add magic when the sun goes down, when you'll also want to add candles or votives to the table.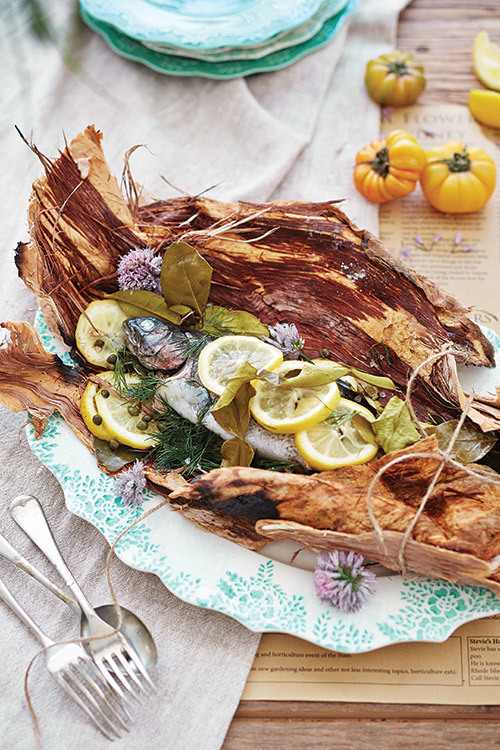 5. Fuss-free feast
Sharing plates speak of abundance and generosity, both of which work well at Christmas time! Don't be too fussy with your food - arrange it beautifully but naturally on large platters and let your guests help themselves. Jono Fleming's twist on a traditional fish baked in paper involves a uniquely Australian element - it is cooked in, and served on, paperbark.
Paperbark trout
Ingredients (1 fish serves 3-4)
One large rainbow trout, scaled and gutted
Large strip of paperbark (enough to wrap the fish)
Handful of kaffir lime leaves
Bunch of tarragon
Bunch of dill
3 lemons
3 cloves of garlic
3 tablespoons of capers
Splash of white wine
Kitchen twine
Preparation
First, find your paperbark. Jono pulled some off a tree in his back yard; perhaps a walk to your local park will be fruitful! Prepare the paperbark by scrubbing off any dirt and soaking in water for an hour.
Preheat your BBQ, turning on the heat and keeping the lid on.
Slice the lemons and garlic. Score the top of the fish lightly with short lines. Lay the paperbark flat and place a layer of kaffir lime leaves on it, followed by a layer of lemon slices. The layers should be big enough for the fish to sit on.
Stuff the cavity of the fish with the tarragon, dill, sliced garlic and capers. Place the fish on top of the lemon and leaves and cover it with another layer of lemon slices and lime leaves, plus a splash of white wine.
Fold the paper bark over the fish on two sides, then fold the top and bottom to create a parcel. Tie together with the kitchen twine.
Place the fish on the flat plate of the BBQ, or if you're feeling adventurous, on the grill part. Since you have soaked the paper bark it shouldn't catch alight. Any smokiness from singes will add to the flavour. Cook with the lid down for 30 minutes. When cooked, your fish should have a nice pink, soft texture. Serve with a chilled glass of white wine and enjoy!
Alternatively, you can use baking paper instead of paperbark, and cook the fish parcel in the oven at 200°C for 30 minutes.