12 November, 2014
Design classic: Alvar Aalto's Savoy vase for Iittala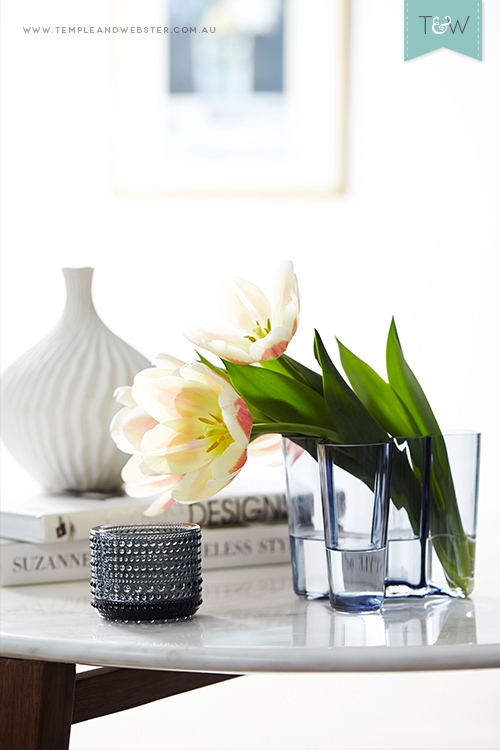 Karen McCartney writes about Alvar Aalto's 'Savoy' vase, so well known that it has its own Wikipedia entry!
There are few designs that genuinely deserve the title 'iconic' but Alvar Aalto's collection of glassware for Iittala, in the form of the Savoy vase, is one such piece.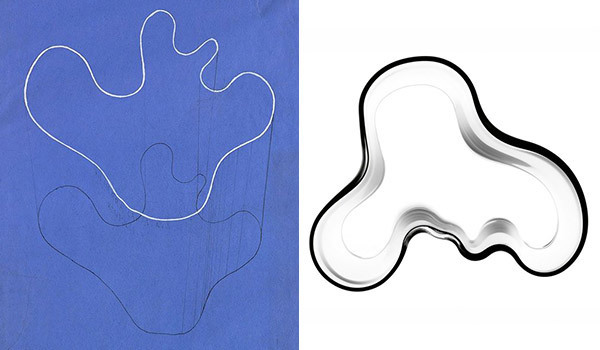 Aalto's original drawing(left) illustrates the freeform line of the vase, combining a simple modernist line with an organic curve that recalls the Finnish landscape. The translation from drawing to realisation (right) is remarkably accurate.
Designed in 1936 by Finnish architect and designer Alvar Aalto, it was showcased at the 1937 Paris World Fair. With its organic freeform shape, it was said to recall the natural lines of the Finnish landscape. A staple of modern Scandinavian design, its sensuous shape is still formed in mouth-blown glass in Iittala's factory.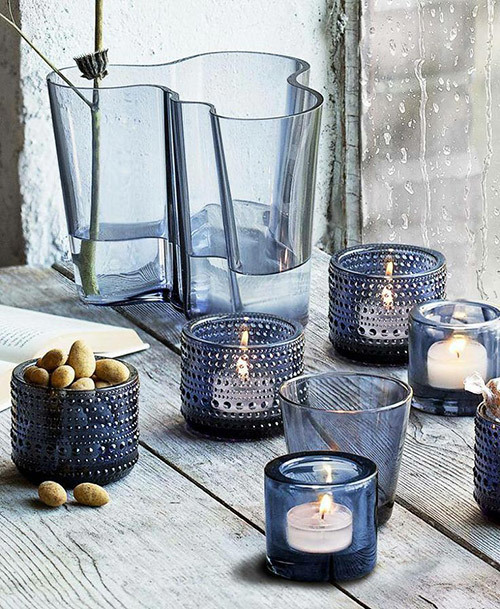 The beauty of the sculptural shape is that it works with a single stalk to a generous bunch of flowers. The votives, with textured or smooth surfaces, double as exquisite serving bowls.
Collected by world famous institutions including the Museum of Modern Art in NYC, the Savoy vase has become one of the most famous pieces of glass in history. Originally designed with size and colour variations in mind, the vases look good in groups as well as singly.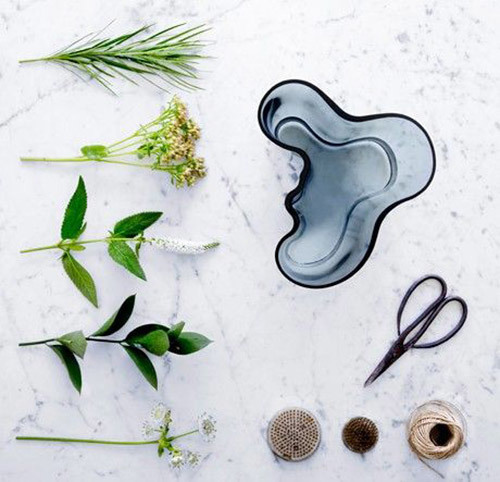 This beautiful shot sums up all the quiet simplicity of the Scandinavian aesthetic. The Savoy vase, in the wonderful inky blue, with herb cuttings, twine and picture-perfect scissors, placed on marble emphasises its connection to nature as much as its clean modernist line.
Aalto was an architect who believed in the house as a 'total work of art' and so designed buildings, their interiors, the furniture, the lamps and the glassware. His vision was complete and the Savoy vase is an opportunity to bring some of that timeless design thinking into your home in the most appealing and useful of ways.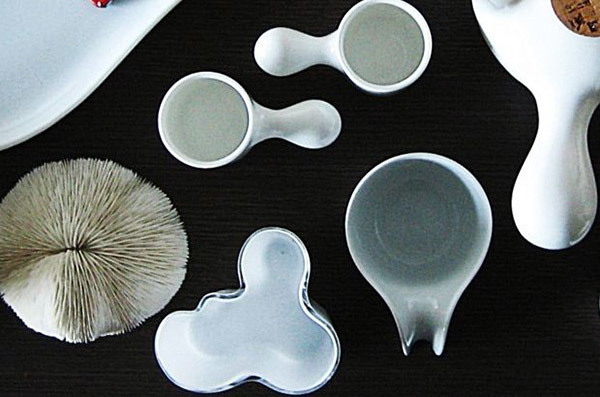 It is interesting just how the shape integrates with natural objects and other curvilinear ceramic pieces. By placing the opaque white Savoy vase on a black surface it adds drama, but equally white on white, or placed on pastels, works decoratively too.