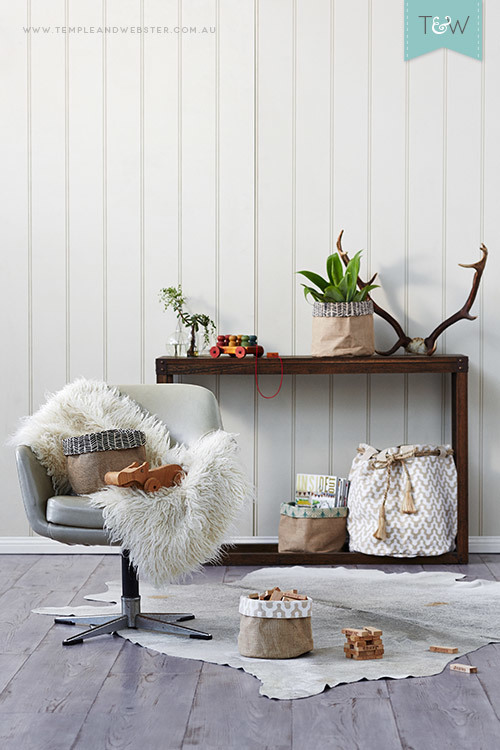 Shannon Sheedy, founder of homewares company, The Dharma Door, is a long time supporter and advocate of Fair Trade - her company is an endorsed Fair Trader of Australia and she is a member of the Fair Trade Association of Australia and New Zealand). Here she shares a recent week in Bangladesh connecting with the makers of her products. Shop for The Dharma Door's beautiful baskets in this week's sale event.
Last week I returned from Bangladesh where I visited many of our artisan partners in almost every corner of the country. As a Fair Trade business, it's important for us to reconnect regularly with the people who handcraft our products. Bangladesh is the most challenging place that I've travelled. The people are open and generous despite the ubiquitous poverty and I always bring home a renewed gratitude for the opportunities available in my life.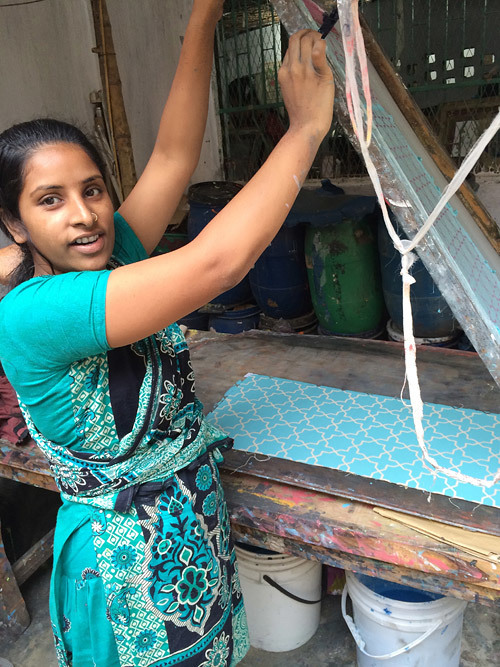 My first stop was to the group who make our
Hessian Sacks and Bucket Duos
. I had the pleasure of celebrating World Fair Trade Day with them. Over eighty women gathered and we exchanged thoughts about why Fair Trade is important and the positive impacts it has had on their lives.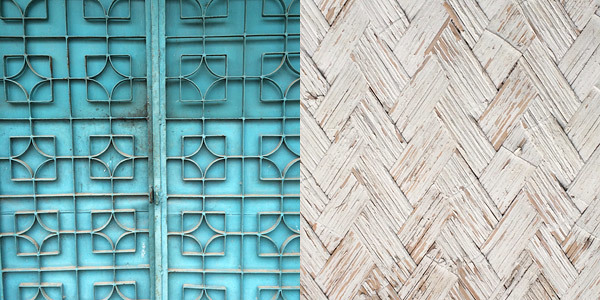 Inspiration is everywhere. I love the colours and Islamic patterns in doorways, windows and tiles. Natural fibres, textures and aged surfaces all weave their way into our collections.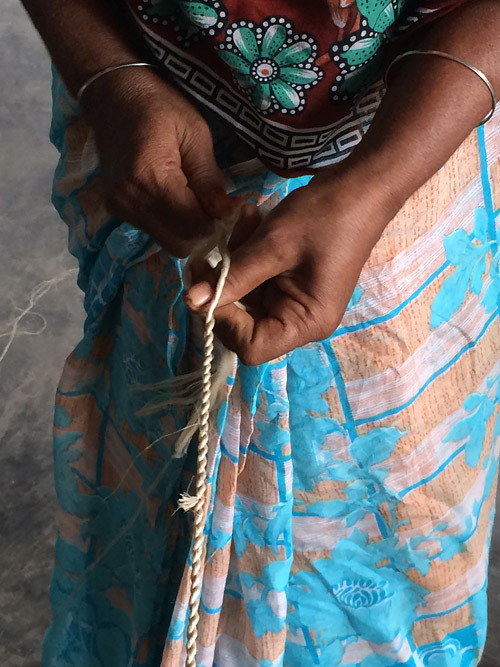 This artisan is demonstrating how she makes the ropes with tassels for our
Hessian Sacks
. Each rope takes one hour to complete.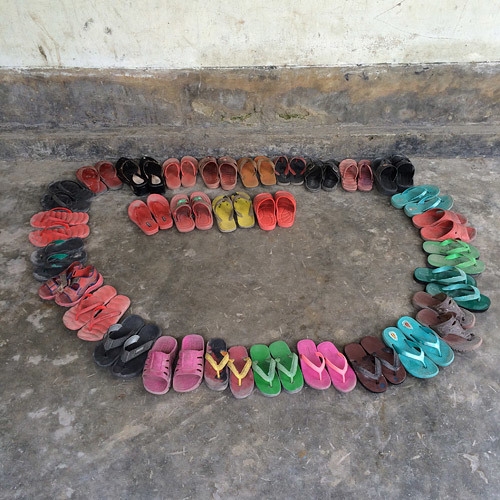 On my second day I visited a small rural village where our Jute Baskets are made. The organisation that we partner with has developed an effective system where they build small buildings, which are schools in the morning and double as basket weaving spaces in the afternoon. This means all the women who make our baskets are guaranteed an education for their children.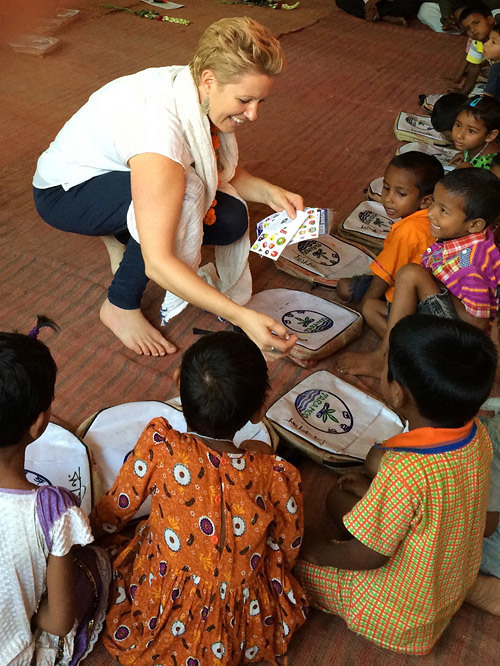 When I visit Bangladesh I take plenty of stickers, balloons and pencils to give to children in the artisan villages that we visit. This is one my favourite moments and I love that it helps to create connections beyond a typical supplier/buyer relationship…the artisans often have bigger smiles than their children.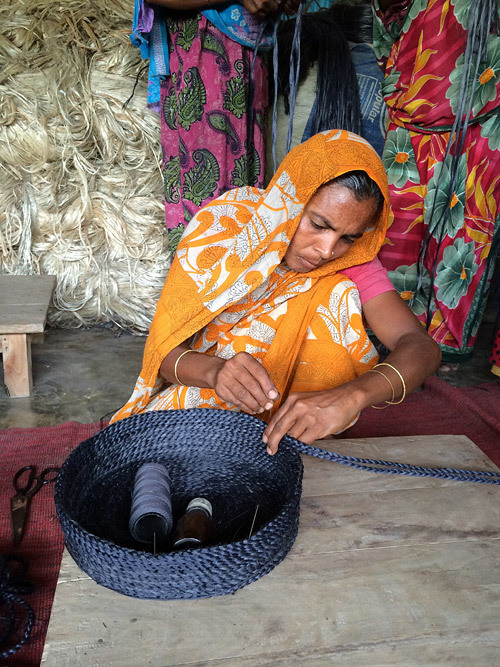 I am always impressed by the amount of detailed work that goes into each jute basket. Every woman receives two years training to reach this level of skill and quality. Formerly a tobacco-growing and cigarette-rolling community, our jute basket artisans now have the opportunity to earn a fair wage and safe, healthy work conditions.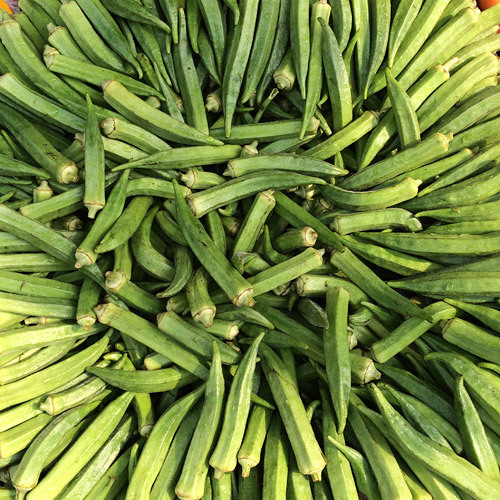 Taking time out to visit a market is a great way to immerse in the local culture….jute rope and twine in abundance and beautiful displays of seasonal produce are a feast for the eyes.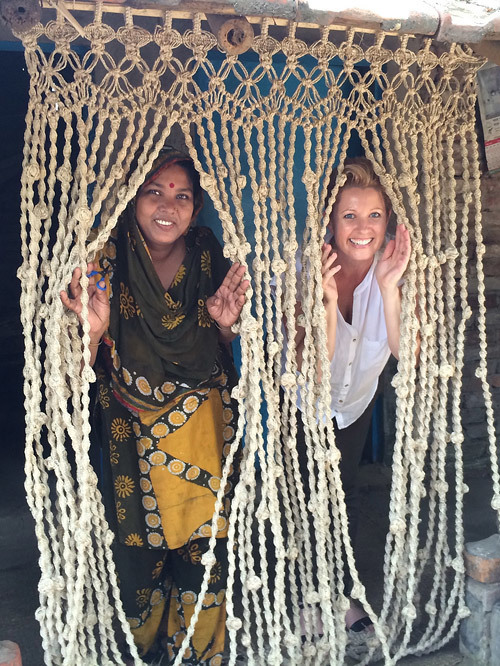 Recently we began working with an artisan group organised by an Italian NGO. We headed into the villages where women make our Jute Macrame collection from their homes. I developed a new appreciation for their work and learned that each door curtain takes 20 days to complete!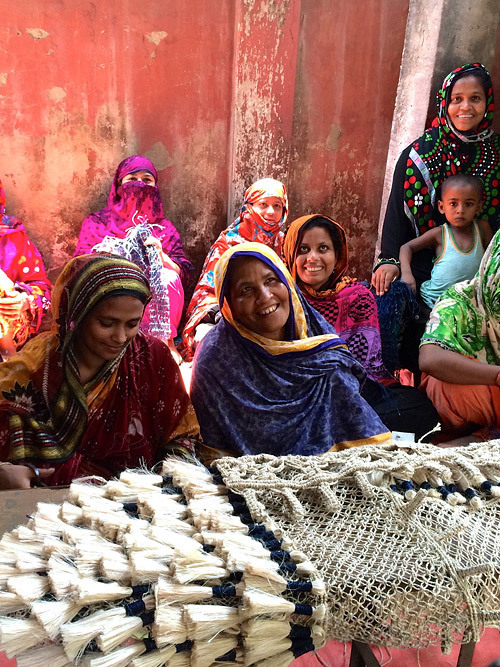 An exchange of mutual gratitude takes place with every artisan interaction. I show images of our products displayed in stores, on social media or featured in magazines and blogs. They laugh and point as they try to determine who made the product in the image. I also thank them for their work and for interpreting my designs so well. They share how making our products and being paid fairly has impacted their lives. As a result they have bought land for crops, rebuilt their houses, given their children higher education or contributed to a family business.
Follow Shannon and The Dharma Door on Facebook, Pinterest or on Instagram @thedharmadoor
Shop for The Dharma Door's storage solutions now.