Seen mostly in
outdoor furniture
because of its durability and lightness, rattan and cane, both also referred to as wicker, are highly versatile materials and are used in many different ways. You've probably heard rattan, cane and wicker all being used interchangeably, but each of these words actually mean something quite different. Learn the difference between the names of materials and technique, plus find ways to incorporate these rustic textures into your home.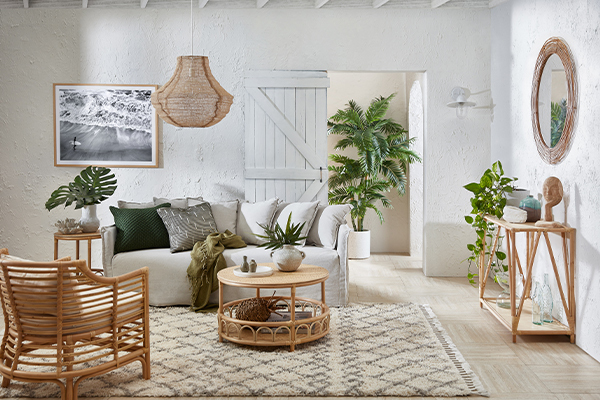 Wicker
While rattan and cane are materials, wicker is actually the name for woven furniture as a whole or the process of weaving materials into furniture. Wicker furniture will usually have a wooden or metal frame, with slender branches made from natural materials such as cane, rattan, seagrass, willow, reed and bamboo interlaced around it. While natural materials are the most popular for their look and feel, wicker can also be made using synthetic materials such as resin or vinyl.
​Wicker is used for many different pieces of furniture, including
coffee tables
, accent dining and
armchairs
, as well as decorative and picnic
baskets
, and can either be displayed in their natural form or stained and painted for colour flexibility. Due to its tight weave, however, it can collect a bit of dirt and dust with time, so dusting regularly and using clear polish to repel dirt is an important part of maintenance. You can also strengthen the weave with a lacquer coat every year or two, and keep it scratch-free by sanding down any rough edges.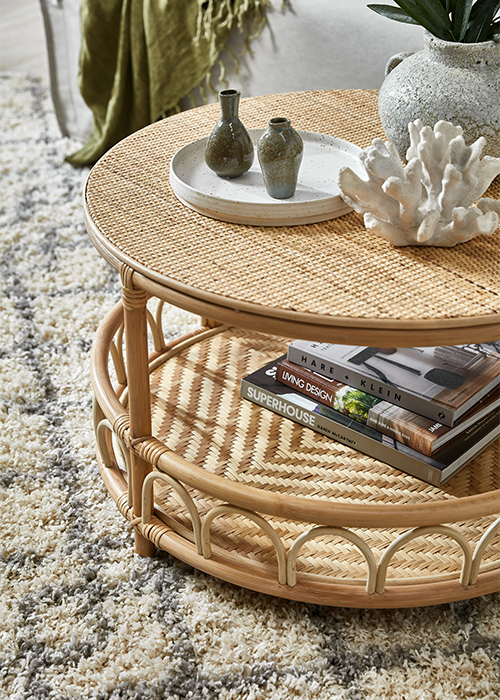 Rattan
Rattan is the name given to around 600 species of tropical palm trees native to Southeast Asia and is one of the strongest wood species in the world. They're fast-growing, making them a great renewable source and environmentally friendly choice for your furniture. It is largely exported from the Philippines, which is why rattan can also go by the names of Manila and Malacca, after the shipping ports in those cities. It's a material that looks and feels a lot like bamboo, but is more flexible as bamboo doesn't bend, making it a popular choice for larger pieces of furniture such as
coffee tables
and
armchairs
, as well as accent pieces such as
pendant lights
. Shop our full
rattan collection
now.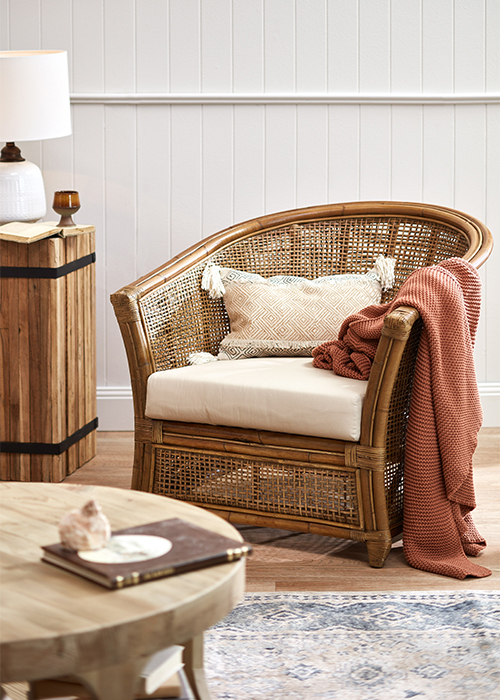 Cane
While rattan is a material all in itself, cane is actually formed from parts of the rattan tree. It is made by peeling the outer layer from the rattan tree and wrapping it around a solid material, such as wood, steel or aluminium, to highlight the mottled skin of the rattan plant. Often left in its natural round state, cane is a popular choice for framing pieces of furniture such as
bed heads
and
dining chairs
. As it utilises the outer layer of the plant, it is also not as porous as the rattan used in furniture, making it ideal for damp or outdoor environments and stands up well against spills.