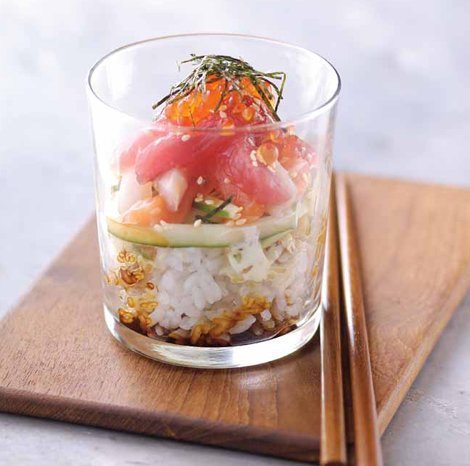 Pete Evans endorsed this dish as worthy of his last supper. True story. If we've managed to spike you interest as he did for us, you'd do well to read on because the aforementioned is our latest recipe from Eatlove. This Japanese and Korean inspired entree is from Pete's cookbook, 'Fish' (Murdoch Books). He says you can mix it up with any type of fish that can be served raw. It's sure to impress...
Ingredients (serves 4):
a handful bean sprouts
3 tablespoons rice wine vinegar
1 tablespoon soy sauce
1 teaspoon salt
1 tablespoon sugar
a pinch chilli powder
1 sushi rice
4 quail eggs
2 teaspoons sesame seeds
2 tablespoons Japanese mayonnaise
a handful cucumber
160g Spanish mackerel
160g bluefin, yellowfin or longtail tuna
160g trevally tamari soy and wasabi
4 tablespoons salmon caviar
1 nori
Preparation:
Blanch the bean sprouts in boiling salted water for 30 seconds and then refresh under cold water. Mix together the rice wine vinegar, soy, salt, sugar and chilli powder and pour over the bean sprouts to make pickled bean sprouts. Leave to marinate for 20 minutes and then drain.
Place the rice in the bottom of four bowls or martini glasses. Make a small indentation in the rice and place the quail yolk into this. Top with half the sesame seeds and then dot the mayonnaise over the rice. Top with the bean sprouts, then the cucumber, then the fish. Drizzle the tamari soy sauce and wasabi over the fish, sprinkle with the rest of the sesame seeds, then top with the caviar and finally the nori. Serve with pickled ginger.
See more at
eatlove.com.au
where you can follow your favourite chefs, share their recipes and buy their books.