The world's largest beer festival held annually in Munich may be cancelled this year, as well as most of the
Oktoberfest in the Gardens
events here in Australia, but that doesn't mean you need to deprive yourself of snags and steins. Here, we show you bring the revelry home with our favourite Bavarian beers and Oktoberfest dishes to continue the celebration that began with the 1810 marriage of Bavaria's Crown Prince Ludwig and Princess Therese of Saxe-Hildburghausen.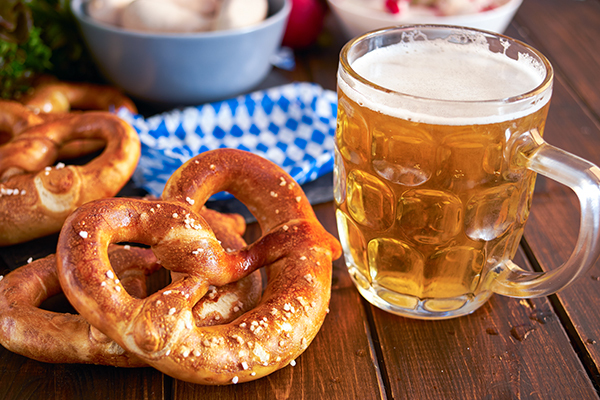 Our favourite German beersPeter, Group Head of Operations
You can't go past any
Spaten
beer, preferably when it's drunk in the Schottenhamel tent, the best one in Munich.
Augustiner
is another good one, which is best enjoyed in their beer garden. Hopefully both will be possible next year!
Kfir, Business Development Manager
Schöfferhofer Hefeweizen
was my drink of choice on my German road trip on my German motorbike.
Craig, IT Operations Manager
Weihenstephaner Hefe Weissbier
, a naturally cloudy wheat beer, is one of my favourites.
Anthony, Head of Engineering
I enjoy a
Paulaner Ur-Dunkel
, but honestly, any German beer will do; it is my family heritage after all!
Adam, Chief Experience Officer
The best thing about German beer, and why nearly all of them are delicious, is a law called the
Reinheitsgebot
, which, according to the 1516 Bavarian version, proclaimed that beer be made from only hops, barley and water: magic. I can vouch for Spaten, Paulaner and
Erdinger
. My neighbour Helmut, who is 84, brews his own Munich lager, and that's delicious, too.
Shop our beer steins to get Oktoberfest party-ready.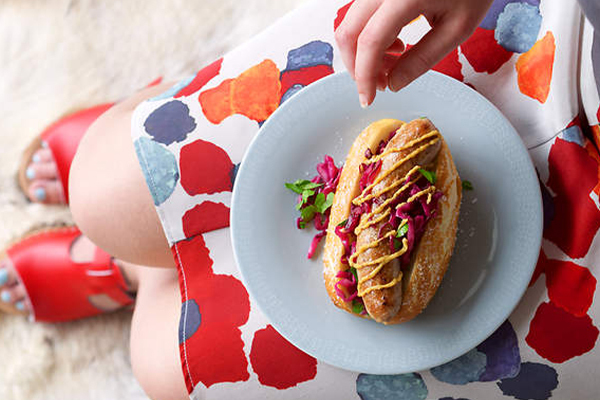 Image via SBS FoodGuide to German sausages
Of course, nothing says Oktoberfest like quality German sausages. If you're overwhelmed by the different varieties of German snags on offer, we give you a quick breakdown:
Bratwurst:
Meaning 'farmers sausage', these fresh or smoked pork or veal snags seasoned with fresh herbs such as parsley, are grilled and served in buns. Perhaps try these
bratwurst hotdogs in pretzel rolls with red cabbage sauerkraut
(above)?
Knackwurst:
These stubbier pork and veal sausages, renowned for their garlic flavour and snappy casings, are smoked, then either grilled or boiled. They can also be chopped up and served in dishes such as this
warm potato salad with knackwurst
(below).
Thuringer:
This epic 15-20cm beef sausage features a unique spice blend of caraway, marjoram and garlic, and is served grilled or fried.
Weisswurst:
This white veal sausage, which gets its colour from cream and eggs, is traditionally served in the water that it is poached in, with sweet Bavarian mustard on the side.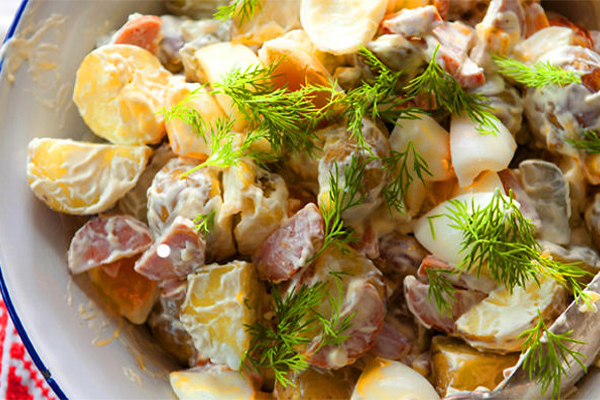 Image via SBS FoodUltimate Oktoberfest party food​
​Some of the delicious Oktoberfest dishes you'd find in Munich include spit-roasted chicken, slow-roasted pork knuckle, dumplings of all kinds, and cold cut platters with a traditional soft cheese spread known as
obatzda
(below) which contains, of course, beer.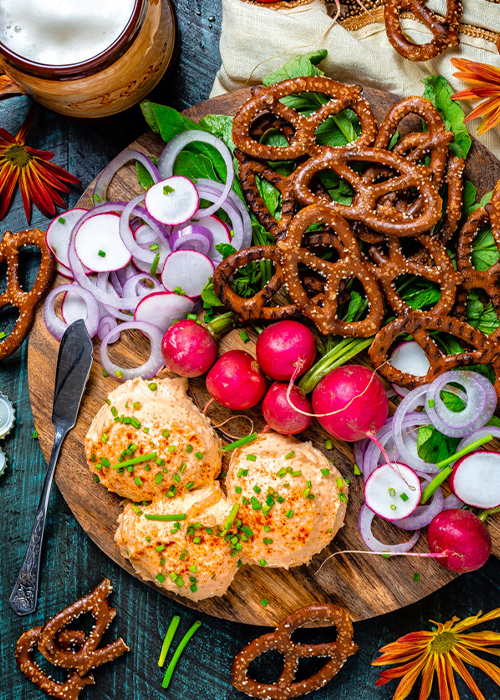 Image via Host the Toast
Serve this creamy cheese dip with plenty of homemade salty pretzels. For a twist on
traditional pretzels
, try this recipe for
Himalayan rock salt and caraway seed pretzels
(below). Shop our
serving boards
and
platters
to make an impressive spread.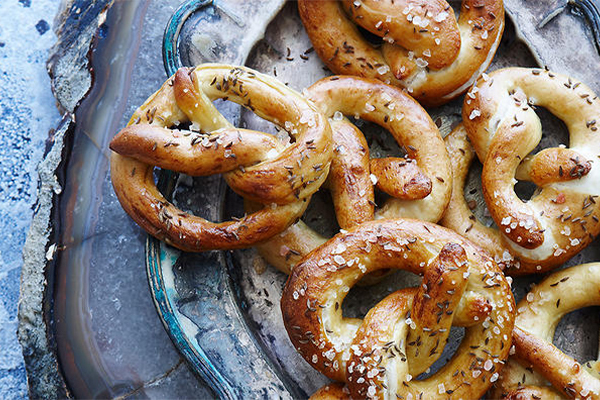 Image via SBS Food
It isn't a German feast without schnitzel. Why not add an Australian spin to this crumbed favourite with this recipe for
macadamia-crumbed pork schnitzel with 'Aussiekraut'
(below), which includes beetroot in the zingy cabbage mixture (achtung, scandalous!).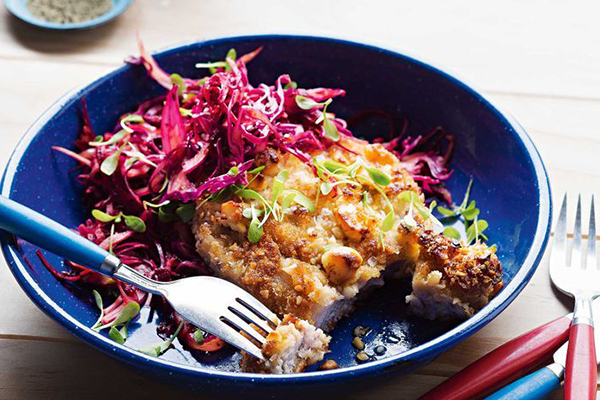 Image via delicious.com.au
For something more authentic, try
kasseler pork with sauerkraut
(kasseler is essentially the name given to salt-cured smoked pork loin). If you're patient enough to make your own fermented cabbage (you'll need at least a couple of weeks), give this
sauerkraut recipe
a whirl, then try this
cooked sauerkraut
frying the fermented cabbage with bacon and white wine for added flavour. Shop our
glass jars
to store your homemade sauerkraut.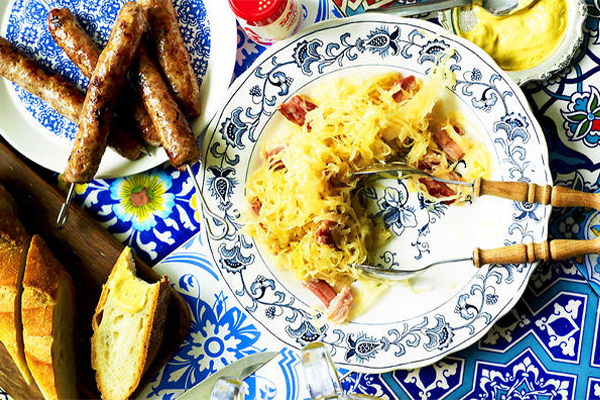 Image via SBS Food
When it comes to sweets, spiced desserts such as this
German ginger and apple cake
(below) and traditional German gingerbread or
lebkuchen hearts
with cute iced messages are Oktoberfest favourites.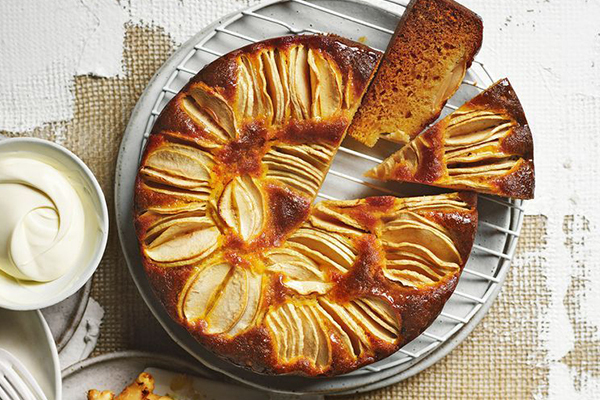 Image via delicious.com.au
​
The kids will love decorating the biscuits, or they could even be handed out as cute take-home novelties, that is, if they even last that long! Shop our
bakeware
to get started.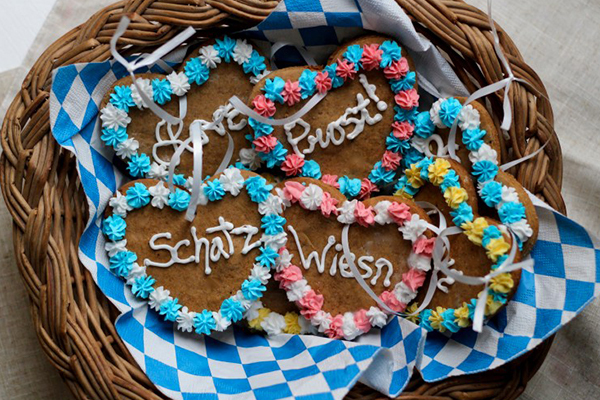 Image via Diary of a Mad Haus Frau

Happy Oktoberfest!