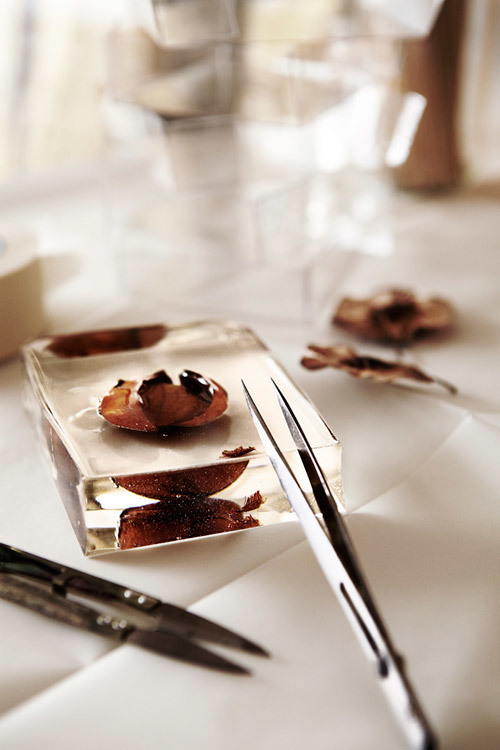 Parish Stapleton has had a passion for nature since childhood. "All my life I have been drawn to and mesmerised by nature. I believe that everything on the planet is connected, sharing from the same pool of available resources from which we all live. I have been gathering and collecting the little wonders I find in Nature for as long as I can remember. I spent my childhood playing in the forest dragging much of it home, much to my mother's dismay."After many years working in the US as a stylist & creative director Parish returned to Sydney to complete a Masters in Fine Art at COFA and is now combining all his passions in his role as the inaugural artist-in-residence at Sydney's Centennial Parklands. His '1000 Leaves' exhibition opens on 29th August at the Superintendent's Cottage in Centennial Park and runs until 15 September (details are here) and each of the 1000 beautiful leaf drawings he has created will be sold to benefit the park.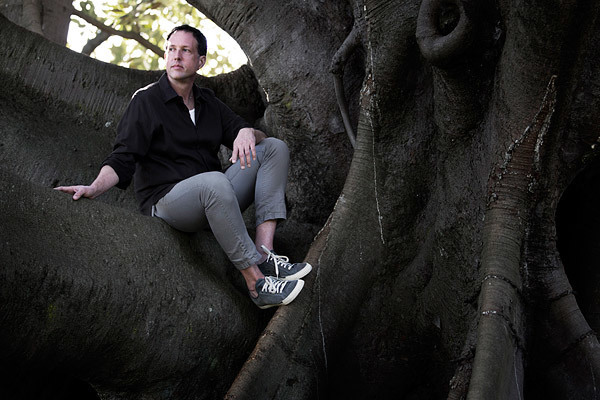 This beautiful tree has the nick name 'Dragon Tree'; the root system creates a surreal maze reminiscent of a dragon's back. It is located near the fence line just off Lang Road inside Centennial Park, an amazing specimen with the added bonus of being easy to climb. It is a very peaceful place to hide away, contemplate and relax after a good wander around the park.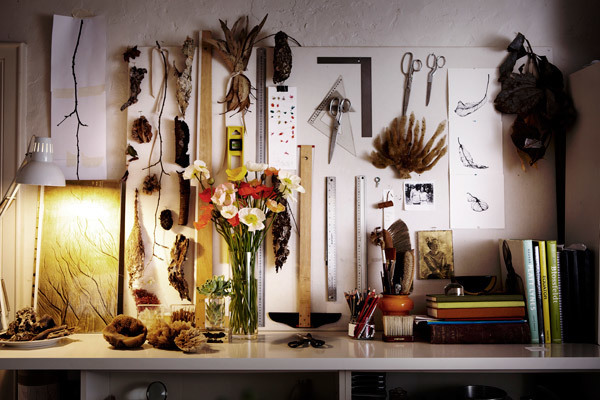 This wall holds my favourite things in the studio, collections of findings from the Park to Cape Tribulation, family photographs and the tools for my work, birds nest and books. Oh, I have a passion for sharp scissors.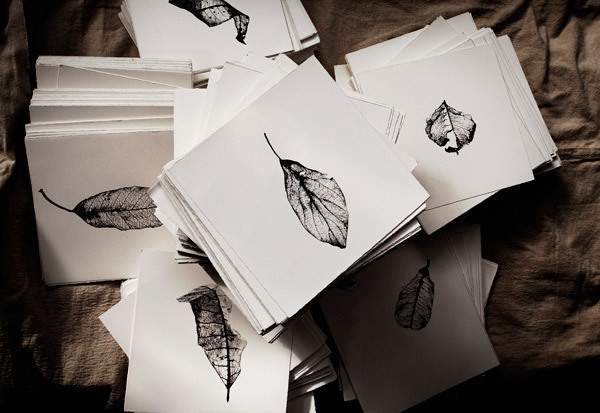 '1000 LEAVES' Falling at Centennial Park
. It seemed like a good idea at the time. 1000 solvent drawings from 1000 original photographs of 1000 individual leaves on 1000 pieces of hand deckled paper. Easy, right? I did not really think it through and would have not made such a leap if I had. However, it has been the most wonderful journey and adventure. Each leaf has its own individual unique pattern and personality and I love them all. Their gift to me is immeasurable patience, seeing and peace. Each leaf is $40. And available to fall when purchased. The sale of each leaf contributes to the living legacy of the Parklands.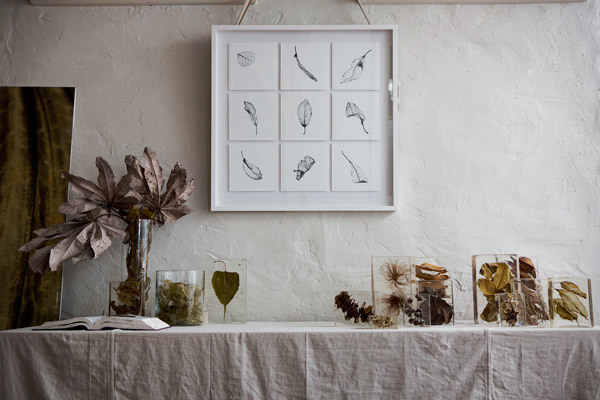 In addition to the works on paper I have created a collection of resin works (OOAKs). These works encase collections from the park in clear resin blocks. I have worked with Ted Hoare Senior Ranger to highlight unique trees within the parklands in the resin works. On the wall are 9 of the 1000 leaves framed. There will be a few framed examples at the show. I was speaking to Alex of
Funktion Picture Framing
on Bourke Street about framing; he likes the 1000 leaves so much he joined the effort and is offering framing at a great price.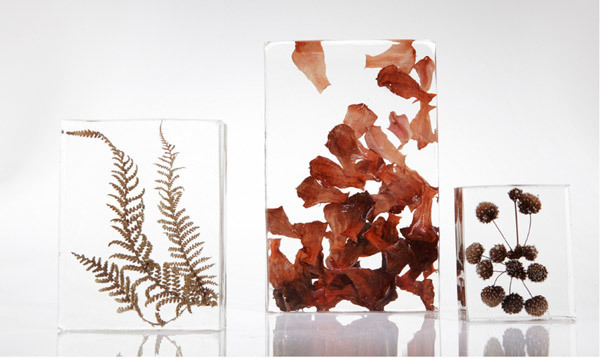 Resin has been, in some way, a part of my art practice for years. During a trip to the Daintree Rainforest, in July 2012 to develop work for an upcoming art show, the idea began to emerge. I asked myself, "How do I share these amazing, wondrous forms from nature that are so easily overlooked in our busy everyday lives?" On that trip, through hours of walking, the seed was planted and
OOAK
is the result.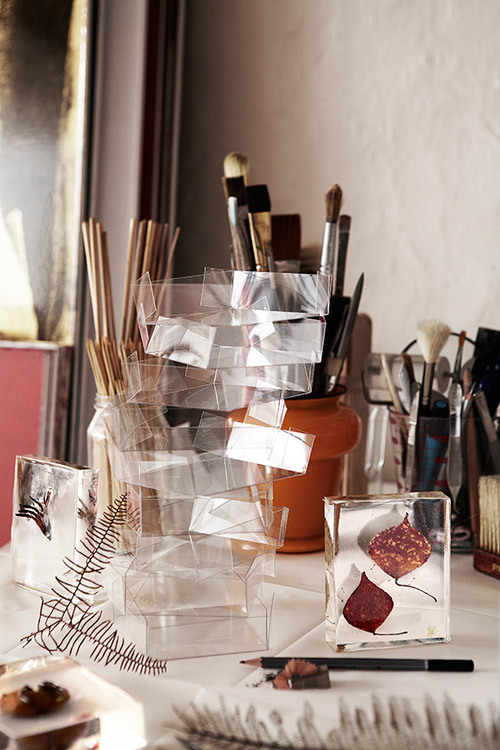 The making of OOAKS resin works is labour intensive. Each mould is hand made. Then layers of resin are poured to encase the found objects. You can see more of them at the show and at the
OOAK web site
.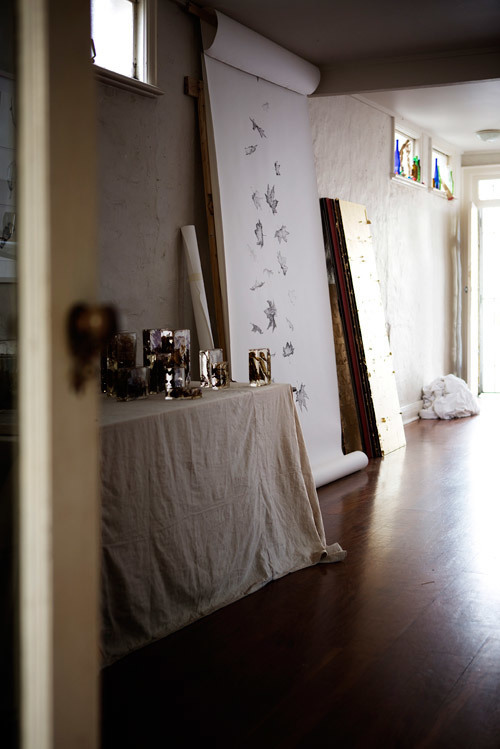 This photo is a side shot down my studio. First is the table with the OOAKS then a scroll work prototype. I am now working on a 1.5 by 3 metre scroll for the show. The scroll captures the grace and ease in the fall of leaves. Next in the row is a stack of gold leaf panels, they are my height and width. This is the base of 6 additional works for the show. Then there is my laundry….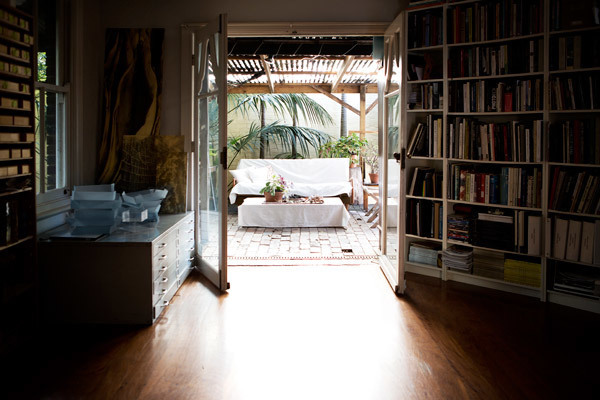 This is my escape – my outdoor living space is made of wonderful discarded furniture finds. The sofa, a '70s piece found in perfect nick on South Dowling Street has created a budding idea - 'RecycleReimagine.' Under the canvas cover lies the beginning of the transformation of this lovely sofa, bringing it up to date and reimaging it's potential and possibilities. Please stay tuned as this is sure to lead to yet another passion and obsession.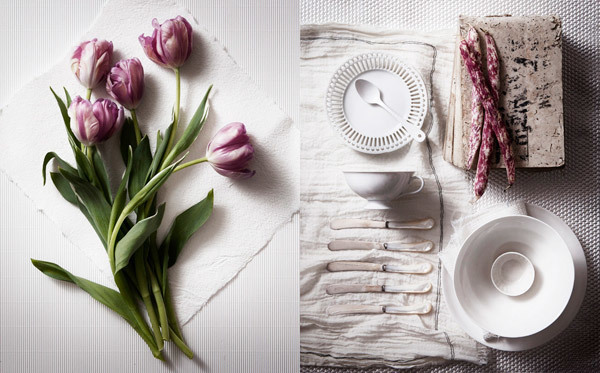 This is one of my favorite images from a recent styling job. Though most of the words here are about the up coming show, I must admit it has been all consuming. I am a stylist as well and I am equally passionate about this part of my life. I find this image very calming, the brief was dinnerware juxtaposed with floral. The inspiration was Japanese, wabi sabi and tonal harmony. I could go on forever….. I leave it for another time.
Images by Marty Lochmann, styled by Parish Stapleton. Follow the progress of '1000 Leaves' on Parish's Facebook page or on Instagram @parishstapleton.