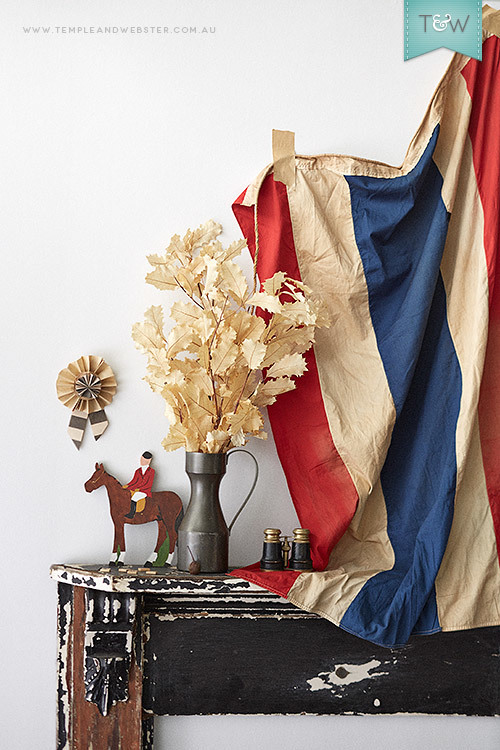 T&W's Head of Styling Jessica Bellef created three beautiful vignettes to show off the vintage wares in today's Epoch Co sale event. We asked her for 10 tips on how to create styling moments in your own home.
As a stylist, I find it hard to stop creating vignettes – no coffee table, mantel piece, bookshelf, desk or flat surface is safe from my compulsion to curate & arrange my things to bring me visual joy.
I'm a sucker for vintage pieces and the stories they tell, so I was in serious stylist heaven working with Epoch Co's collection and didn't stop until I had created three different styled shots.
Here are some of the ideas I used, which you can apply at home. Channel your inner stylist by taking some time and care to show off your collections to their best advantage.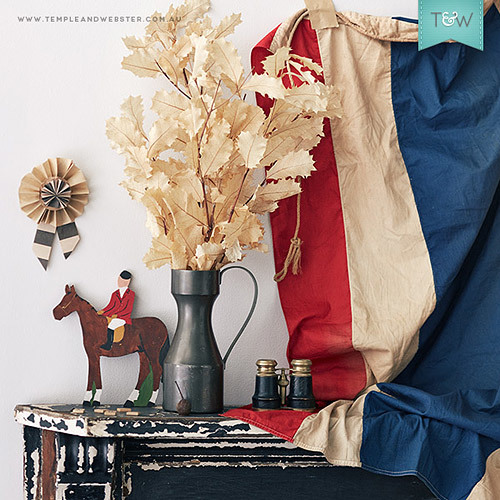 Theme your collection
Inspired by Megan Morton's recent celebration of all things horsey, I pulled together a few equine-related items - a timber cut out, a rosette and this stunning pewter vase, which reminded me of a trophy. Creating this context allows the collection to tell a story.
Foliage is beautiful
Don't overlook the beautiful simplicity of a mass of leaves – often longer lasting than flowers and equally as striking. I used this foliage, with its old parchment colour and texture, to tie together and reflect the paper rosette and the aged flag.
Get crafty
Paper craft can be as simple or as complicated as you are comfortable with. Paper is cheap, readily available and easy to work with. I made this rosette after finding a tutorial online - it took less than 30 minutes and was very easy. The best thing about paper craft is that you can recycle your mistakes!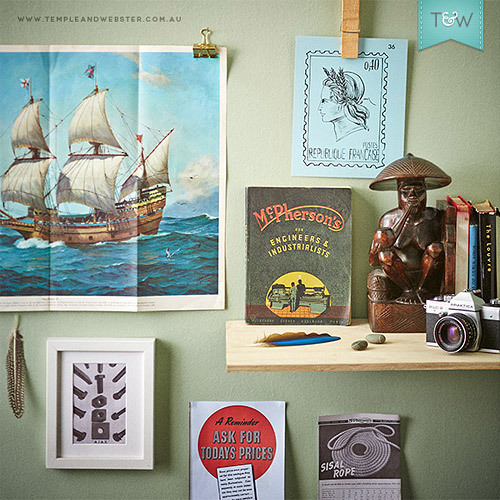 Think outside the box
Don't feel limited by conventional ideas about what should be displayed on walls, or how. I used a combination of framed and unframed prints and photocopies of old ads with interesting designs and typography. The white Corban & Blair box frame showcases an ad for screws and bolts, while the other 2 photocopies go unframed. Keep it cohesive by sticking to a limited colour palette or by theming your display.
Books are beautiful
Treat your books as art and front-face interesting looking covers on your shelves. The book I have featured on my shelf is actually the source of the photocopied ads on the wall.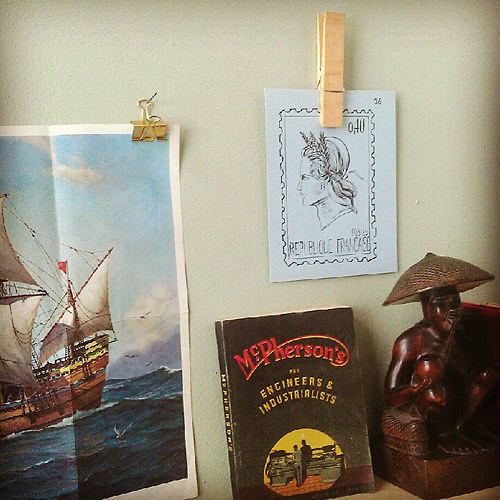 Hang with care
The way you display your finds can be a feature in itself. Visit specialty stationary stores (or even $2 shops) and look out for interesting clips. I used gold bulldog clips to mount the amazing print of the ship and an oversized timber peg (attached to the wall with Blu-Tack) to display the postage stamp print.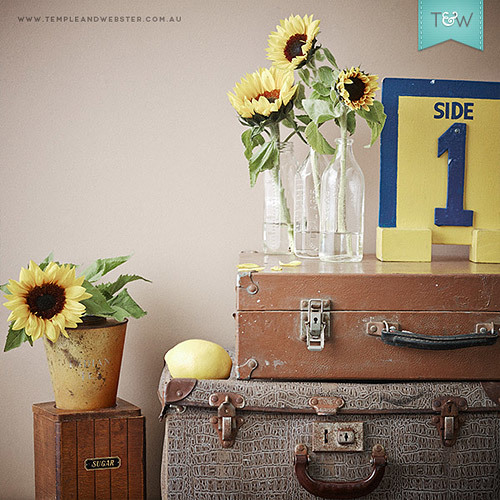 Cluster your vase
s
Make an impact with even a few flowers by grouping together a few vases. Single stems look cute when clustered in smaller glass bottles like this, and the differing heights allow each bloom to shine.
The rainbow connection
Pick blooms in colours that you already have in your room and they will tie the space together. Cheery sunflowers were a logical choice with this vintage lawn bowls sign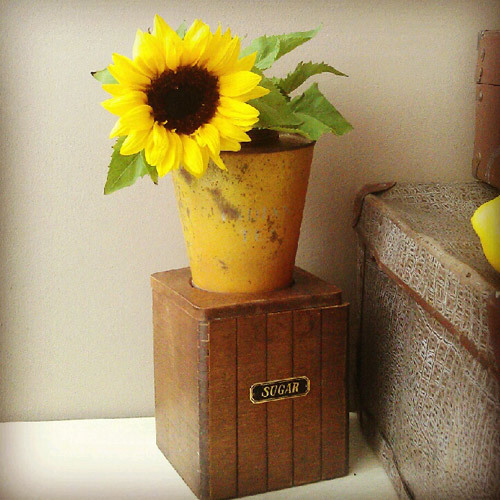 Any vessel can be a vase
I used a vintage tea canister to hold this happy sunflower. If the vessel you want to use isn't watertight, cheat it by placing a smaller glass vase filled with water in the vessel. No one will ever know!
Flowers will always save the day
A stylist's (not so) secret weapon is a pretty posy or two, but you don't have to spend a lot to create something special. The supermarket can be a great budget source for blooms, which you can splice into masses of foliage for impact. If you're lucky enough to a blooming garden and a green thumb, bring your outdoors in and dot flowers and foliage around the home.
Share your vignettes on Instagram - remember to tag us @templeandwebster.