Thomas Paul (above) was born and raised in New York, where he still works as a designer. His linens, cushions and dinnerware incorporate vintage motifs with a touch of whimsy. Our friend Mr Jason Grant is a Bondi-based stylist and author of A Place Called Home and Holiday at Home, two books showcasing his breezy, Summer style. The two recently caught up – here MJG kindly shares his insight into Thomas's world.
Where do you live?
In New York City.
How would you describe the style of your home?
Currently a bit of a mess since I just moved apartments, but the look I'm going for in the new place is English country house library for the living room – dark green walls, hoping to find a nice chesterfield sofa, antique prints on the walls – and then clean and modern for the bedroom – black, white and grey with pops of colorful art. So basically I'm trying to work my two sides in somehow!
What is your favourite thing in your home?
Currently a 19th century bronze sculpture of a seated man, a copy after a Michelangelo original, that I bought at auction last year. Much smaller scale than the original!
What do you collect?
What don't I collect?! I'm obsessed with vintage prints. There are so many great ones out there that I have to narrow my focus, so I try to narrow in on images of men, usually solitary, wearing some sort of military uniform. I started out with birds but I think I reached my limit on them. That said, if I find a really great one I will still buy it. Having the wall space for them all is another story…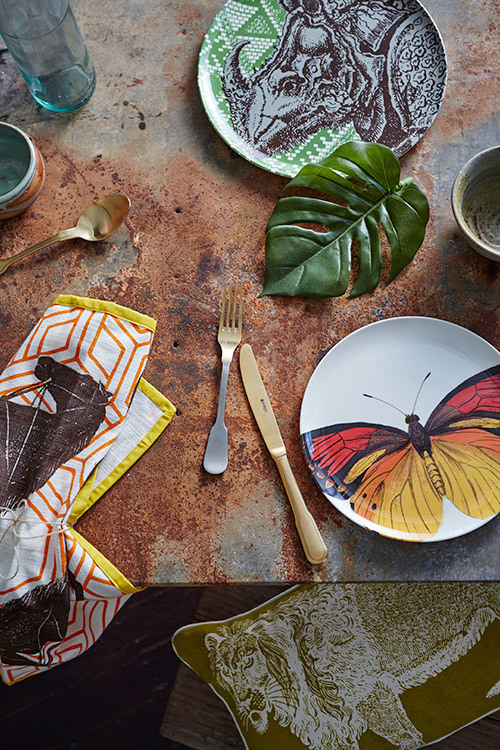 Thomas Paul Collection. Photography – Denise Braki. Styling – Sarah Cousens.
What are you working on right now?
I'm wrapping up the Fall collection and thinking about next Spring/Summer and what to do there to take sea and nautical looks in a new direction.
What are you loving right now?
I'm feeling very black and white at the moment.
Coffee or tea?
Coffee.
What is on your shopping list?
For my new place I have my eye on the Snoopy lamp by Achille Castiglioni.
Favourite thing to do on the weekend?
Usually brunch and going to museums or galleries.
Favourite street to shop in?
I prefer to shop online.

Favourite day of the week? Friday.


Favourite place to shop? Ebay.


Favourite place to eat? Anyplace low key where I don't have to get dressed up.


What is your signature dish? French Toast


What is your signature drink? Gin and tonic


Favourite holiday destination? Any city that has a lot of museums and palaces to see.


Favourite quote? 'When good Americans die they go to Paris' (Oscar Wilde)


What are you listening to?
I'm obsessed with Spotify right now. I love being able to pull up any album I want – lately I have been revisiting dance music from the early 90's like Black Box and Cathy Dennis.

What/who are you inspired by? Anyone who lives without compromise.


What makes you happy? Manhattan in the summer.