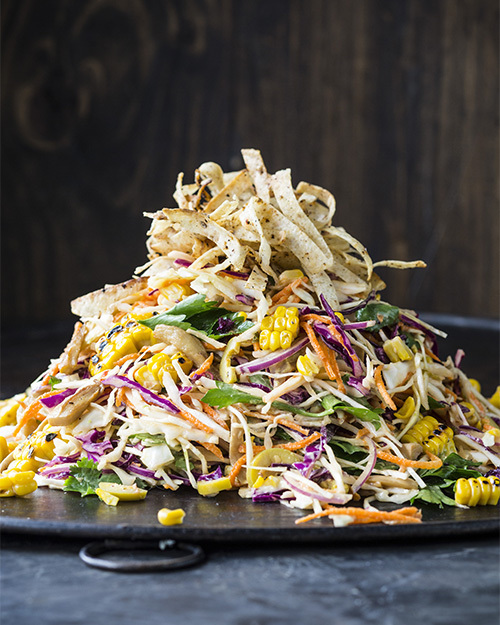 Looking to lighten up for the new year? This vibrant salad from Melbourne eatery Smith & Daughters is a colourful way to kick things off. Find this recipe and more in their gorgeous book out now – Smith & Daughters: A Cookbook (that happens to be vegan) by Shannon Martinez & Mo Wyse (Hardie Grant Books, RRP $48).
Brazilian Slaw

Serves 4–6

As far as salads go, you don't get prettier, with more texture, more variety and more fun.
1½ tbs olive oil
150g fresh or frozen corn kernels
85g oyster mushrooms, roughly torn
1 tbs tamari or soy sauce
1 granny smith apple, cored and cut into thin matchsticks
1 large carrot, peeled and cut into thin matchsticks
½ red onion, thinly sliced
85g green pimento olives, sliced into thin rounds
300g thinly shredded purple cabbage
Large handful flat-leaf parsley leaves
Large handful coriander (cilantro) leaves
3 corn tortillas, cut into 5mm strips (or use roughly crushed tortilla chips)
Olive oil spray
Chilli and lime salt (available from Latin food stores)
Dressing

250g (1 cup) aioli
Zest and juice of 1 lime
1 small garlic clove, crushed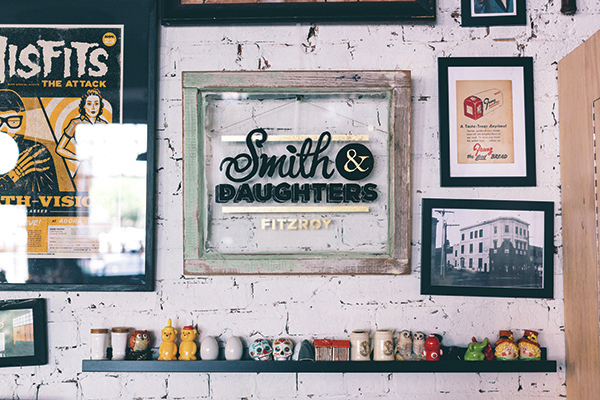 Preheat the oven to 180°C.
Heat 2 teaspoons of the oil in a chargrill pan or small frying pan. Grill or sauté the corn until lightly charred. Remove from the heat and set aside.
Heat the remaining oil in a medium-sized frying pan over medium heat. Add the mushrooms and soy sauce and saute until golden and slightly crisp. Set aside to cool.
To make the dressing, combine the ingredients in a bowl and whisk together until well combined.
To build the salad, combine all of the ingredients (except the tortillas, olive oil spray and chilli lime salt) in a large salad bowl and add enough of the dressing to lightly coat. Season with salt and pepper, to taste.
For the garnish, spray the tortilla strips with olive oil spray and dust with a little chilli and lime salt. Transfer to a baking tray and bake in the oven until crisp. If you are using tortilla chips, just sprinkle with the chilli and lime salt instead.
Build a small conical tower with the salad and top with the garnish. Big salads are always better, especially when tortilla chips are involved.