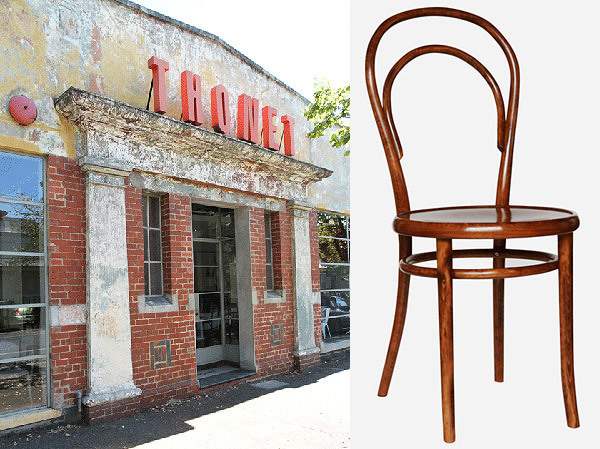 Design expert Monique Rappell is back, and her passion for chairs is infectious. Her topic today: the astonishing tale of the iconic Thonet bentwood chair (images above courtesy of Thonet).
In the 1970's my mother pulled a wobbly Thonet #14 bentwood chair out of a tip and painted it olive green, adding a funky addition to uber 1970's decor. In hindsight I am not sure which I find more astonishing - that someone binned a Thonet chair because it was missing a screw, or that olive green was so fashionable. While I don't impress easily, the word 'astonishing' has been liberally littered through my thoughts regarding Thonet chairs ever since. Rather than fight it, I want to share the wonder of this deceptively simple chair.
It is
astonishing
that this chair has not only represented grooviness in the 1970's but sexiness in Lautrec's Parisian paintings in the 1890's, functional utility in Le Corbusier's modernist interiors in the 1920's, and creativity in Picasso's studio in the 1950's. This chameleon-like capacity to delight generation after generation makes it the most familiar chair in the world. The most
astonishing
feature of the #14 is that this simple familiar object is in fact evidence of ground-breaking innovation, the type that changes the world forever.
Michael Thonet was arguably the first modern designer whose vision moved manufacturing and design into the future. The future you now inhabit. He perfected and patented the process of steam bending thin rounded lengths of locally sourced beech. The strength of the steam bent timber meant the chairs used much less timber, making them visually and physically lighter than their contemporaries while still allowing for the curves so popular at the time. In an era when chairs needed two men to lift them and months to build, Thonet designed a chair made of 8 elements held together with 10 screws. This meant it could be built by unskilled labour and shipped flat, saving labour, material, and shipping costs. It is
astonishing
that while steam bending timber is a very unnatural process it is in fact the template for modern sustainable design. Ikea owes a lot to Thonet's vision.
It is
astonishing
that the #14 chair designed by Thonet has been in continuous production since 1859. By the 1930's over 50 million of these chairs had already been sold, with millions more sold since. Why has this simple chair been so successful for so long? The answer is as simple and as complex as its design.
Unlike his peers, Thonet experimented relentlessly, testing iterations of his bentwood chair by putting them into the public domain. His success at trade shows led to sponsorship by an Austrian prince in the 1840's and the beginning of Thonet world domination. Like a modern designer, Thonet was sensitive to technological and cultural change and the #14 is a child of the industrial revolution and the desire to produce affordable furniture for the masses. The chair originally cost the same as 3 dozen eggs. While it costs considerably more than an omelette now,
astonishingly
it is still manufactured by hand within a company headed by the Thonet family
When Thonet died in 1871 he left more than furniture as a legacy. While he protected his designs with patents, he protected his family company through a culture of innovation. His five sons continued his vision employing cutting edge designers like Mart Stam (who designed the first cantilever chair), Marcel Breuer, and Le Corbusier as freelance designers, a practice that continues to this day. So while bentwood chairs only account for around 5 per cent of Thonet's business today, they account for much of its sensibility and reputation.
Don't be fooled by these chairs. They might be familiar but their history is unique. Thonet's #14 chairs are so much more than sum of their elegant parts. They are reminders that visionary design can begin with simple ideals and be resolved sustainably, and that you can tether the future to the past without being stuck there. Don't wait to pull a Thonet out of the tip, those days are long gone but luckily for us and, most
astonishingly
, the #14 remains.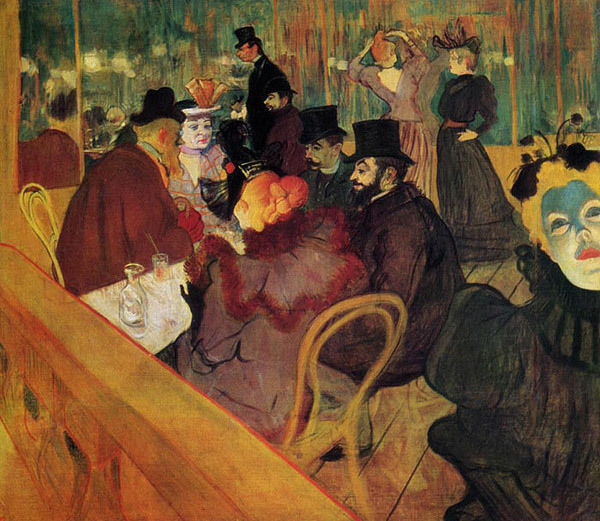 'At the Moulin Rouge' by Henri Toulouse-Lautrec, featuring the Thonet No 14 bistro chair.