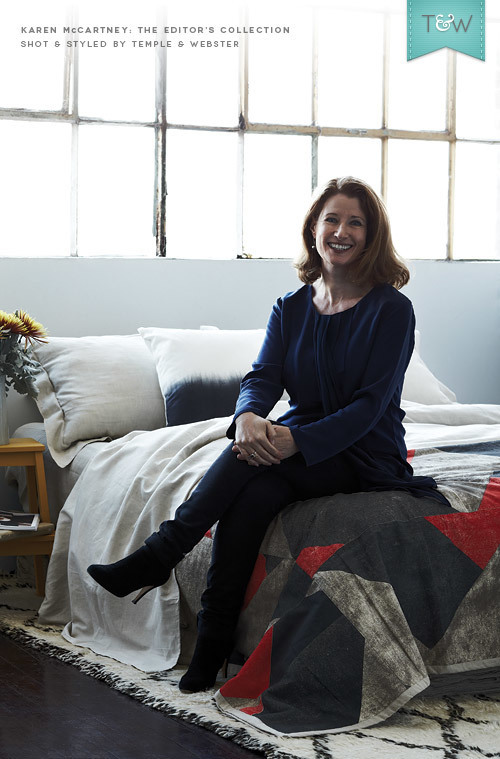 Our new Editor-at-large Karen McCartney is the perfect person to kick off The Editor's Collection, a new series of sale events personally curated by leading Editors. With personal taste honed by years of exposure to the best in design, plus to-die-for industry contacts and access, each Editor will curate a collection of objects reflecting their personal aesthetic and share details about their choices here on the blog.
How would you describe your personal decorating style?
I am a frustrated collector. Give me more space and I would fill it, but the limitations of four walls have called a halt (mostly) to my urges to acquire. We live in a Sixties house that is timber, glass and brick and so the style of the house dictates many of the decorating choices. Luckily it is vintage Danish furniture we love and so it fits with the look of the house. I like things to have an element of craft - to be well designed and well made. We have collected ceramics, both vintage and contemporary, and our children forbid us to buy any more chairs.
How did this collection evolve - what did you choose first?
The process of putting this look together was interesting for me. For many years I have worked with stylists, and they would choose all the items and put the look together. Here I was doing the choosing, and I was a bit worried that it wouldn't all come together to make a cohesive image. The first pieces I selected were the bedspread and the artwork as they both have colour but in a muted way that appeals to my aesthetic. Around that I built the look. A flash of red in the cord of the light and in the handle of the white Moroccan basket, dip-dyed cushions and beautiful neutral bedlinen. The flowers and extras were brought in by stylist Jess, who helped pull it all together.
What was your idea for the styling?
I spend a lot of time in bed, so it is a room that is important to me and important that it looks beautiful and feels great to be in. I imagined being in bed reading on a chilly afternoon. Comfort is just as important as style and hence the pillows and cushions and a rug that is soft and inviting underfoot.
Which is your favourite piece?
I actually really love it all, but if I had to choose one item it would be the Kulchi Beni Ouarain rug. I have to confess to buying one - it is for the living room not the bedroom and is already a great favourite with the family, including the dog who believes it was bought just for him. I am also known for my excessive use of notepads, so a year's supply of Rhodia would go down a treat.
One piece of decorating advice?
I am a bit of a stuck record with this one. But it is to decorate slowly, collect well and develop your own personal look that is style over fashion.
Inspired? Visit Karen McCartney's Editor's Collection now.