This week's Holiday Living collection on everything we've ever drooled over about Bahamas style: colonial influences, timber, rattan, palm tree motifs, corals and coastal elements, a fresh green and neutral colourway and the feeling that someone is about to mix a cocktail before lunch. If you want to come on the journey, we suggest you check out the Pinterest boards of India Hicks. We pulled out these images of her property, Hibiscus Hill, to get you started...
First, a bit of background: India Hicks actually couldn't be more British. She is the daughter of famed high society interior designer David Hicks and Pamela, Lady Mountbatten. She is a god-daughter of Prince Charles, and was a flowergirl at his wedding to Diana. So far, so fancy. Her parents had a holiday house in the Bahamas, and after a whirlwind romance with David Flint Wood the pair decamped permanently to the tiny Harbour Island in the Bahamas, where they have lived ever since. India has published three books, including most recently
Island Style
, which documents her 'gloriously bohemian' interior style.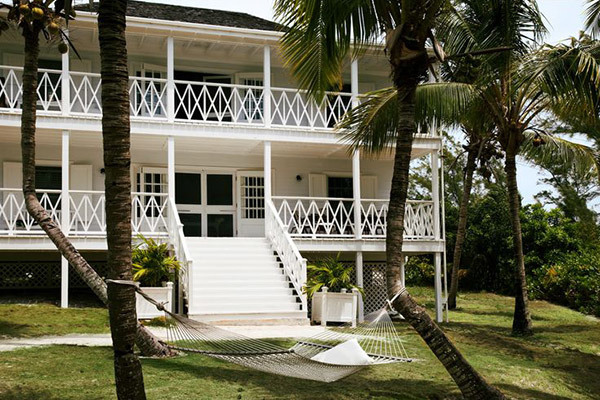 India's
Hibiscus Hill
enclave has several residences, some of which can be rented out. The Guest House, pictured above, was built in the style of an old plantation house and overlooks a pink sand beach and the ocean.
Bright tropical bouganvillea decorates an airy dining space, with a fan whirring overhead. The verandah and house are painted white, and the dark timber furniture is softened with white fabric.
In a bedroom, a collection of sculptural shells is contrasted with a pair of bright candlesticks and a fish print is offset against a fan shaped palm leaf. The romantic, mosquito-net covered bed is made up in pink toile.
In an English-influenced sitting room, the sofa is upholstered in soft pink, perhaps reflecting the pink sand for which Harbour Island is famous.
A playhouse designed by India's partner David Flint Wood is an idyllic setting for children. The pair have four children, and are the legal guardians of a Bahamian teenager.
A collection of shagreen boxes inherited from her grandmother is grouped with textured shells on a rustic timber table.
Huge palm fronds decorate the marble mantel. "We decorate a lot with palm fronds, and I like to say that's our signature style," says Hicks.