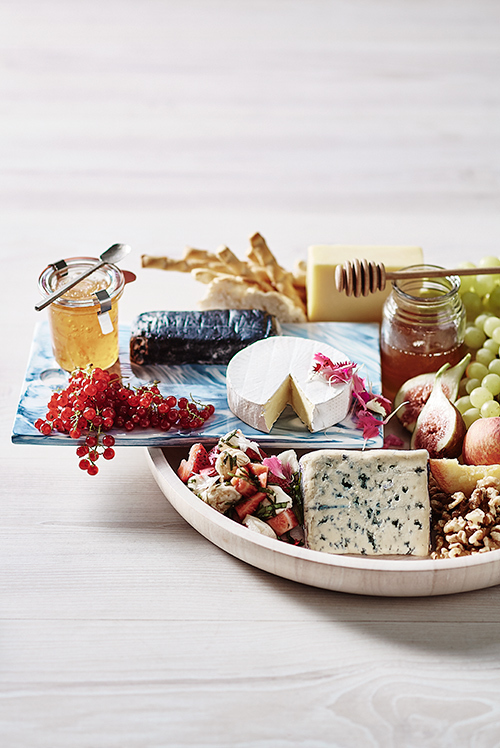 T&W stylist and foodie Jono Fleming shares his tips on what cheeses to choose for a summer platter, how to make the most of the season and which flavours work best together. Bon appétit!
The great thing about cheese platters - apart from the cheese of course - is that there are endless delicious variations on the theme that you can switch up to suit the season. Coming into the longer days of summer, I'm all for lazy afternoons with wine and cheese.
I've paired all my cheeses with fresh summer fruit - some sweet, some sour. I've also included two favourite recipes you can prep beforehand to give your cheese board an extra flavour boost.
What you need for the perfect platter
250g double brie
250g strong vintage cheddar
150g ash goats cheese
150g of blue Stilton
2 fresh peaches, sliced and grilled (optional)
Figs
Grapes
Honey for drizzling
Red currants
Grissini sticks
Lavosh bread or crusty white bread cut into slices
Mixed nuts
Strawberry salad (details below)
Rockmelon, Lemon and White Pepper Jam
(see details below)
Strawberry salad
About 200g of bocconcini
250g of fresh strawberries
Handful of basil leaves
Balsamic vinegar
Extra virgin olive oil
Tear the bocconcini in to halves. Cut the strawberries into small quarters and slice the basil into thin strips. Mix them all together and drizzle generously with some balsamic and extra virgin olive oil. This can be stored in the fridge up to two days.
Rockmelon, lemon and white pepper jam
Click here for the recipe by Italian food goddess Silvia Colloca
. It may sound like an odd combo but the freshness of the rockmelon and the spice notes from the white pepper give an amazing freshness to the cheese board. By itself it makes a great edible Christmas gift.
How to match flavours
Using a large cheese board, assemble your cheese and fruits for maximum flavour. Here's my 5 tips.
1. The cheddar pairs nicely with the rockmelon jam.
2. Top the double brie with the strawberry salad.
3. The blue stilton flavour is balanced with a drizzle of honey.
4. Use the fresh figs on the lavosh bread with a spread of goats cheese.
Grab a nice crisp glass of white wine and enjoy!