One of the hardest parts about decorating for Christmas is working all the decor you've picked up over the years, as well as any newbies that have caught your eye this season, into a cohesive look. We take you through how to mix your decorations together for truly unique Christmas styling.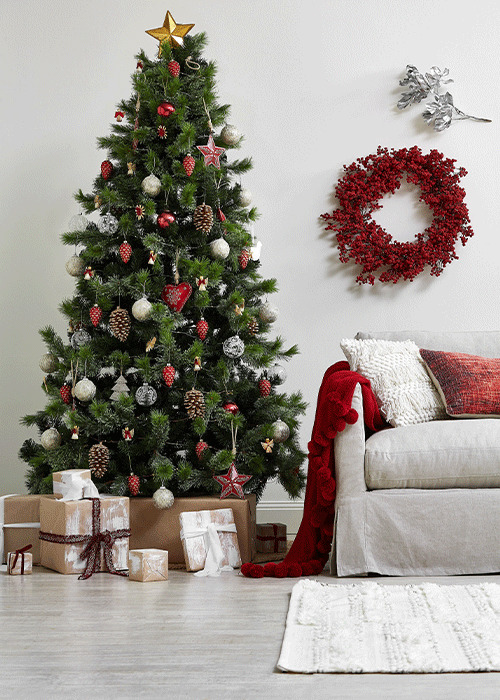 Mixing colours and themes
Colours
When mixing styles, the biggest thing to consider is colour. A great rule of thumb is to pick a base colour, whatever you have the most of, and embellish with accents in different colours and styles. The colours and materials of your decor will determine what kind of theme arises. Whites and neutrals in raw textures lend themselves to a coastal feel, while saturated colours (especially red and green), metallics and beaded items tend to lean more towards luxe traditional.
Proportions
When mixing two themes, dress your space with an even percentage of the styles and remember that less is more here. It's all about keeping a balance so one doesn't overwhelm the other. Alternatively, go for a ratio of 1:3 so you have a main theme with pops of colour and interest from your secondary theme.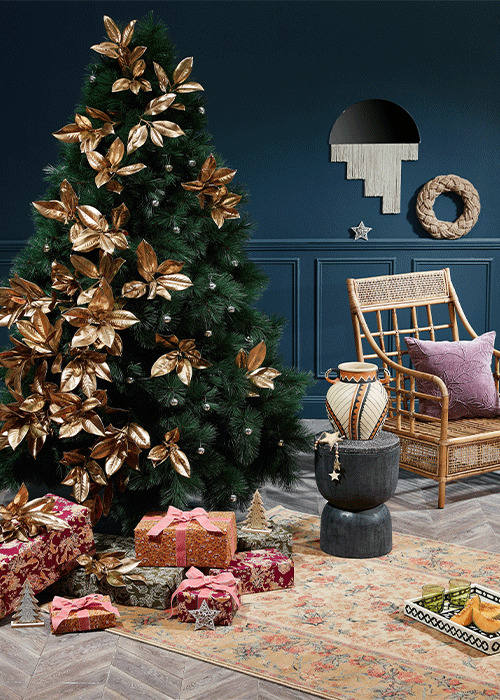 Adding to a pre-existing theme
Traditional red, gold and green:
Stick to adding in neutrals and understated decor.
Scandi white:
Layer in muted colours and a touch of metallic.
Coastal rustic:
Pick one other colour and weave it in proportionately so you have an even mix.
Silver:
Amp it up with blue and green decor en masse or go for a more luxurious take with equal lashings of gold.
Gold and brass:
These tones lend themselves to warmer palettes but can be overwhelming when too much is added. Drop in either red, orange, pink or purple for subtle accents.
Santa-style (reindeers, elves):
Any style will complement Santa-esque decor, just be sure to keep it refined so it doesn't feel too busy.
Blue:
Create a winter wonderland with an abundance of white, or for a more fun, eclectic look, add in all the colours of the rainbow. Just make sure the ratios are even!
Jewel tones:
If you already have a few jewel tones, bring in some neutral elements in natural materials to round it out.
Australiana:
Depending on the most prevalent colour in your Australiana decor, you can really add any other complementary colour and create any theme. Keep it calm and coastal with neutrals or add in metallics and sparkly objects for a more luxurious feel.

When styling a Christmas tree, go for uniformity where possible. Create a base of jute or burlap baubles and scatter in lots of homemade baubles of different colours. This will create more depth and allow those special decorations to pop.
Styling different spaces
If you have an overwhelming amount of different Christmas decorations, try to space them out around the house. Keep the decorations cohesive within a room but feel free to try out different styles and themes in spaces that are separated by walls. Jazz up a wreath and
console table
in the
hallway
or entryway with eclectic decor, amp up the traditional Christmas in the
living room
with the tree,
ornaments
and
stockings
, and go a bit more coastal with a garland,
table linens
and table ornaments in the kitchen or
dining room
.

If you have a bounty of different decorations already, categorise your stash into personalised collections, making it easy to decorate your spaces in whatever style you feel like that year.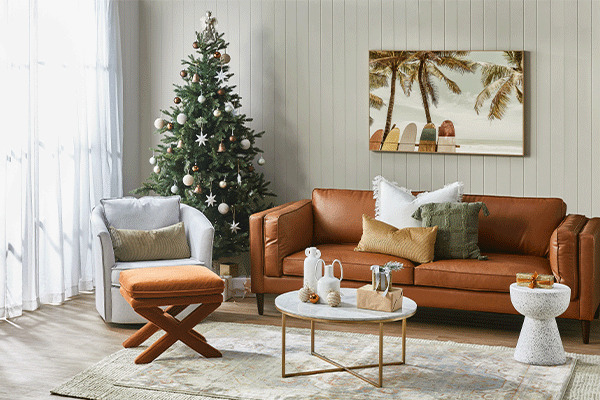 Finding new decor
If you're stuck for ideas, check out our
Christmas Shop
. Find
wreaths & garlands
,
Christmas lights
,
Christmas trees
and
decorations
, as well as our curated
Coastal Boho
and
Luxe Traditional Christmas
collections!