To help you fix a noisy ceiling fan, it's important to distinguish between the different noises that ceiling fans can make as each noise is caused by different issues. Common noises that fans can make include ticking (which is like a grinding or a sound that resembles metal on metal), squeaking and rattling. To ensure your ceiling fan runs smoothly and quietly, first identify whether the noise is a tick, squeak or rattle, then refer to our solutions below to fix the problem.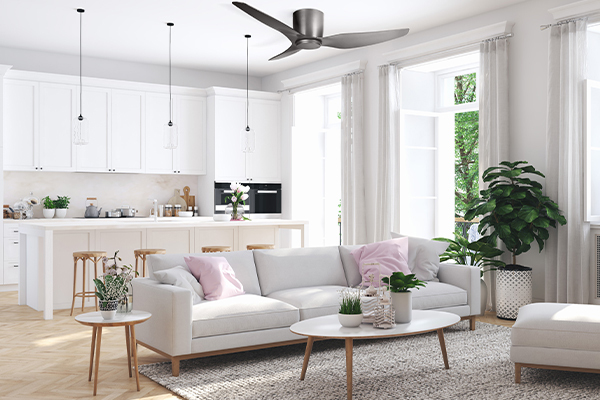 How to stop a ceiling fan ticking
A ticking sound could be caused by one of two things: an error when your fan was installed, or ongoing operation causing parts like the blade nuts and screws to loosen. These fan parts need to be tightened occasionally to minimise the chance of your fan making noise.
Here's what you can do if your fan is ticking:
Check if the fan is screwed into the timber and nailed off in the ceiling. If it isn't, something might have gone amiss during installation.
Make sure the hanging bracket is firm and all the hanging bracket screws look to be tight and secure.
Check that the canopy bowl isn't touching the ball joint.
Ensure all blade screws, canopy screws and jam screws are firm.
Turn the fan on to see if the downrod is moving. If it is, it's very likely that something is loose in the hanging bracket. Not only can this generate noise, but it can also cause the fan to wobble.
If your fan has a light, check that the glass cover is correctly installed, and that any light globes are properly fitted and not touching the glass cover. You can do this by removing the glass and globe, then switching the fan on to see if the noise continues.
If the ticking sound doesn't stop, you can seek the advice of an expert to assess the problem.
How to stop a ceiling fan squeaking
A squeaking sound can be the result of a few different issues. Luckily, most are relatively easy to fix.
Here's what to do if your ceiling fan is squeaking:
Clean the fan blades. Excessive dust is actually a very common cause of ceiling fan squeaking, especially if it gets into any of the moving parts.
Give each blade a gentle shake to check if it's loose.
If your fan has a light, make sure the light globes aren't coming loose and that the glass cover is still firmly fastened.
Check that all blade screws, canopy screws, hanging bracket screws and jam screws are tight.
If the squeaking sound persists, call in an expert – such as a licensed electrician – to have a look at the issue.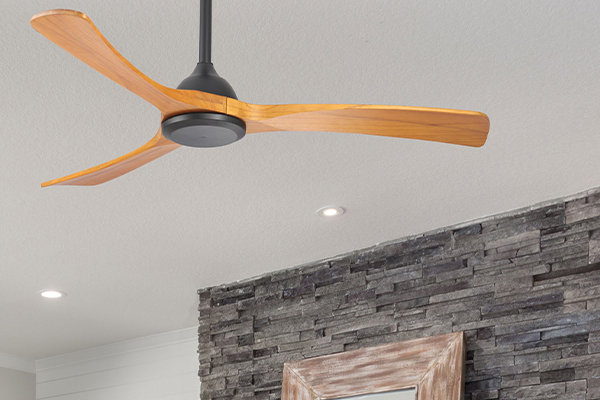 How to stop ceiling fan rattling
If your fan is rattling, there's a very good chance that some of the screws are loose. Here's what you can do to try and fix the problem:
Assess the blade screws, canopy screws, jam screws and hanging bracket screws. If any of them aren't fastened properly, tighten them with a screwdriver.
Check if any of the screws inside the motor housing are loose.
If your ceiling fan has a light, check if the light bulb or glass cover is coming loose.
If your ceiling fan is swinging from side to side while it's turned on, it could be that the blades are bent. This can cause a rattling sound and affect the performance of your fan. Usually, this issue only requires loose blade holders to be screwed back into place.
Sometimes, fan rattling is caused by loose wiring. If you suspect this might be the case with your fan, you're best calling in a licensed electrician to examine the problem.
What is ripple control?
Put simply, ripple control is a type of power load management. It's a way for electrical companies to control and manage off-peak power load on their distribution networks, and then decrease the demand for electricity during peak times. It regulates devices like hot water heaters and streetlights.
Ripple control is used throughout New South Wales, south-east Queensland, as well as other areas around Australia.
What are the effects of ripple control?
As a result of ripple control, some people notice a hum or buzz coming from their electrical appliances or a flicker from their LED lighting. These are generated when a transformer or the motor windings in a switched-on appliance resonate with the frequency of the ripple control.
You may find this humming or buzzing radiating from your ceiling fan. Luckily, the noise is rarely constant. It's usually intermittent, depending on when the ripple control signals are being transmitted. Most of the time, it's noticeable at night, when off-peak hot water systems are turned on.
It's also worth noting that even if ripple control frequency is used in your area, it's not a guarantee that you'll have any issues as a result. In fact, ripple control noise is certainly not the norm, and it's often pretty minimal.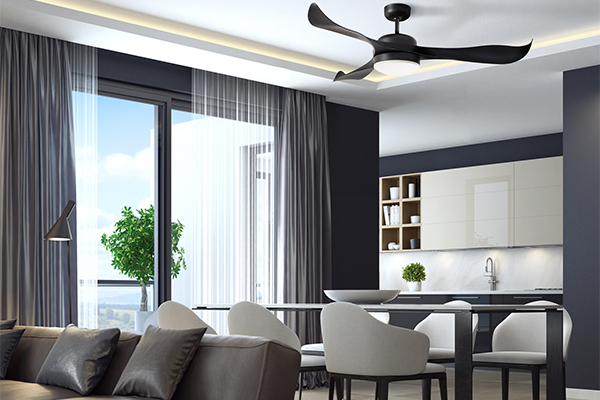 ​
What can be done about ripple control noise?
If you do have ripple control noise coming from your ceiling fan – or another electrical appliance – you'll be happy to know that you can do something about it!
Ripple control filters
Ripple control signal filters are handy tools that help manage the noise associated with ripple control. You'll need to have one installed by a licensed electrician and ensure that the ripple control filter is matched to the local signal being output by your electrical company – usually 750Hz or 1050Hz. Fortunately, you simply need to get in touch with your electrical company to find out which one you need.
If the noise is more severe, your electrician may install two or more ripple control signal filters to block out the sound.
Ripple control and harmonics
There's a small chance you might hear tones at irregular times throughout the day. If that's the case, your electrical supply could be affected by harmonics.
In essence, this is a power fluctuation that isn't part of the normal electricity supply or ripple control signal output. It's caused by an interference on the network created by different equipment, such as inverter air conditioners or other appliances. This appliance may be in your home or at another home on the same power grid.
Harmonics aren't too difficult to fix. You just need to get in touch with your electrical company to discuss transferring the electricity supply to your home to a different phase in the street.
Shop our ceiling fans now.