When it comes to ceiling fans, there are endless choices. From contemporary and classic styles, and timber and metal blades, to fans with or without lights, it's little wonder that choosing the right ceiling fan can be overwhelming.
Your room's overall design will help dictate your choice and there are lots of fan styles to suit different aesthetics. You may want to choose a fan to match or go for a more eclectic look with one that contrasts. In addition to decorative factors, you also need to think about practical features such as lights and remote controls.
Here, we break down ceiling fan materials and the pros and cons of common ceiling fan features, so you can pick the most practical and stylish ceiling fan for your space.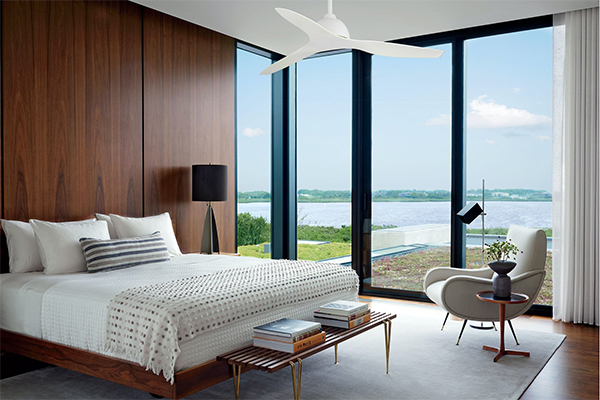 Selecting ceiling fan materials
When shopping for your new ceiling fan, you'll probably notice that they tend to come in a range of different materials, including timber, MDF, plastic and metal. Each has its own advantages and disadvantages, so it pays to familiarise yourself with what's available to help you make the right choice.
Timber
Timber is a durable and timeless option. While it can be prone to warping, it's sometimes reinforced with plastic to make it more hard-wearing. Carved wood adds a striking look to contemporary interiors, while conventional timber blades are perfect for classic spaces.
MDF
MDF is made from wood fibres that have been bonded together using resin. For this reason, MDF is more resistant to temperature fluctuations compared to timber. Having said that, MDF can only be used in indoor spaces.
Plastic
Plastic blades are ideal for indoor and outdoor use, and are lightweight and easy to keep clean. They can also suit a variety of interiors, thanks to the wide range of plastic ceiling fans available.
Metal
Metal ceiling fans are generally the most powerful thanks to their robust blades, so they're well suited to larger rooms. They can work outdoors, too. But, if you live near the ocean, you might want to steer clear. The salty air will inevitably cause your metal fan to rust!
Selecting ceiling fan colours
When it comes to colour, you can use the existing elements in your space to guide your decision. For example, if your room contains a lot of beech furnishings, you could opt for a lighter-coloured timber ceiling fan. If your room has a darker, moodier look, an ebony or teak fan might work best. You can also match the colour of your ceiling fan to the hue of your floors, or to any metallic finishes.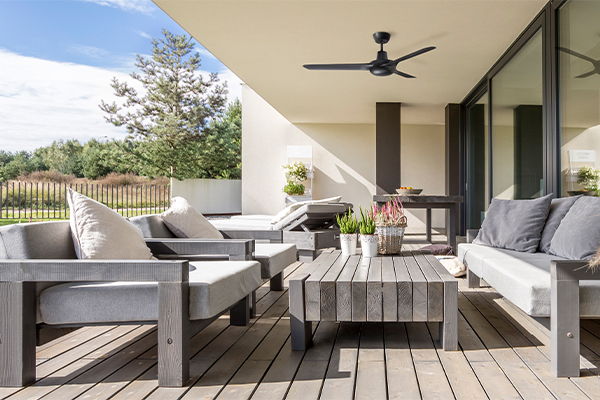 Ceiling fan lights
If you already have enough ceiling lights in your room, you probably won't need to purchase a fan with an in-built light, but if you intend for your fan to act as the room's primary lighting source, an integrated light fitting could be an excellent choice. You'll also be pleased to know that many ceiling fans have energy-saving lights and mechanisms, including dimmers.
Ceiling fan lights don't necessarily need to be the sole light source in a space; they can also work well when placed in the centre of other light sources, such as downlights. Just make sure the fan blades are well clear of your downlight beams, as this helps avoid a strobing effect.
Remote control ceiling fans
While a number of ceiling fans are controlled via a panel on the wall, many offer the convenience of being paired with a remote. This means you can operate things like the light, fan speed and timer from the comfort of your sofa or bed. Some remotes also have handy features such as a 1-9 hour timer, light dimmer and light delay.
Another benefit of remote control ceiling fans is that you don't need to run an extra wire through your wall to power your fan. Instead, the remote control does everything for you.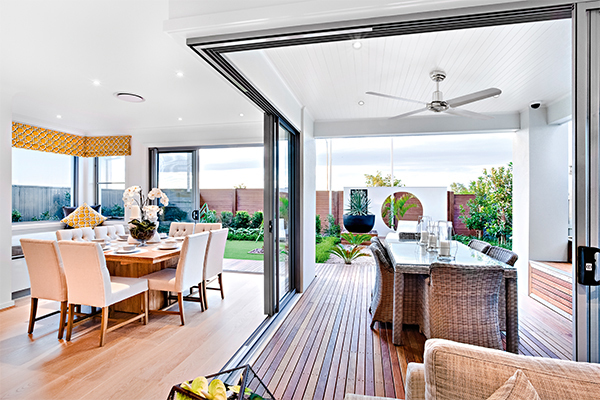 ​
Deciding between remote control vs. wall control
While remote control ceiling fans are certainly advantageous, there are some instances where you may be better off with a wall control fan. To help you make a decision, here are the benefits and drawbacks of each:
Remote control ceiling fans
Advantages
The remote is incredibly convenient
They're more straightforward to install, as there's no need for an extra wire
They're easier to relocate to a new home or room
They may have more settings than a wall control, such as light dimmer and delay
Disadvantages
The remote will require ongoing battery replacement, and may deteriorate over time
The remote can be easy to lose
The remote may be an expensive added extra
Wall control ceiling fans
Advantages
Operation tends to be more reliable
You don't need to worry about losing the controls
They're a more inexpensive option
There's no need for batteries
Disadvantages
The fan is fixed to the space and is harder to relocate
Installation can be trickier, due to extra wiring
Wall controls are typically harder and more expensive to install
AC ceiling fans vs. DC ceiling fans
Put simply, AC and DC ceiling fans differ in how they're powered. AC motors connect straight to a power source, while DC motors connect to a power source via a transformer. This converts the power to a DC current.
For you, this means that a DC ceiling fan actually uses 70% less energy for the same air flow as a conventional AC ceiling fan. DC fans are also very quiet, tend to offer a greater variety of speeds, and have sleeker motors. Most of the time, DC fans are remote-controlled.
On the other hand, AC fans are a more affordable option. This is because the complex motors on DC fans are more expensive to produce. AC fans are still very energy-efficient, and can also be powered by wall control, pull cord or remote.
Shop our ceiling fans now.