Boho-style interiors have long had appeal for its relaxed, layered and global-inspired style. More recently, we've been seeing boho influence kids spaces and nurseries, adding a warm, light-filled, folksy vibe with its neutral colours, rich textures and handcrafted touches. Boho is a style that looks equally good toned down for a minimalist approach or turned up high for a full Mother Earth revamp. With its gender-neutral and soothing colour palette, it's no surprise that boho nurseries have been so popular. If you're decorating your first child's room and you're keen on the boho look, here's where to start.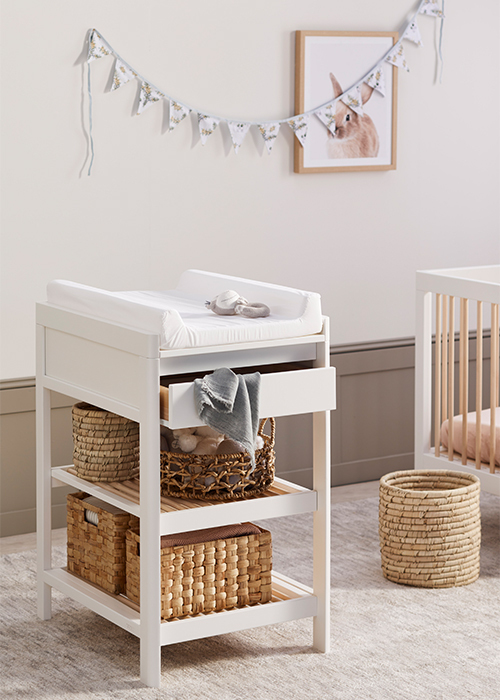 Finding your own boho style
Before you go furniture and homewares shopping for your nursery, start by creating a mood board or wish list of particular products that you like (you could even use our Favourites function), and pay attention to any recurring colours or patterns that come up. If you need some inspiration, check out #bohonursery on Instagram for ideas. You'll see that many boho nurseries are dominated by whites and neutrals such as creams, beiges, greys and greiges. Don't be afraid of injecting some colour to work around this base. Muted greens, blush pinks and earthy yellows and browns work beautifully in boho nurseries, and still create a calm, soothing space.
Once you've picked your key colours, build your furniture and decor collection around this. The boho look can be adapted to suit your tastes. Keep it natural and minimal; try a crisp black and white scheme; go eclectic with vintage and global pieces; inject softness and a feminine slant with pinks; or go down the seventies route with rattan galore. Your colour palette will help to inform your boho direction. Layer your decor gradually over time so you can manage clashing pieces and any over-styling.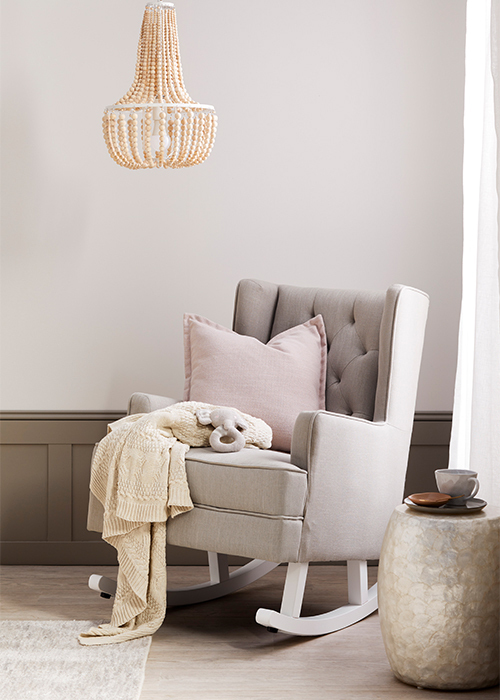 ​"Soothing and neutral nurseries are an enduring style that will never date. Look for soft rugs in natural fibres and combine with a linen upholstered armchair for a comfortable and beautiful space that will ease any lack of sleep!"
​
Incorporating different materials
Boho is all about a return to nature so it's no wonder a lot of pieces are made from natural materials. Rattan is a favourite and is incredibly versatile, being used in furniture pieces such as
cots
and
changing table
s, as well as decor items like
pendant lights
and
storage baskets
. Other natural materials such as bamboo, unfinished wood, jute, leather and linen work well in tandem to evoke feelings of relaxation. Opt for either a soft
natural fibre rug
or something plush such as
shag
or faux fur to give plenty of warmth underfoot, adding visual interest through elements like a
bohemian pattern
or tasselled ends.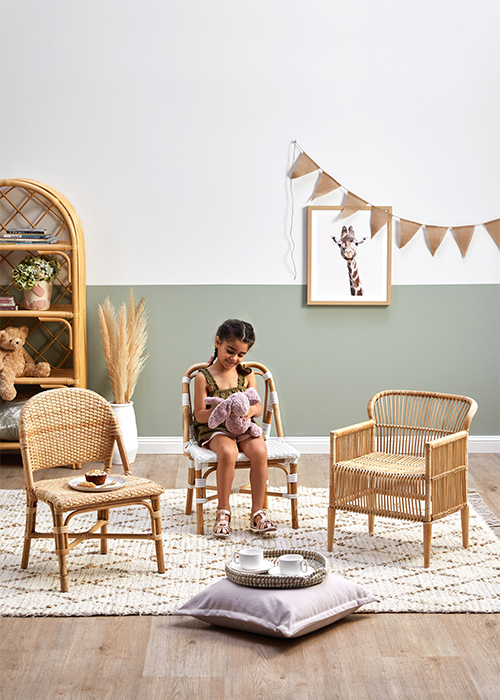 The finishing touches
While there is a certain recipe to getting the Insta-worthy boho look, this style is really all about self-expression so don't forget to add more personal touches. Incorporate vintage pieces that you want your child to be surrounded by when growing up such as an art print or cowboy hat. Don't just limit yourself to
art
on your walls, boho is big on texture, so decorate with dried fauna or macrame
wall hangings
for tonal decor. Don't be afraid to add a pop of greenery as well, after all getting back to nature should include some plant life (whether they're real or
faux plants
, no one will know). As they start to grow, you can add playtime touches, like a
teepee
and
playhouses
, but for when they're still tiny, don't forget a reading and
feeding
nook for precious baby time, complete with a
rocking chair
or
hanging chair
, a warm
blanket
and a
bookcase
.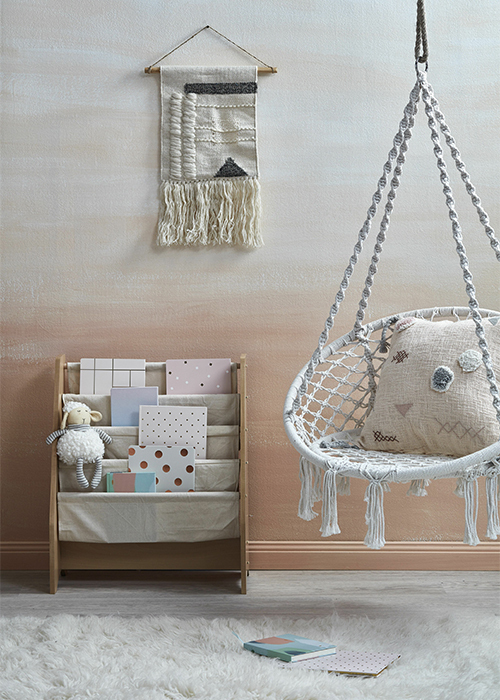 Shop nursery furniture, kids wall stickers & decals, kids toys, kids wall art and baby & kids manchester now.