Setting up an
office
in your home can be a task and a half, especially if you don't have a designated office room. Space sizes, the way you work, functional storage and of course styling to suit your home are all important elements to consider. We break down the best way to choose the right
desk
for you.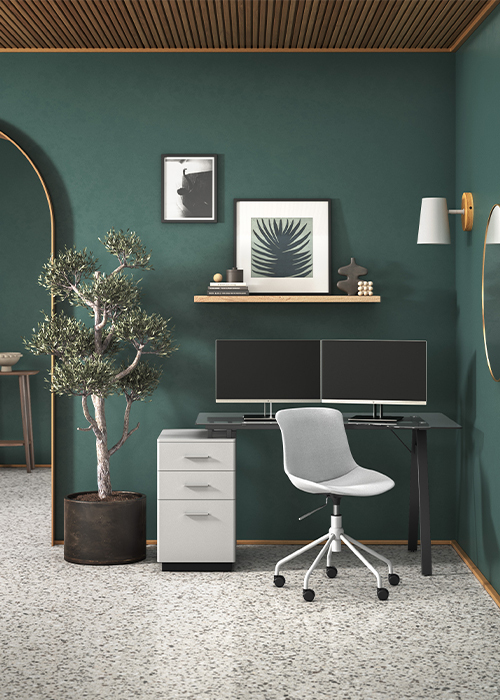 Find the right size and shape
Firstly, determine where you want your desk to go.
Rectangular desks
are the most common choice with a standard width of 80cm and are ideal for a variety of placements such as up against a wall, in a corner or in the centre of the room. They're also the best choice for small space homes, as smaller rectangular desks can easily be placed at the end of a
bed
, in a hallway or up against a
sofa
if necessary. If you're working with a corner space, a
corner desk
or
L-shaped desk
might be the best option for you to make the most of an awkward space. For coworking spaces, a larger rectangular desk or even a
dining table
in the centre of the room are ideal for ensuring both parties have enough space to work comfortably.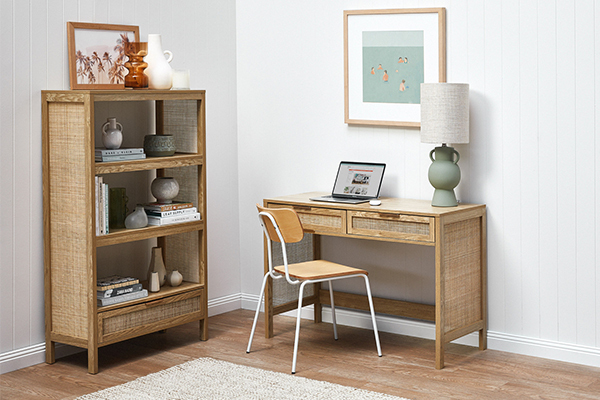 Make sure you have enough desktop space
The optimal surface area for a desk is different depending on what type of work you do. A person who works solely on a laptop and one monitor will require significantly less desktop space than someone whose work requires mountains of paperwork. Take the time to consider how much space your equipment takes up, measure out the desired area in your office area and filter desks by width and depth with the toggles as pictured below to make finding the right desk for you a breeze.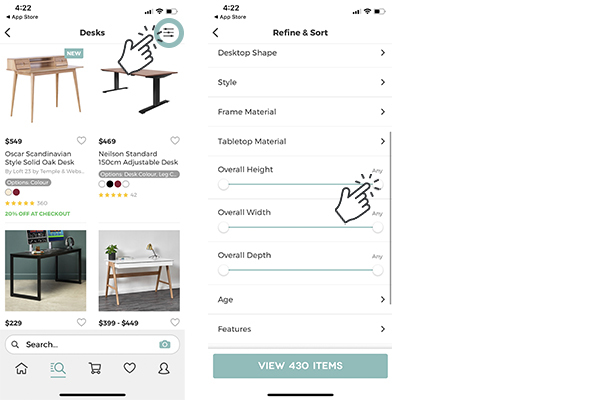 Look at your height requirements
Most desks have a standard height of between 74cm and 76cm which works well for people who are up to 6 feet tall. If you're taller than that, a
standing desk
or desk with
adjustable height
may be more comfortable.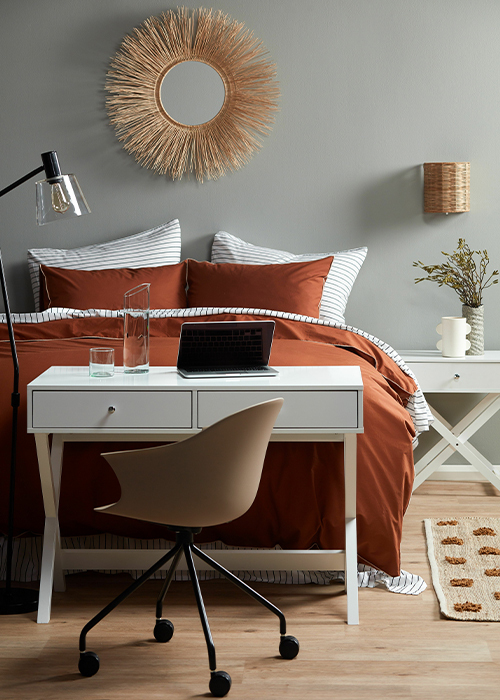 Don't forget storage
Keeping your space neat and organised is essential to productivity, so you should always consider storage options when looking for a desk.
Desks with drawers
of
built-in shelves
are great for storing regularly used items such as stationery, cables and documents currently in use. If you need something more portable, opt for a
bar cart
with some
magazine racks
or file holders that can be wheeled away or stored underneath the desk when you're done for the day. If you have a large number of files, consider using
storage boxes
and
filing cabinets
instead.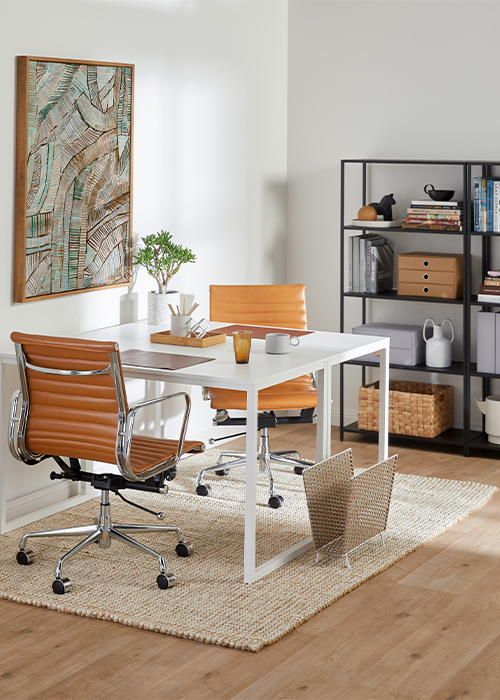 Pick a style that works in your space
Styling your workspace does just as much for your productivity and creativity as practical elements like organisation. Feeling comfortable in your space and setting it up so it doesn't stick out like a sore thumb can make you more inclined to get your work done. Whether your home has a Scandi vibe, a Mid-Century feel or is the epitome of Luxe, you can easily find a desk to suit by filtering by style as pictured below. Don't forget to add personal touches with decor, like a
faux desk plan
t
, a
table lamp
, a
decorative tray
to hold your bits and bobs or an interesting
statue or ornament
to give you a bit of a work slump pick me up.