There are certain considerations you need to take into account when choosing rugs for different spaces in your home. Since the living room is one of the most highly used rooms in the home, it's important to get the perfect rug to match your lifestyle. We run you through finding the right size rug and how to style it.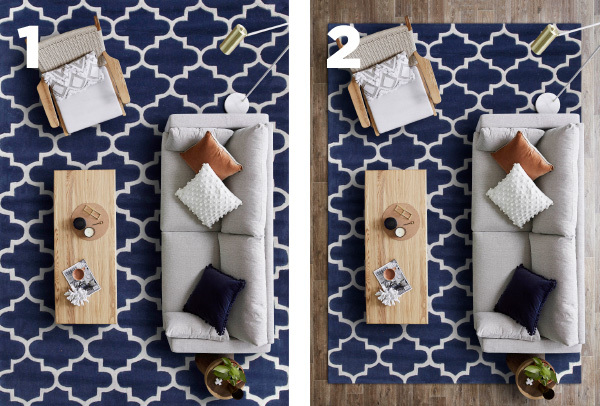 1. Whole living space
In a smaller room, you can use an
oversized rug
to cover most of the floor space as an alternative to fitted carpet. It helps to draw the eye across the width of the room, creating the illusion of extra space. Be sure to leave a border of 20-30cm between the rug and the walls.
2. Living large
Make your space feel open and inviting by choosing a
large rug
that fits all your living area furniture on top. This is also a great way to define a space within an open-plan area.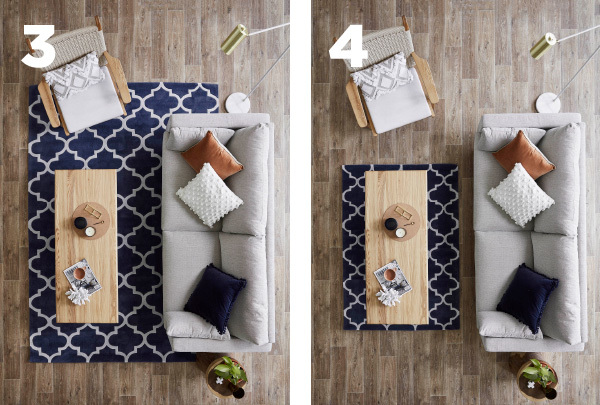 3. Cosy living
If your rug (or your budget) doesn't stretch that far, a medium-sized rug can keep the space cohesive by putting the front legs of your sofa and chairs on the rug so it acts as an anchor.
4. Floating living
A
small, floating rug
can also work as long as it's in proportion to the furniture. A good way to judge this is by measuring against the sofa, with the ideal sized rug being the same length as the sofa. However, you can go smaller and measure it against the length of a coffee table if you wish, just ensure the placement is centred against the sofa.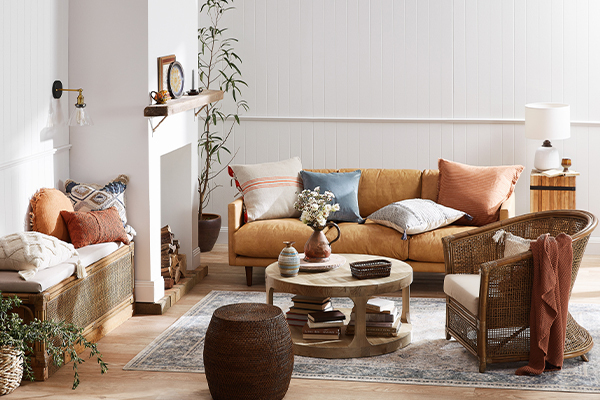 Styling tips for your living room rug
Layering rugs can make any space feel cosier. Consider either blending similarly toned rugs (think
Persian-style rugs
within the same colour palette) or pairing a neutral base with something bolder (think a smaller Morrocan-inspired colourful rug or
traditional rug
placed over a larger
sisal rug
). Mix different textures such as hardwearing jutes with soft
wool rugs
, and enjoy seamless layering by placing the thinnest rug on the floor first.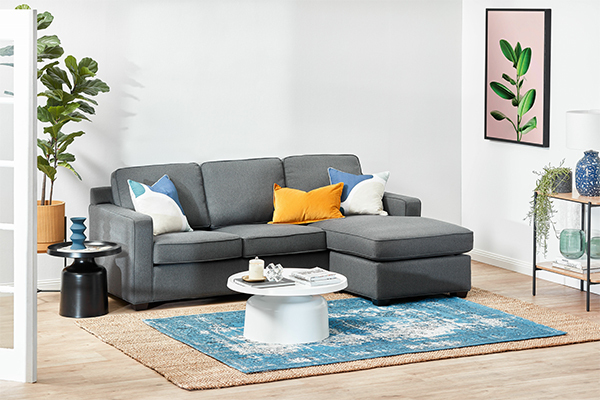 Synthetic rugs
made from easy-care materials such as polypropylene that allow for fuss-free cleaning and stain removal are best for families with young kids or pets. Slightly distressed patterns and darker colours are not only beautiful, but also disguise the mess of life.
A lightly patterned,
black and white rug
will ground an all-white room beautifully. For calmer spaces, opt for a minimal pattern, but if you'd like your rug to make a statement, choose one that has bold contrast.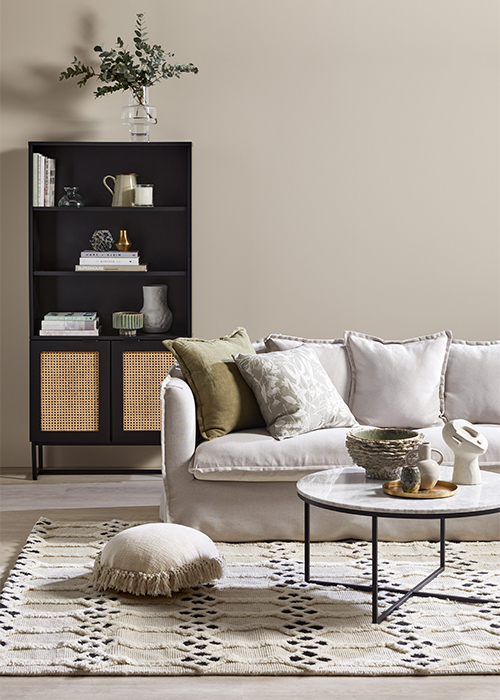 Symmetrically
patterned rugs
bring an element of calm and sophistication to your space. Be bold with a
multicoloured design
or subdued with a monochromatic style.
Rugs with repeated
geometric designs
add energy to any space. Muted tones soften strong patterns to encourage a quieter aesthetic, while brighter colours enhance decorative details for a statement.
​