Choosing a new ceiling fan might seem as simple as selecting the one that's most stylish, but size is just as important. The right proportioned fan ensures your entire space is adequately cooled, and can even make for a striking visual feature.
Select one that's too big and you may just find that the cooling breeze turns into a freezing wind. If it's too small, it can throw off the design of your space and not generate enough fan power to reach the farthest corners of your room. We've put together some helpful tips so you can find the perfect fan to suit your space.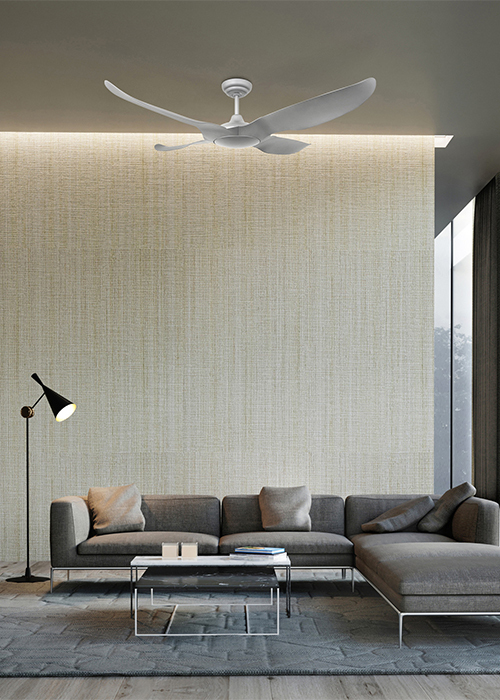 Fan size vs. room size – how to pick the right dimensions
The size of your room is a huge factor when it comes to deciding on a fan. Bigger rooms like living, family or master bedrooms are best suited to larger fans, generally with an overall diameter of 1300mm or more. This guarantees enough airflow throughout the room and creates a more balanced look.
For medium and smaller rooms like kitchens, dining rooms, kid's bedrooms and offices, you can afford to go a little smaller. A fan of around 1200mm in diameter or less is the best pick.
To give you an idea of how different-sized fans work in different-sized rooms, here's a quick guide:

.
Choosing the right blade pitch
The fan's diameter is essential for your room's aesthetic and airflow, but the blade pitch is also key. The blade pitch is simply the angle of the fan's blades relative to the ground, which sits parallel. Blade pitch is measured in degrees.
Most ceiling fans have a blade pitch between 12 and 15 degrees. But the greater the ceiling's blade pitch, the more air it can circulate. So for bigger spaces, a greater blade pitch – ideally between 15 and 21 degrees – helps ensure you can cool the whole room.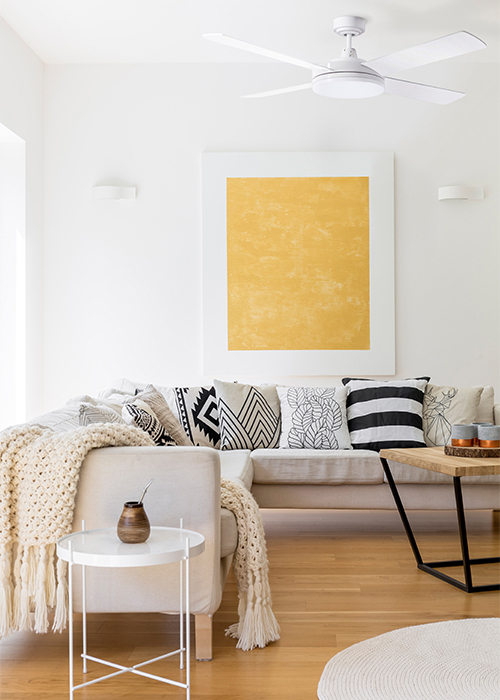 ​
Deciding on motor speed
Much like blade pitch, motor speed is another factor that can help determine airflow. Most ceiling fans can reach speeds of up to 200 RPM when they're switched to the highest setting. But the higher the motor wattage of your chosen ceiling fan, the more power the fan has to cool a bigger space.
Shop our ceiling fans now.