Also known as 'headboards' to our American counterparts, bedheads are the decorative panels placed at the heads of beds to provide style and comfort. A beautiful bedhead can totally transform a bedroom, creating a focal point and helping you nail the style that you're setting out to achieve. Many stylists will argue that a bedroom is incomplete without a bedhead. Whether you have an ensemble bed (i.e. just a bed base with a mattress) or are looking to update your existing bedhead, here are some handy tips.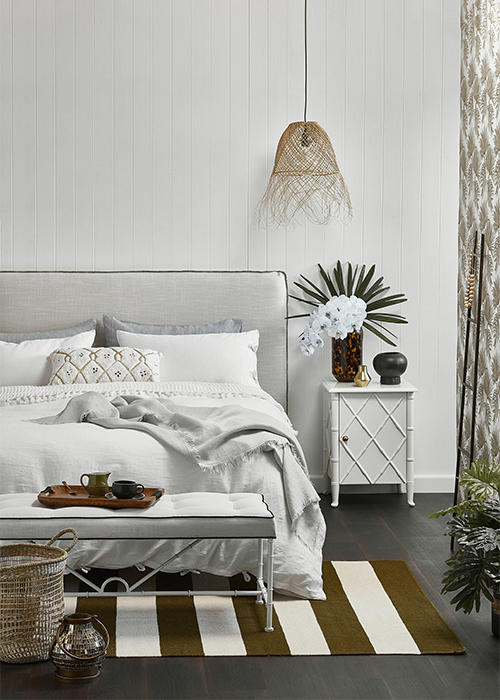 How do you attach a bedhead
A bedhead can be attached to any bed frame using a bracket slotting system as long as the bedhead and
bed
are compatible in size. Alternatively, bedheads can be attached to the wall or even rest against the wall on the floor, held in place by the bed base and
mattress
.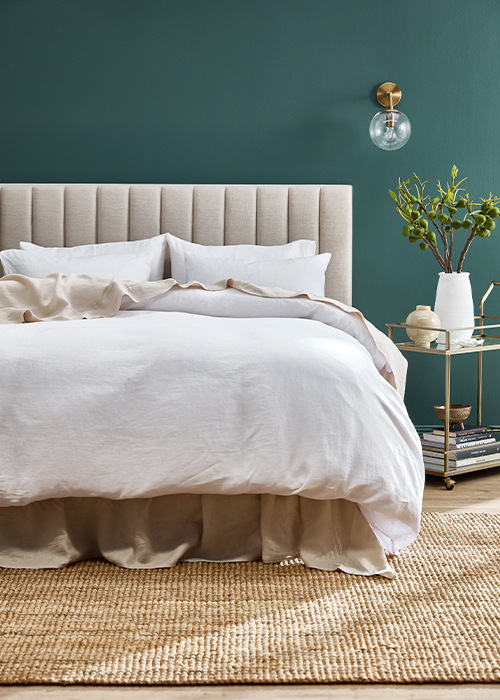 Should a bedhead stand out or blend in
Bedheads can be statement pieces or they can be subtle decor additions. It all depends on your desired look and ambience for your bedroom. If you're not entirely sure, here are some questions to ask yourself:
- Is there a wall colour or
wallpaper
that you're working with, and do you want your bedhead to complement or contrast it?
- What are the styles, materials and shapes of your other bedroom furniture, and do you want your bedhead to match them?
- How tall and bulky are your
bedside tables
? If you have tall and wide bedside tables for instance, an extra-large bedhead will be more suitable to complement the grand scale.
- What are the other focal points in your bedroom (i.e. artwork, mirrors or windows), and do you want your bedhead to create a backdrop for them, or steal the show?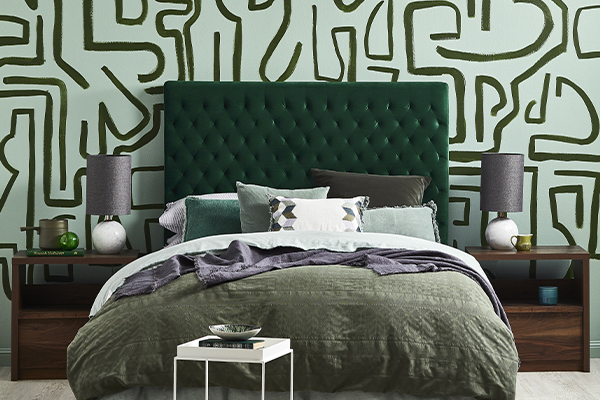 If you want your bedhead to stand out
- Choose an unexpected colour such as a jewel tone or blush pink.
- Choose a light-coloured bedhead if you have a dark wall, or a dark-coloured bedhead if you have a light wall.
- Choose a material to contrast against your wall (e.g. velvet against exposed brick).
- While oversized bedheads will make a statement, consider the ceiling height and wall width first. Oversized beheads will make smaller bedrooms feel crowded and claustrophobic. Mark out the measurements on the wall before purchasing so you can test it out.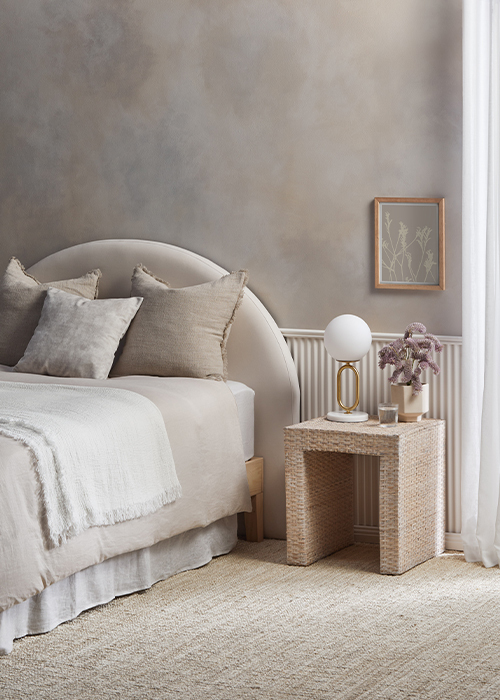 If you want your bedhead to blend in
- Choose a colour that you already have in other furnishings or decor.
- Choose a muted neutral shade.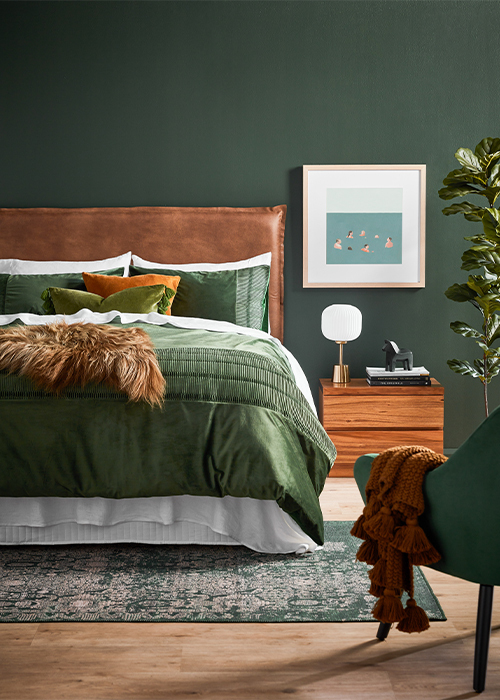 Types of bedheads
There are countless styles of bedheads out there, which can sometimes be overwhelming. Think about the existing decor style of your home and bedroom, and work within that to narrow down your choices.
Bedhead styles
We've divided our Bedhead category into the following styles to help you with decision-making:
French provincial bedheads
- think tufted and stud details
Modern bedheads
- think oversized, bold and upholstered
Country & rustic bedheads
- think classic and neutral
Casual & simple bedheads
- think linen slipcovers for easy maintenance
Exotic bedheads
- think tropical island resort vibes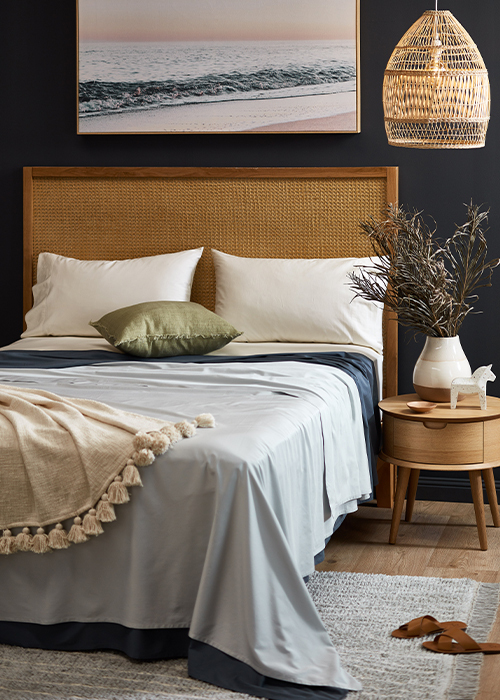 Bedhead shapes
Once you've narrowed down your bedhead style, it's time to think about the best shape of bedhead for your space. This may complement other shapes in your bedroom or add personality to an otherwise uniform space.
Arched
- incredibly popular with the rise of rounded edges
Half-moon or circle
- great for a touch of retro
Camelback
- gentler sloping sides for a more elegant look
Scooped
- scalloped edges at the corners for a more classical look
Rectangular
- bold, traditional and streamlined​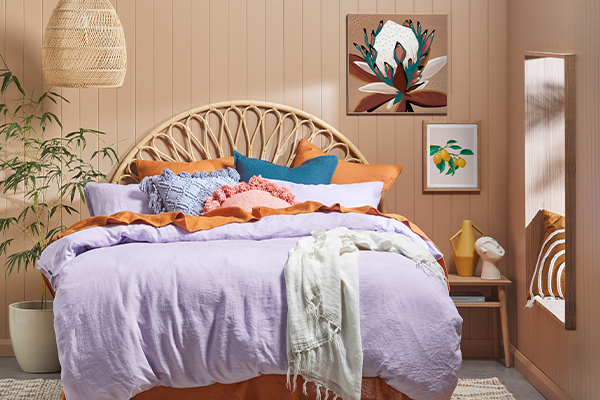 Shop our full range of bedheads now.