Have you ever wondered how our stylists create the beautiful
Room ideas
we share with you? Here, Allira shares the creative process behind her Laid-back Living Room, showing that sometimes, one exciting decorative piece can start an entire story.
​
​What did you have to work with for this look?
There were a number of Scandi oak furniture pieces that needed to be shot. These included the
Natural Orton Sideboard
, the
Natural Banjo 5 Tier Bookcase
and the
Light Oak Roi Coffee Table
. I also had to include the
Stone Cumulus 3 Seater Linen Slipcover Sofa
. Given the clean lines and warmth of these pieces, I knew I'd be creating a bright, modern living room emphasising tactile textures.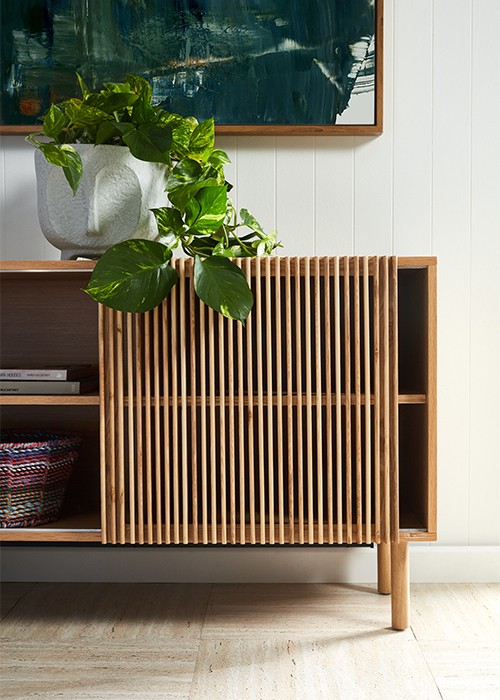 How did you go about pulling all the decor together?
The inspiration behind the colour palette actually came from these
Multi-Coloured Amita Hand-Woven Bowls
that I found on our site when looking for textural pieces. Each one made from recycled fabric had all these bright, vibrant colours running through them, and it reminded me of an exciting Mediterranean destination like Portugal or Morocco. I really fell in love with them and thought they'd work perfectly to add colour and texture to the space, and that's how the look really evolved.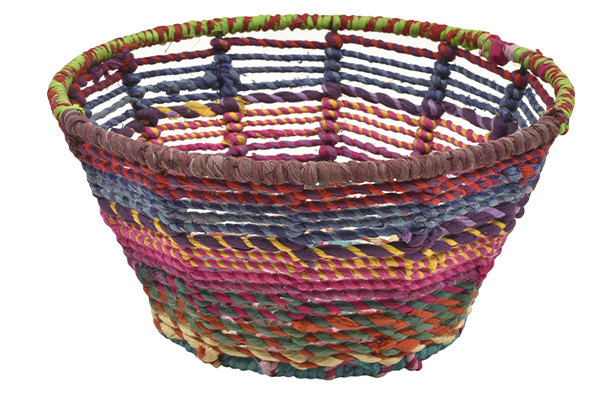 Tell us how the colour palette played out.
I decided to focus on the pink, green, blue and turmeric colours from the bowls and then extended that to the cushion selection for the sofa. I limited myself to three cushions for a relaxed look, and chose a tasseled textured turmeric cushion, a pink and green printed cushion with a tropical design, and a solid blush cushion. There's also a lovely turmeric
Macrame Cotton Ottoman
to complement the other colours and textures.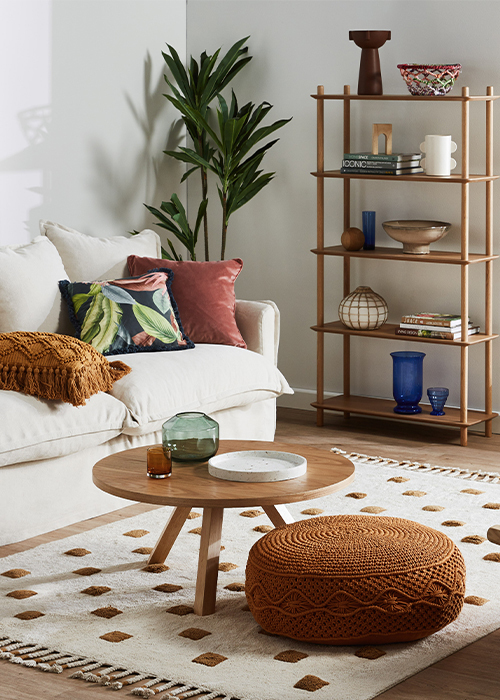 How do you begin arranging everything?
I always like to start with the sofa when I'm creating a living room. It's the largest and sometimes the clunkiest piece of furniture. In this space, we had a little nook so it made sense to have the sofa closest to the largest wall near the nook which created a lovely cosy setting for reading.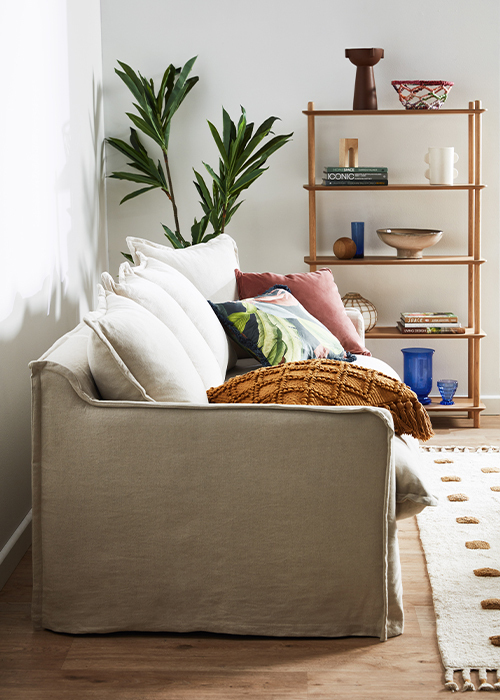 Tell us about the other decorative elements in this space.
The bookcase and the sideboard both have beautiful lines and timber finish, so I wanted to ensure that this didn't get lost. For this reason, I was quite sparing with the decor. I picked up the blue from the rope bowls with some glass ornaments and arranged them diagonally. I also did that with two stacks of books, so everything looks balanced. The glass features also help to bounce light around the room and contrast with some of those chunkier textures.
If you had to sum up this room in 1 sentence, how would you describe it?
This room reminds me of a little AirB&B that I wish I lived in; it's easy to maintain and it's relaxing to be in.