More and more homeowners are renting out part of their home to create extra income, whether it's to go towards paying off their mortgage or to help with expenses. Sydney couple Kevin and Emma are one such example. With plans to expand their family, they decided to leave the inner-western suburb of Marrickville in search of more space. That's when they discovered a truly unique property in Arncliffe. Originally built in 1888, the expansive home comprises a main house, accompanying coach house and lush landscaped gardens. Since purchasing the home in 2017, Kevin and Emma have transformed the standalone coach house into a self-contained studio which they lease out on Airbnb. We chat to Kevin and find out how this arrangement works for him and Emma, and their two young girls.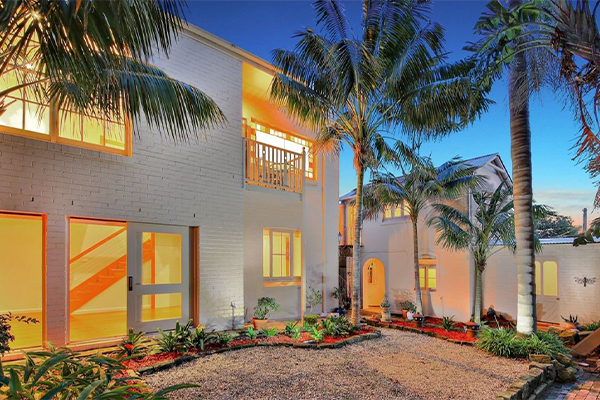 The main house, separate coach house and large courtyard and garden
Tell us about the history of your home.
The original property occupied a much larger parcel of land than it currently does. It was later subdivided and additional properties were built on new neighbouring plots. When we bought it, we were told that it was built by the Curator of the Royal Botanic Gardens, however, after further research, it seems more likely that it was built by someone who was just affiliated with the Gardens. We've also been informed that before the property was subdivided, the gardens were open to visitors to view the large range of exotic trees and plants that the owner had planted over the years. Many of these are still in our garden and in what is now our neighbour's garden.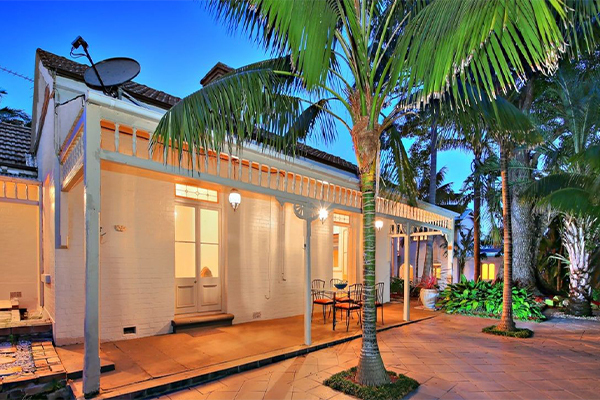 Many of the trees were planted by the original owner in the late 1880s
How do you describe the style of your home?
The original house and coach house are largely unaltered structurally and many of the original Victorian features are still intact. The house had a two-storey extension added in the 1990s that's mismatched so we've been doing some renovations to make it more consistent with the original style.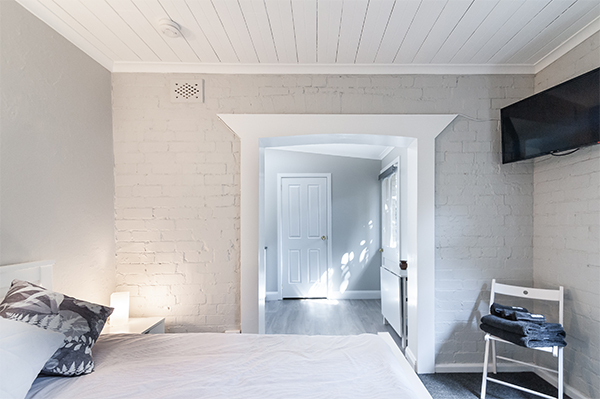 Inside The Coach House
How did the idea of leasing part of your home come about?
The property was much larger than what we were actually looking for, however, we fell in love with its uniqueness. While the separate coach house wouldn't work for all families, it suited us well as we could immediately see the potential of transforming it from the artist studio which it was to short-term accommodation. What we hadn't anticipated was just how popular it would be! Pre-COVID,
The Coach House
, as it's called on Airbnb, was booked out every single night, primarily with guests who were either flying in or out of the airport, as we're located so near it. This has changed with current travel restrictions and we are back to a few bookings per month.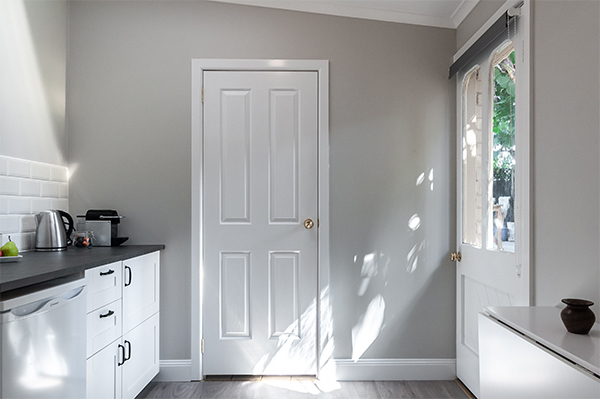 The light-filled kitchenette of The Coach House
What have you done to make this arrangement work for your family?
The property layout with The Coach House directly off the street and the main house further back has lent itself really well to Airbnb, giving both guests and ourselves privacy. In most cases, we don't even see guests during their stay and it has no impact on how we live. I don't think we'd do Airbnb if the property was arranged the other way around.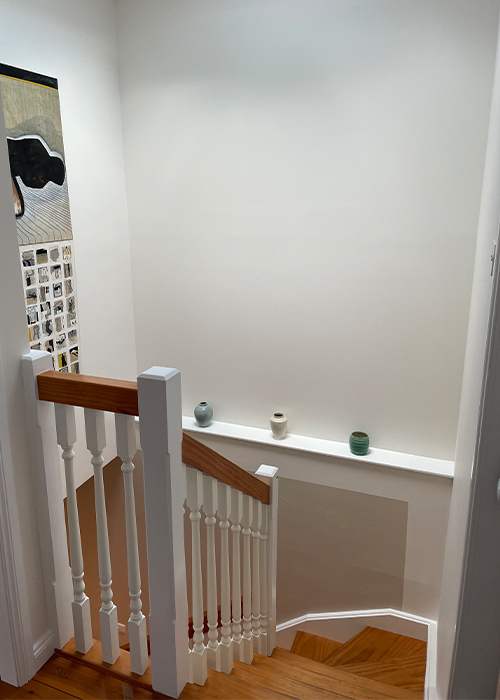 The stairwell with skylight that's recently been added to the main house
How have you decorated your home?
Shortly after we moved in, we started to renovate The Coach House, doing the work ourselves. We installed a kitchenette, new flooring, a new bathroom and we painted it, going for a clean modern scheme with grey walls and a vivid white trim. We then offset the modern colours with a traditional white country-style bed and soft furnishings. Within the house, we've been slowly renovating to bring back some of the original features. The 1990's renovation introduced some modern but now dated features including steel wire balustrades, exposed varnished timber and a room that was open to the stairs with no privacy, and we've been reverting back some of these design decisions, building walls to enclose the room and creating a light-filled stairwell with a skylight. We've also reverted to white timber balusters and have painted the stairs to match. This ties in with some of the furniture like the timber country-style dining room table and chairs.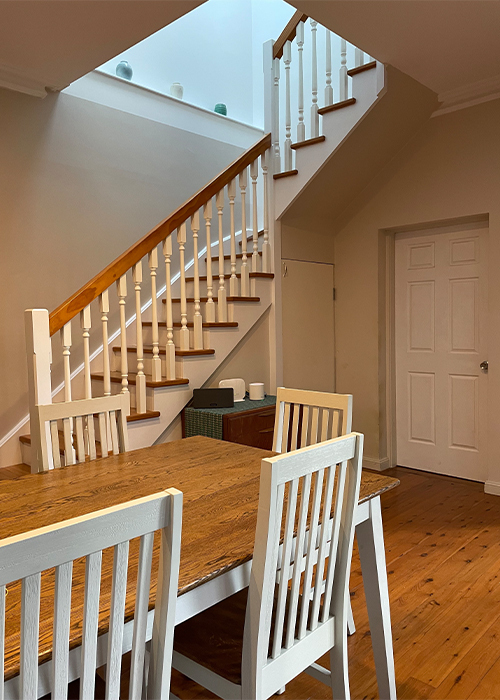 The timber balusters perfectly complement the country-style family dining table
What are some of your family's daily rituals?
With both of us working full-time and with two young kids, our weekday routine is pretty hectic getting them ready, dealing with squabbles and joining in on games, but we always make time to have dinner together and enjoy stories before bed. On the weekends, we catch up with friends and now that we have a larger home, we can have many more people over which just wasn't possible in our old 'shoe-box'.
​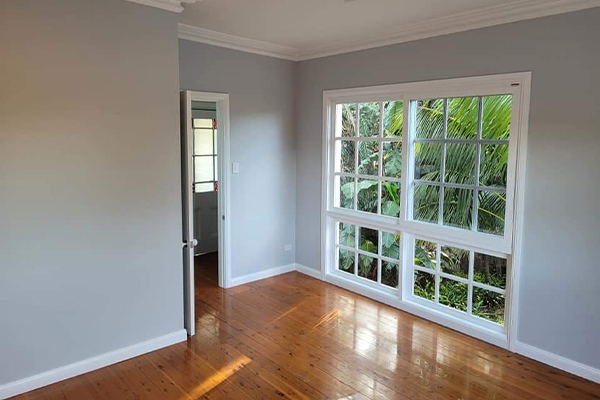 A large window overlooking the beautiful garden has been added to the upstairs bedroom
What do you love most about your home?
Without a doubt, it has to be the garden and the history that comes with the house. From the street, there is no indication of what the house is like. When we walked in for the first time, we felt the wow-factor of the property, and seeing that same response each time someone new visits or receiving that feedback from our guests is very satisfying.
​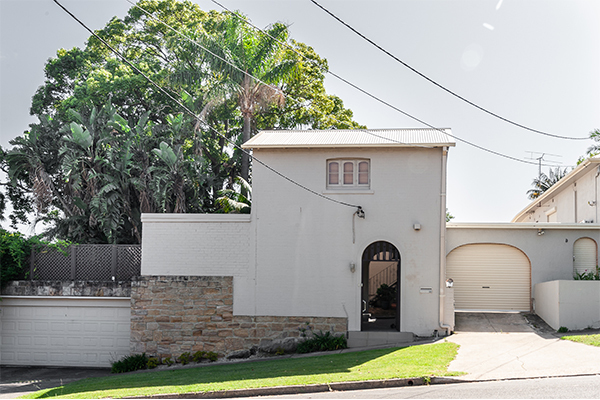 The exterior conceals the expansiveness of the property and lushness of its gardens

Live in a one-of-a-kind home or embracing interesting lifestyle trends? We want to hear about it!
​Email us at editorial@templeandwebster.com.au