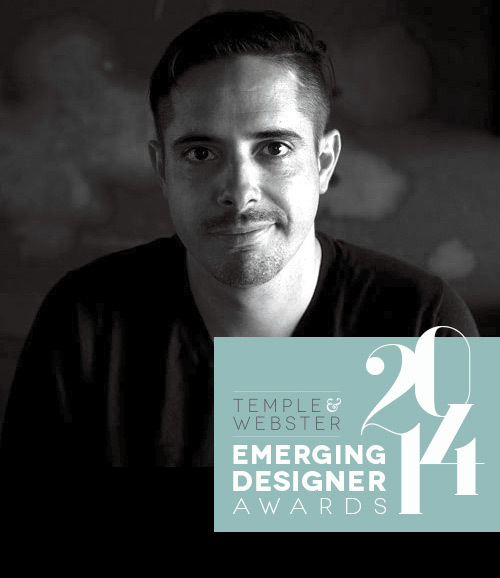 Portrait by Dean McCartneyDavid Harrison introduces Guy Keulemans, one of 10 nominees for the Temple & Webster Emerging Designer Award 2014. Voting starts on 2 May 2014.
Initially studying Humanitarian Design at Eindhoven in the Netherlands, Guy Keulemans is currently completing a PhD in experimental product design at the University of New South Wales' College of Fine Art, where he also lectures on design research in the Masters program. His cerebral approach to design looks at the underlying motives for a products existence, preferring to research and experiment rather than just design and make. His preoccupation is 'repair' and how examination of destruction and items in need of repair can lead to new product concepts with a well-developed sense of history, sustainability and purpose. His projects have involved photo-luminescent repairs to ceramics, casting concrete cobblestones for road paving and casting copper ice cream scoops.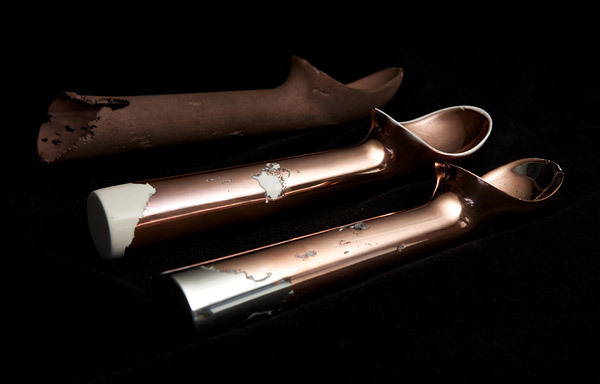 Guy recreated the classic aluminium ice cream scoop in copper, a more thermo-conductive material, then supplemented the imperfect results with tin and resin for an interesting and contradictory aesthetic. Image - Dean McCartney.
What is your biggest motivator, muse or inspiration when you are designing?
It really varies between projects, but in general I look for creating an unexpected perception or sensation. This is perhaps why some of my projects change in style from one to the next.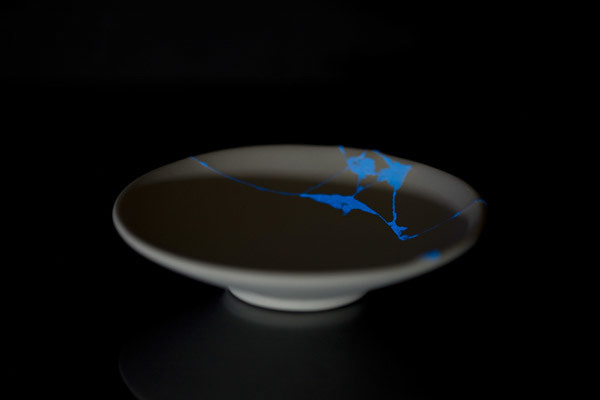 'Archaeologic' - a ceramic bowl repaired with photoluminescent pigment. Image - Dean McCartney.
What has been the single most pivotal point or event in your design life so far?
I don't know if this is the
most
pivotal experience, but it's certainly an early one. When I was 10 or so, I was in a restaurant with my grandfather, listening to him talk to another architect about deconstructionism. I asked him what it was and he spent half an hour explaining by drawing diagrams on napkins. I could barely grasp the idea at the time, but later in life I developed a love for the relationship between concepts and aesthetics, so I think it was formative.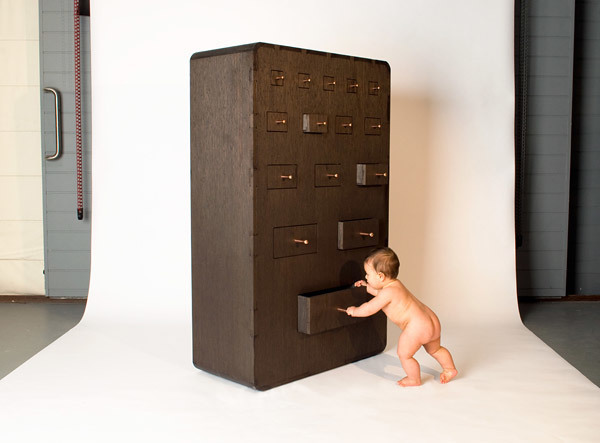 LKBP, constructed from sustainably harvested bamboo with dovetail joinery, with no nails nor screws and very little glue for the Objects for Atheists project. Image - Guy Keulemans.
What existing object or piece of furniture do you wish you had designed?
Currently I'm fascinated with
Thomas Thwaites' handmade toaster
– it's hardly usable, but fascinating for the way it opens up a comprehension of industrial manufacturing systems. A lot of what
Formafantasma
do is inspirational for its rigorous and critical take on politics and history.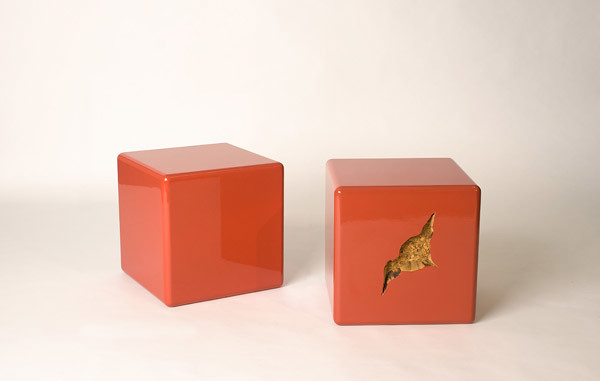 Slashboxes - beveled wooden cubes covered in polyurethane laquer, with one side damaged and inset with virgin cork tiling. Image - Guy Keulemans.
You studied at Eindhoven and this shows in your work with your interest in more abstract ideas rather than simple products. Can these more cerebral concepts lead to commercially successful products?
I think there are designers that embed concepts into commercial products very well –
Hella Jongerius
from the Netherlands, for example. In Australia, that kind of design seems to have less of a niche at the moment, perhaps because at one end there is an art market suspicious of functional or commercial constraints and at the other end design buyers who don't want intellectualism shoved down their throats. But conceptual design doesn't have to be overstated.
Henry Wilson
and
Trent Jansen
are two great, local, conceptually-minded designers who have achieved success without pretension. For me, right now, commercial markets are not a priority, however. I think its important to gauge work by that metric, just not that metric alone.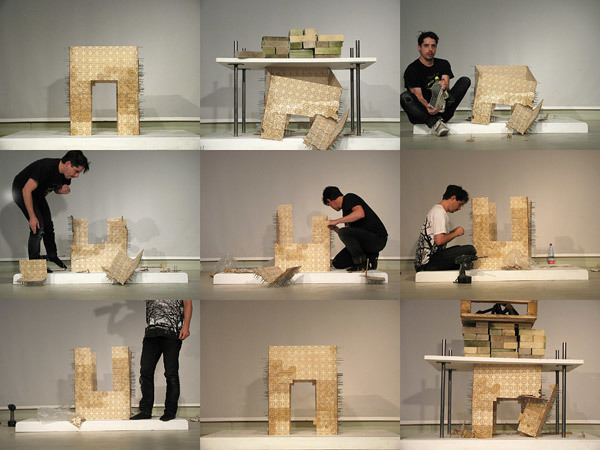 The Smash Repair Table is constructed with 'break lines' to generate continuous cycles of smash and repair. Watch the first 3 smashes on video.
What sparked your interest in the concept of repair that is a recurring theme in your work?
Obsolescence. Shitty products that break without easy recourse to repair. From personal experience and what I observe. Repair is a neglected tactic for fighting excessive production and consumption and the environmental problems they cause. An important concern for me is to elevate repair beyond its functional basis and into the transformative dimension.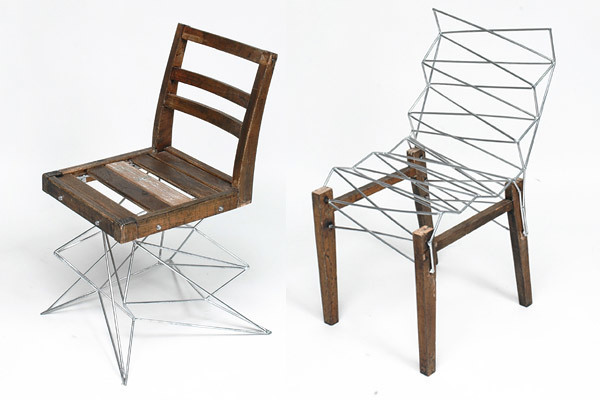 One old chair was cut apart and rebuilt into 2 chairs with the addition of 6mm steel rod - a kind of intensive repair, but also a way to forge new identity for an object made anonymous by the passing decades. Images - Guy Keulemans.
Do you feel an affinity with the wabi sabi notion of beauty in imperfection, as found in your ice cream scoop project where the limitations of the copper casting process make for a unique and intriguing product?
Wabi sabi
has been an interest since my earliest works in product design. And I think there are other Japanese aesthetic traditions which have potential for informing Australian design. For example,
mono no aware,
a sensitivity to the vicissitudes and ephemera of life, has a capacity to help us value, understand and care for objects. My partner Kyoko Hashimoto, and her parents Kiyotaka and Kumiko Hashimoto, are artisan-designers with practices which blend Japanese aesthetics and Australian influences. I'm very lucky to be in dialogue with them.
To find out more about Guy and his work, visit his website and his blog.
Vote now for your favourite Emerging Designer.