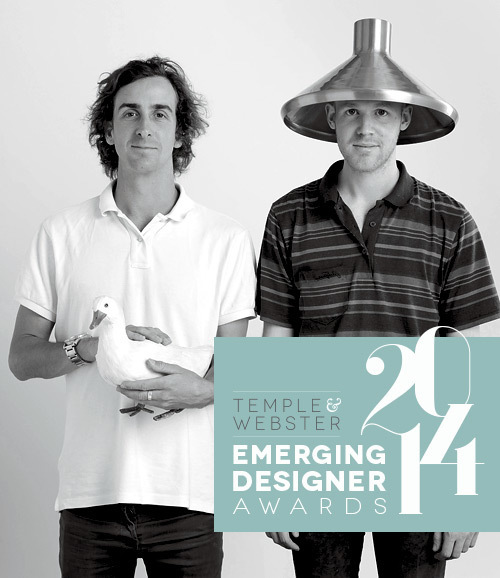 Meet Dale Hardiman and Adam Lynch of Dowel Jones, together one of the ten nominees in the Temple & Webster Emerging Designer Award. Voting starts on 2 May 2014.
Dale Hardiman and Adam Lynch recently created
Dowel Jones
, after collaborating since 2011 with
Andre Hnatojko
in
Lab De Stu
. Recent Honours graduates, they balance creativity and an interest in re-use with a commercial bent and manufacturing knowledge. They have recently won several awards for their unusual and innovative interior products including Mr Dowel Jones, a flat-pack lamp that utilizes cast rubber joints and basic timber dowels which was shown at last year's London Design Festival and also included in the ground-breaking Melbourne Now exhibition at the
National Gallery of Victoria
.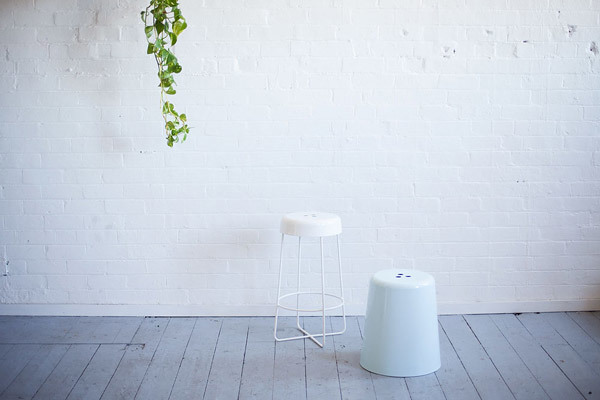 The 1/5 Thimble stool (back) was a development from the Thimble (front), a single piece of spun aluminium developed in 2012.
What is your biggest motivator, muse or inspiration when you are designing?
We only graduated from Honours last year, so we're only beginning to get the hang of full-time self-employment. We don't really need any kind of motivator; we find inspiration through a lot of dialogue and meetings with manufacturers and design thinkers locally. In the past we've met with manufacturers and they've showed us what they do, and we ask the daring question of 'what if we tried doing this a little differently?'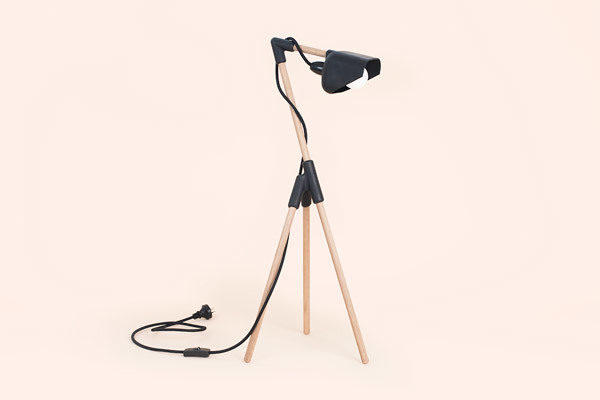 The Mr Dowel Jones light appeared at the London Design Festival in 2013.
What has been the single most pivotal point or event in your design life so far?
Melbourne Now at the
National Gallery of Victoria
came as surprise to us. We'd heard whispers surrounding the exhibition, but would have never assumed that we would be included. There were 21 Mr. Dowel Jones lights on display alongside extremely well known Melbourne products including
Knog bicycle lights
, Oates brooms,
Keepcup
, Willow esky's and many more. As part of Melbourne Now we've given talks with incredible designers and we even had a residency at in the NGV garden. The most enjoyable part of the exhibition has been being able to meet designers we've only admired from afar, meeting up with them outside of the exhibition and seeing their process first hand.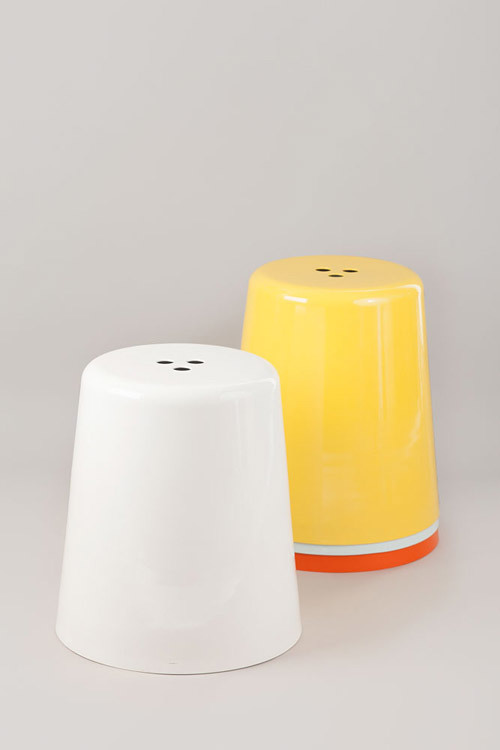 The Thimble stool was developed after watching people sit on bollards outside public buildings. It can be used as a stool or side table, inside or outdoors.
What existing object or piece of furniture do you wish you had designed?
Xavier Pauchard's Tolix range
, so every time we went to a café/restaurant with replicas we could have a very direct conversation with the owner.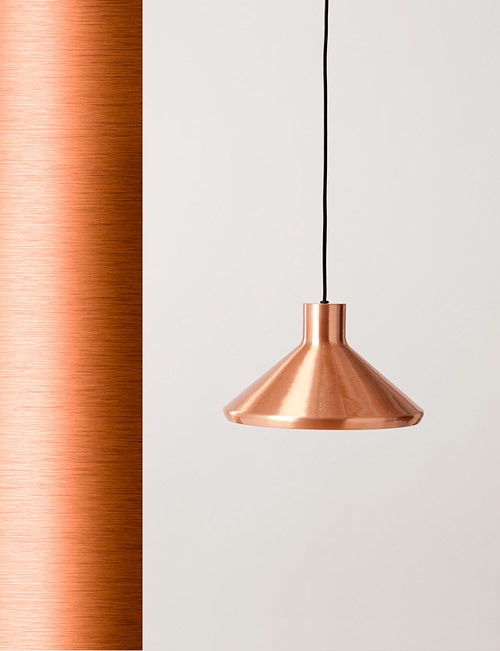 Dr Spinner is a spun metal pendant available in copper (as shown), brass and powder coated aluminium. A wood version will shortly follow.
Tell us a little about your design process. How do you work together?
We work within a designer/ manufacturer situation, whereby we design a product, source manufacturers and control every step of the process from design all the way through to a customer buying our product. Adam and myself have very different design processes in our individual work, so when we come together they compliment each other. My (Dale) own personal work is guided more by creativity, allowing for the front end of the design process for Dowel Jones to take on many different faces before it reaches a point where Adam can narrow it down to be somewhat commercially viable, not only from a manufacturing point of view but from a business one. Adam has worked within manufacturing for years, so his ability to find fantastic manufacturers suitable to each product is astounding.
Is a common aesthetic possible between your different styles and ideas?
We try not to tailor specific ideas to an overall style or visual aesthetic. The unifying point between all of our work would be a simplification in visual language as well as a simplification in processes. We initially were interested in a building a brand around the Mr. Dowel Jones light through creating several other products using rubber and dowel.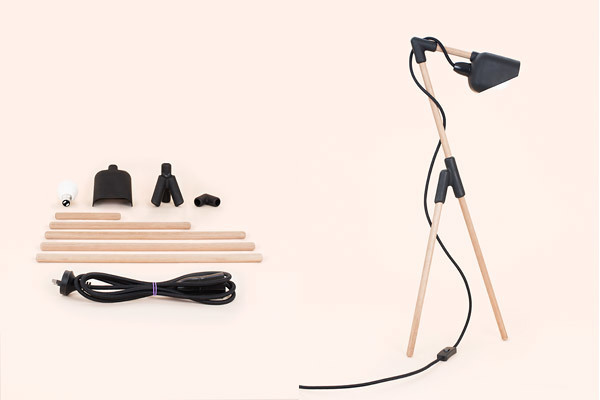 The Mr Dowel Jones light and its flat-pack components.
How do you approach making a product commercially viable while keeping it
sustainable or ecologically sound?
It's not really a matter of keeping it sustainable or ecologically sound, it's a matter of understanding what it is that you're doing and the impact. We don't usually write down particular components or 'key words' that relate back to being a 'sustainable' product, we merely design with particular guidelines in the backs of our mind. Take Mr. Dowel Jones, the original concept was designed around designing a desk light that could be packed down to a small size and being extremely light for ease of transportation, while also manufacturing it as locally as possible (the rubber components are manufactured 5 minutes north of my house, and the dowel is manufactured 5 minutes south of my house).
To find out more, visit the Dowel Jones website or follow Dale and Adam via the Lab de stu Facebook page or on twitter @labdestu or Instagram @labdestu.
Vote now for your favourite Emerging Designer.