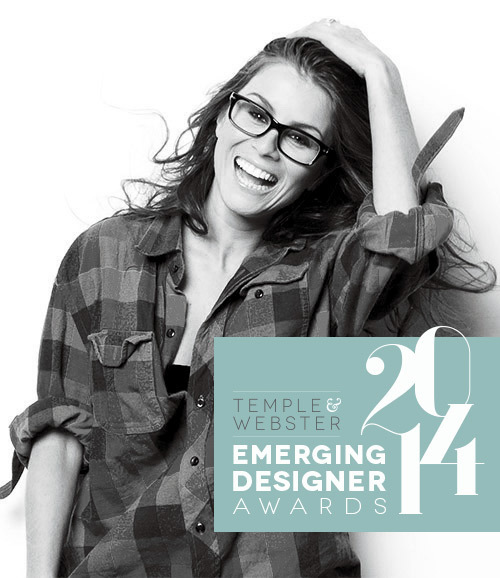 David Harrison introduces Coco Reynolds of Marz Designs, one of ten nominees for the Temple & Webster Emerging Designer Award 2014. Voting starts on 2 May.
With a strong interest in craft based ideas and methods, Coco Reynolds has recently completed an intensive course at the
Sturt School for Wood
. By the time she graduated in Industrial Design from the University of Canberra in 2007, Reynolds had already completed a period of study at the Institute Europeo di Design in Milan and has subsequently worked across disciplines from graphic to furniture design for several Australian companies. In 2010 Reynolds set up
Marz Designs
to develop her own concepts and was rewarded by being selected as a finalist in 2011
Launch Pad Design Awards
. Her
'Bright Beads'
pendant light has attracted attention for its reinterpretation of traditional wood turning skills and this has encouraged Reynolds to gain personal expertise in woodworking.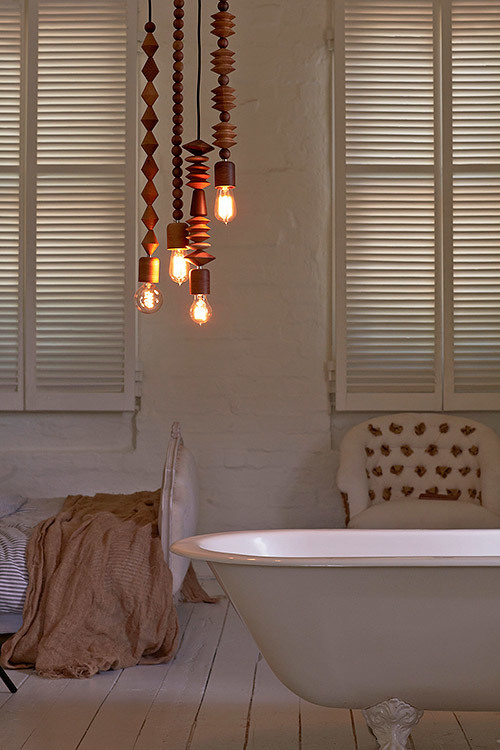 Bright Beads pendant lights
What is your biggest motivator, muse or inspiration when you are designing?
Clever and interesting people, simple but smart design and most importantly, travel. I've received a great deal of inspiration through talking to people from all walks of life in many parts of the world. I find being away from my home country stimulating and it changes my perspective.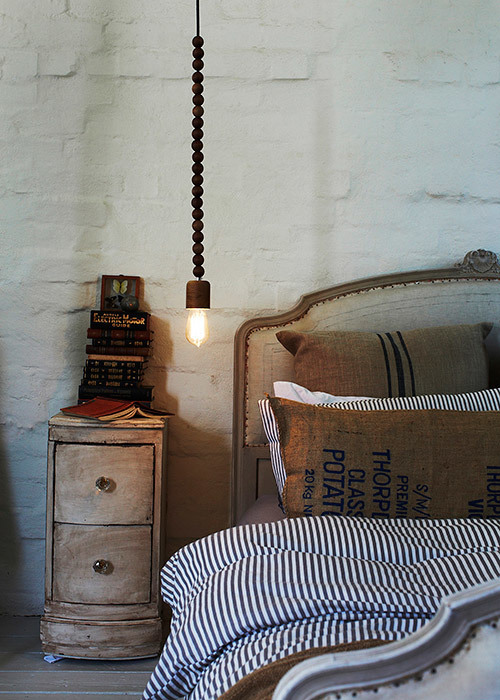 Bright Beads Abacus pendant
What has been the single most pivotal point or event in your design life so far?
Starting Marz Designs in 2010; like many things it started more as a passion project and since then it has gradually evolved. Marz gives me the opportunity to realise some of the concepts that are constantly developing in my mind and provides me a platform to produce and promote my work to the world.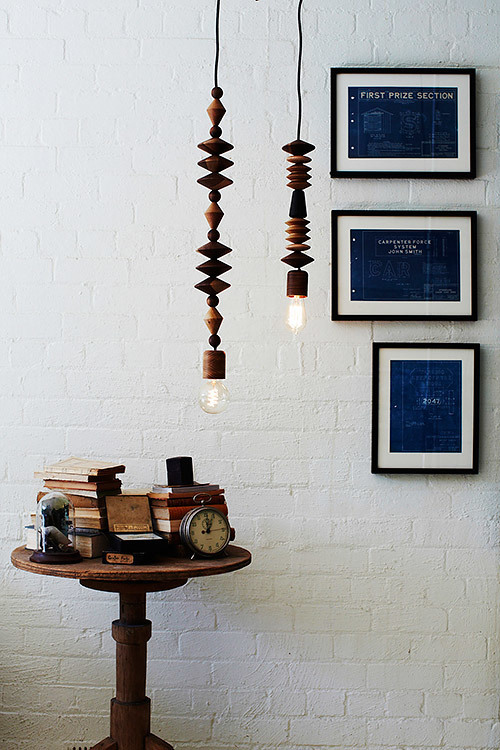 Bright Beads pendant lights
What existing object or piece of furniture do you wish you had designed?
There are so many things I wish I had designed, where do I begin! I love all of
Nendo's
incredibly clever products and furniture,
Jaime Hayon's decadent 'Bisazza Bagno'
bathwares,
Dieter Rams
consumer products for Braun and
Christopher Boots
' stunning lighting. The list goes on and on.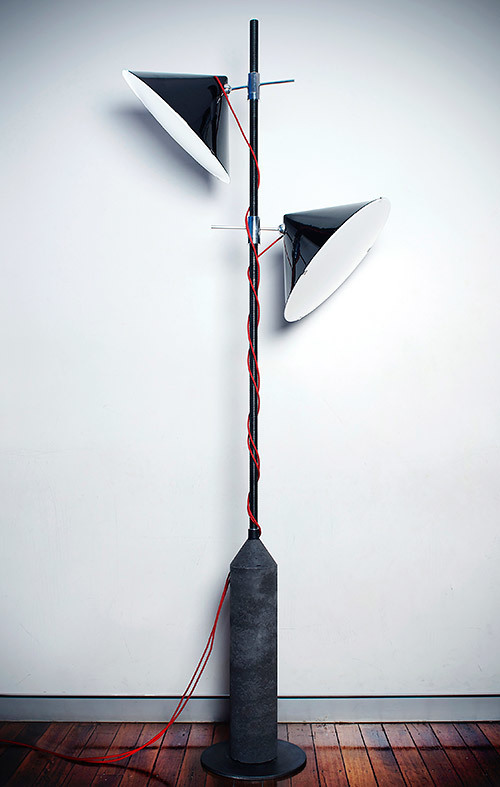 The shades of the Thread Light attach to an ordinary steel threaded rod that allows the height and direction of light to be adjusted. It's simple in construction and can be quickly and easily assembled on site and adapted to work in any space.
You recently completed a Craftsmanship of Woodwork course at Sturt School for Wood – what do you think this has added to your abilities as a designer?
My training at university was fairly hands-off, mainly theory based and focussed on computer aided industrial design. Learning those skills was extremely valuable and I still use CAD regularly however in hindsight I would have benefitted more from a hands-on and artistic approach to making. I found it quite challenging to take the leap from working purely computer based to actually making and prototyping my designs because I was so out of touch with materials and the manufacturing process.
The woodworking course at the Sturt School for Wood provided me with skills to make the transition from designer to designer-maker. I think it's really important to continually up-skill and learn about manufacturing methods and materials, whether they be old or new technologies. Studying at Sturt offered me the opportunity to work firsthand with wood, develop an understanding of woodworking and create highly crafted products. Pairing craft with industry is valuable knowledge.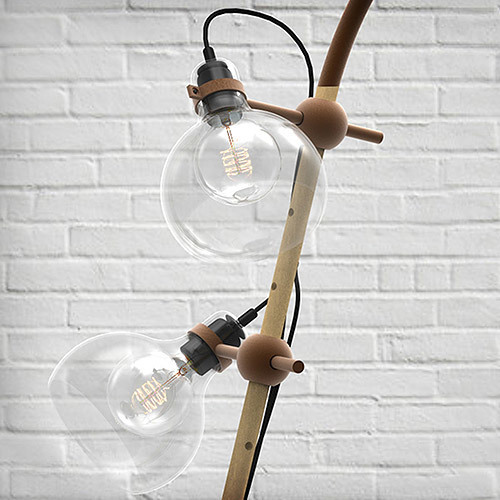 The Mantis Lamp is made of 100% recyclable; copper, glass and bamboo. Orienting the direction of light is made simple through the use of a pivoting pin attached to the vertical.
Your 'Bright Bead' pendant lights were a big success for you. What inspired you to treat lighting like a necklace?
I developed the Bright Beads in conjunction with How We Create for
Saturday InDesign 2013
as a case study to represent the relationship between designer and manufacturer. We used local wood turners to lathe the timber beads on the day which form the basis of the pendants, so everyone could witness first-hand the process in which they are made and an insight into what goes on behind the scenes.
The idea stemmed from making jewellery as a child, I would thread glass beads onto string to make necklaces and other embellishments. In the same way these pendants can be custom made to meet specific requirements, at any length and in any configuration.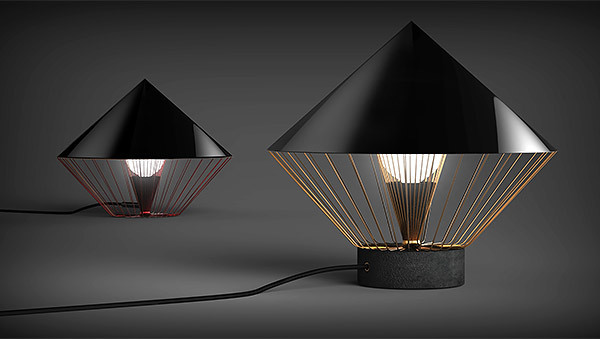 The Twirl table lamp uses aluminium wire, anodised in various customised colours and arrayed around a central ring to create a support base.
Your Twirl table lamp and table have a much sharper look than your timber pieces but they recall string art from the 1970's. Are humble crafts a source of inspiration for you?
Yes I think so, although not in a deliberate way. We grew up in a remote part of the upper Hunter Valley where television reception was very poor so we resorted to entertaining ourselves with crafts and I think an element of this sometimes seeps into my designs. I've always had a passion for the arts and creativity was encouraged at home and school. I suppose this is where it all started.
Find out more at the Marz Designs website or follow on Facebook or on Instagram @marzdesigns.
Vote now for your favourite Emerging Designer.