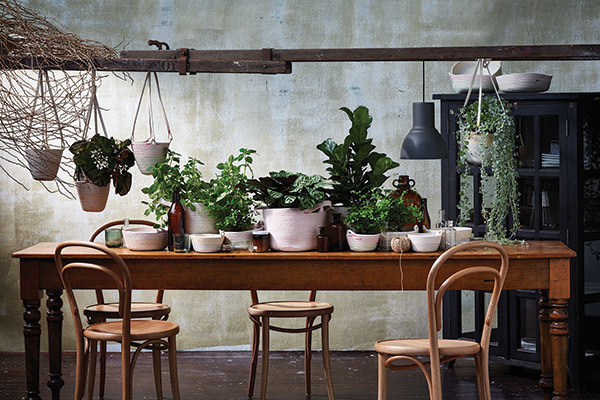 Karen McCartney writes about the trend for indoor greenery, including tips for the less-than-green-thumbed on the hardiest plants to try.
One of the strongest decorating trends at the moment is fortunately also one of the most life-affirming.
As our world becomes more technology driven there is an equal and opposite swing towards embracing nature, in terms of plants, imagery and colour in our homes.
Architecturally, Australia is the envy of the world for our ability to merge indoor and outdoor spaces – our climate permitting us to connect meaningfully with a garden, courtyard or patio. We have even coined the phrase 'outdoor room' and these spaces are now resplendent with,not only dining furniture and recliners, but also a whole host of decorative items such as rugs and cushions in special fabrications to cope with exterior environments.
The trend now is for us not only to move out towards the natural world, but to literally pull it into the heart of the home. Clusters of indoor plants on stylish powder-coated wire stands (at differing heights for the 'right' effect) and cute hessian plant-holders are fast becoming the home accessories
du jour.
The important word here from a style perspective is 'cluster'. Gone are the days when a single, sad aspidistra will cut it. The message is generosity, multiplicity and variety. So hanging plants (take or leave macramé according to taste, but it too is having a revival), grouping plants and even creating wall displays are all part of new greening of interiors.
If all this green fingered lark is just too much, then at least invest in an artwork that brings with it the sense of the uplift the natural world is so good at imparting; choose an abstracted moody sky, a misty forest of conifers, or an emotive seascape. Or better still combine the real with the artistic interpretation. Looking after things is good for us and plants, apparently, like to be talked to!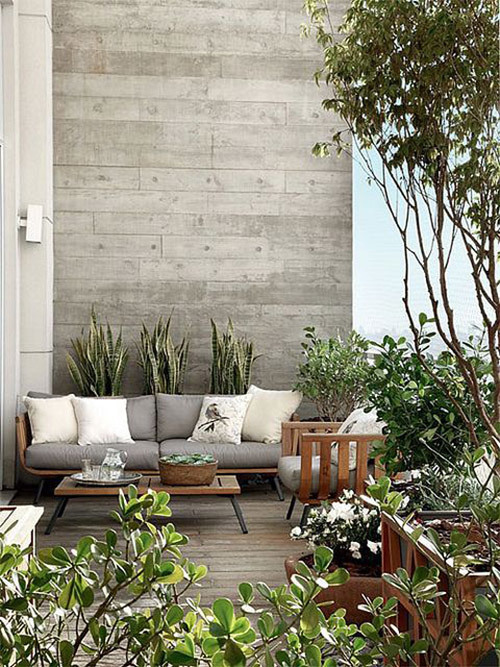 Image via The Style Files.
What plants to use? Richard Unsworth of Sydney's
Garden Life
recommends plants with a mix of hardiness, ease of care and glossy, good looks.


Monstera deliciosa for its big leaves and lots of texture.


Sanseveria 'Congo' is a really fat leafed mother-in-law's tongue, that loves a dry shady spot.


Brazilian Walking Iris is a great option for its contrasting cluster – ribbon like light green leaves with attractive iris like flowers in summer.


Pothos (or Devil's Ivy) is a terrific trailing plant with heart shaped leaves – great to trail down shelves.