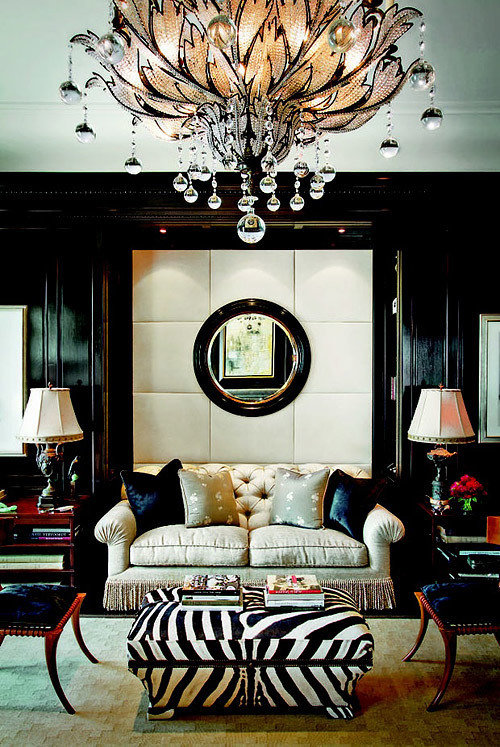 In the next instalment in our Find Your Style series, writer Verity Magdalino explores the glamorous heights of Hollywood style.
Love the luxe touch of deep, rich furnishings, the gleam of precious metal, the drama of black and white highlighted with a pop of vibrant colour? You, my friend, could quite possibly be a connoisseur of Hollywood Glamour style.
How to know if you're a Hollywood Glamour darling:
You enjoy the good things in life
For you, it's all about the high gloss of old school luxury. No sparse modernism for this glamazon. Your favourite room is your expansive hallway with its Chinoiserie wallpaper and winding staircase (all the better for making an entrance), your favourite sound, the clink of crystal champagne glasses. Buy well, buy once is your mantra.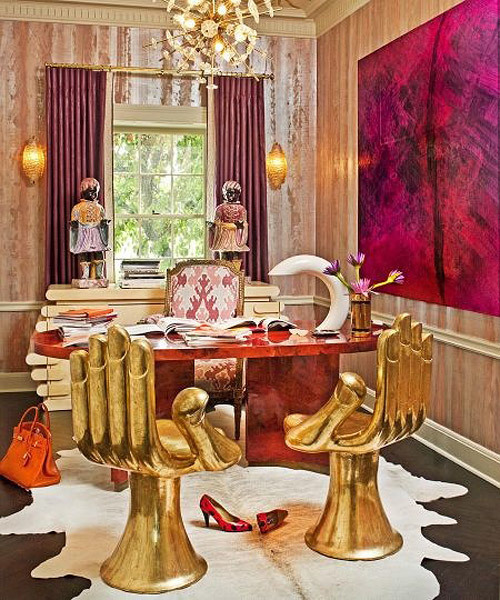 The home office of Kelly Wearstler, via Pinterest.
Your favourite colour is gold
Your enthusiasm for metallic finishes is endless. If it's not glittering gold, it's silver or the elegantly aged patina of pewter - but never in one room all at once. On your walls, floors and even your ceiling you love the film-like theatricality of black and white but you're equally enamoured with the sophistication of grey, especially if it's highlighted with an accent of bold colour, like a classic William Haines
Bel Air
sofa in vibrant apple green, turquoise or Chinese red.
You love a bit of drama
Bold graphic stripes and patterns, sumptuously soft furnishings and larger-than-life portraits framed in elaborate gold gilt are your idea of interior heaven.
Your dream living room is the stuff of Hollywood fantasy; a blazing open-fire, deep pile rug, chaise lounge, and a few artfully arranged palms and richly upholstered animal print chairs to remind you of all your exotic trips abroad.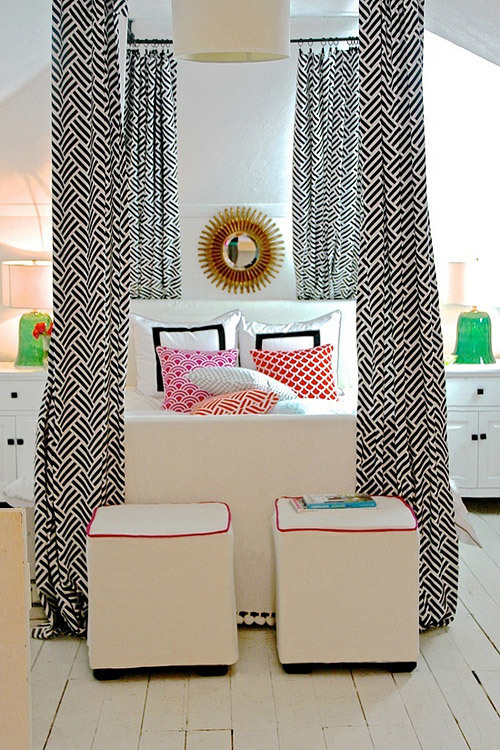 Your favourite stylist is Kelly Wearstler
If you had one wish it would be for LA's stylist to the stars to sprinkle her magic over every interior in your life. Taking her cues from glittering Hollywood golden-era designers like Dorothy Draper and Billy Haines, Ms Wearstler's legacy in life is to make the world a more colourful place. And you couldn't agree with her more.
You don't mind animals in the house
You love animals, but mostly if they're inanimate. Leopard print on your chairs, zebra print on your rugs, the magnificent texture of fur throws on your bed (faux of course!), clawed feet on your bath… for you, a little bit of wild is a whole lot of wonderful.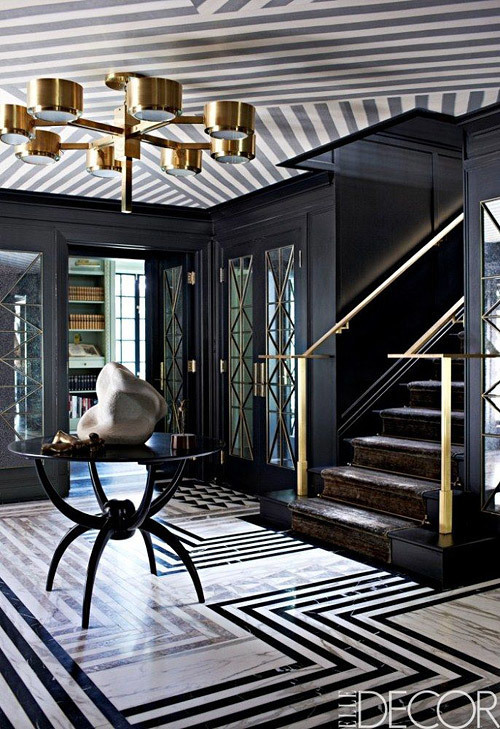 Image from Elle Decor, via Pinterest.
Embellishment is your thing
Flamboyant? Fabulous? Slightly excessive? Moi? You live by designer Jonathan's Adler's manifesto: "minimalism is a bummer… tassels are the earrings of the home."
Your favourite artists are Neo Classical sculptors
You're partial to a bit of marble, especially if it comes in the form of a classical Greek or Roman style sculpture. If you can't find the perfect piece for your entrance hall, you're just as happy with a marble-topped side table, marble pillars or, what the heck, why not just go all out and cover the walls, floors and maybe even the ceiling. Enough is never enough.
You have The Great Gatsby on high rotation
While old-world Hollywood Regency style is totally your thing, you're not averse to mixing your eras with a little Art Deco when the mood hits you. Baz Luhrmann's re-make of The Great Gatsby is on your list of all-time favourite movie sets.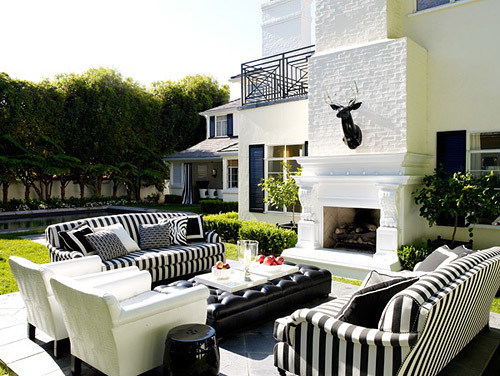 Outdoor space by Martyn Lawrence Bullard, via Pinterest
Your idea of gardening is something someone else does
Tropical plants indoors, a nice, neat topiary garden outdoors dotted with the odd statue and perhaps a Bellagio-inspired fountain. Well, why not? It may be verging on bad taste but you've always loved to push the boundaries. And, most of all, it's fun. And that's what you're all about.
Find these inspiring images and more on our Hollywood Glamour Pinterest board.
Shop the Hollywood Glamour look for your home.