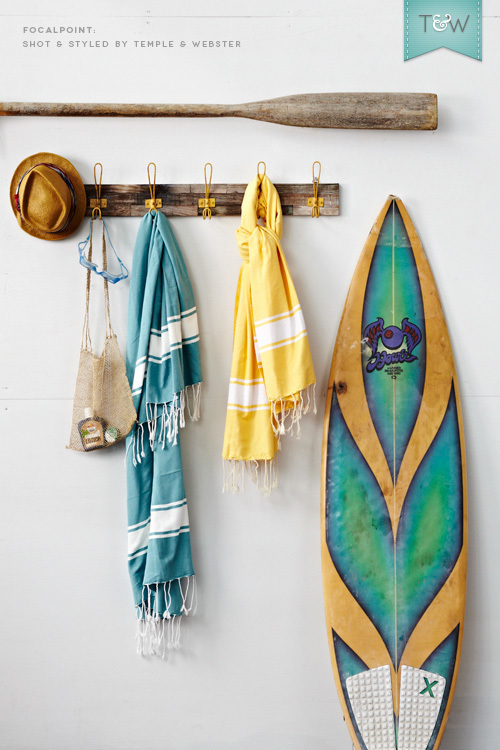 In the latest post in our Find Your Style series, Verity Magdalino kicks off her shoes to explore the easy comfort of beautiful beach style.
You love the scent of fresh sea air, the feel of sand between your toes and harbour an obsession for old fibro beach shacks. You may very well be an arbiter of relaxed coastal chic.
How to know if bright and breezy beach style is your thing:
You love a hammock
Or if you're honest, any swinging chair that gives you the opportunity for a mid-afternoon siesta. You're also partial to a floor cushion or two. It may be the hippie in you but there's something innately appealing about living life horizontally.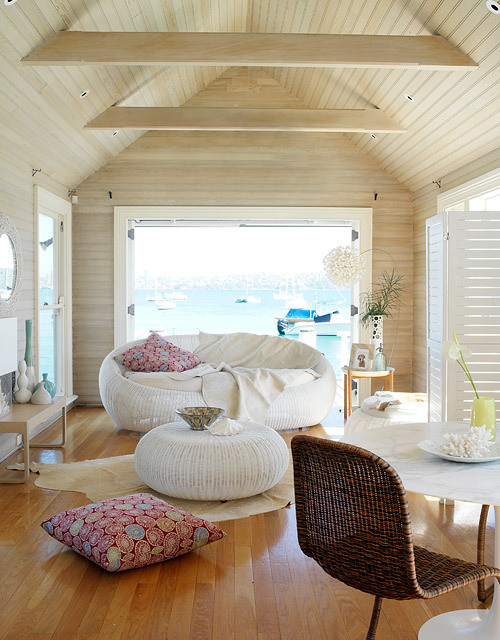 Look familiar? Image by Jason Loucas, styled by Paul Joseph Hopper.
You would sell your mother for a water view
Well, that may be going a little far but you'd definitely consider forgoing many of the conveniences of urban living for waking up with the ocean at your feet every morning.
You don't mind sand in the house
Essentially you're quite low maintenance. Windswept hair, crumpled bed linen, the minimum amount of weather-beaten furniture… your interior style is as laid back as you are and you love a sweep-clean floor; timber, stone, even polished concrete, as long as it can handle wet towels and sandy feet it's ok by you.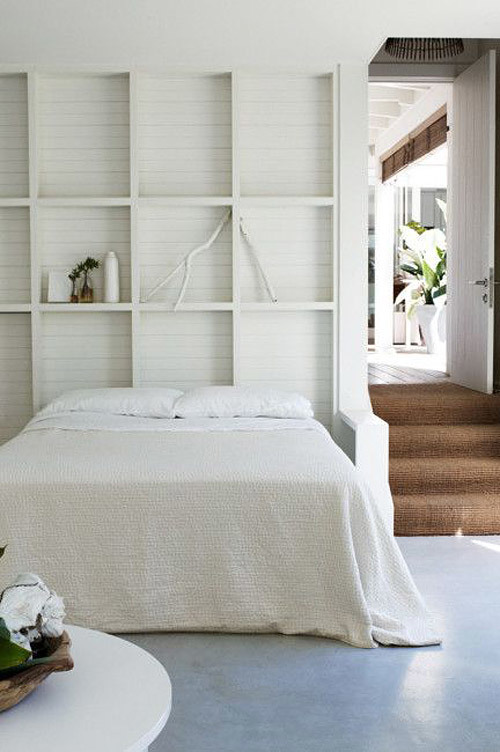 Image by Prue Ruscoe for Homelife, via Pinterest.
You have an aversion to glass
Unless it's in your windows, your skylights or your bi-fold doors, sleek surfaces and sharp corners are a serious no-no in your world of sunshine and comfort. For you, the perfect interior is all about exposed timber beams, chunky whitewashed wood furniture, natural fibres and travertine stone floors. And you don't mind a little recycling. Spending a crafter-noon fashioning a light shade from a lobster pot is your idea of time well spent.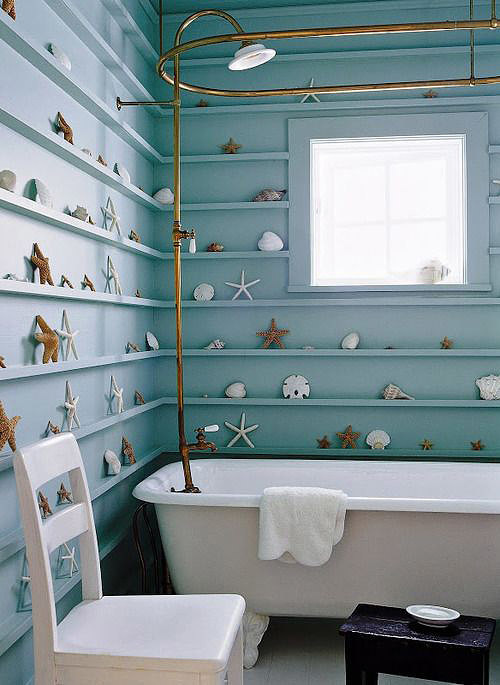 Image by Dominique Vorillon for Elle Décor via Pinterest.
You think an outdoor room is one of life's essentials
Having your own deck or covered outdoor space (preferably with built-in barbeque) for your daily sun salutations and evening cocktail with the neighbours is as essential as beach holidays in your book, and simply not negotiable.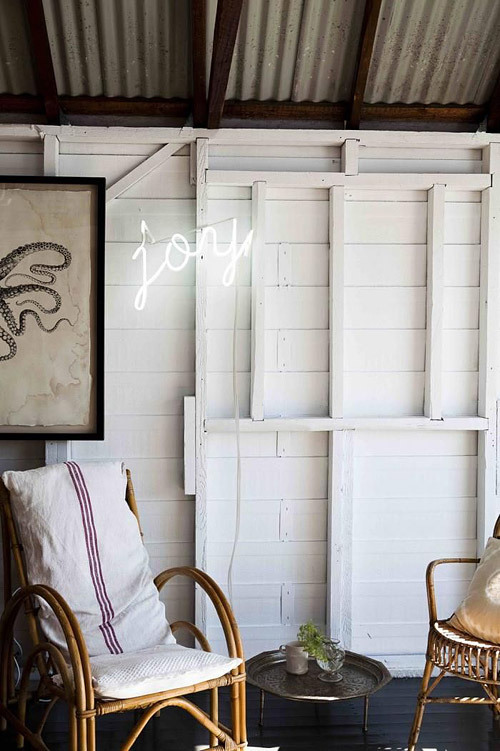 Image by Mikkel Vang for Vogue Living, via Pinterest.
Your favourite colour is turquoise
While soft shell white or sandy beige are your go-to tones for everything from floors to bed linen, the ocean is your main source of inspiration when it comes to adding a hint of colour. Turquoise and seafoam are firm favourites but you love the sea in all its moods so a bit of storm grey or barely-there blue doesn't go astray either.
You're a natural born beachcomber
You love nothing better than to create vignettes using the flotsam and jetsam from your early morning strolls by the water. Shells, branches, stones, feathers, old fishing rods, fishing nets, driftwood and vintage boat oars… the ocean's trash is your treasure but you know not to overdo it. True coastal chic is about a hint of the sea, not a sledgehammer.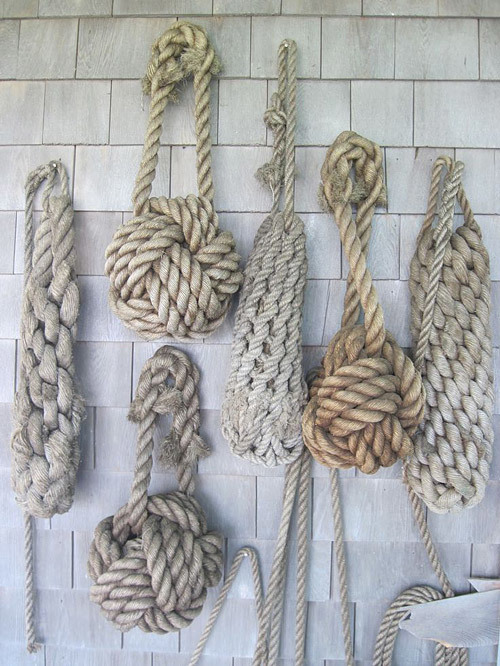 Image via Pinterest.
You're into organic
And we don't mean just your food. Sea grass, straw and jute rugs; cane, rattan and bamboo furniture; raw bleached wood accessories; you love anything in its natural state that brings warmth and texture to your all-white surrounds. If a tree were to grow up through your front wooden deck you'd cut a hole and leave it there.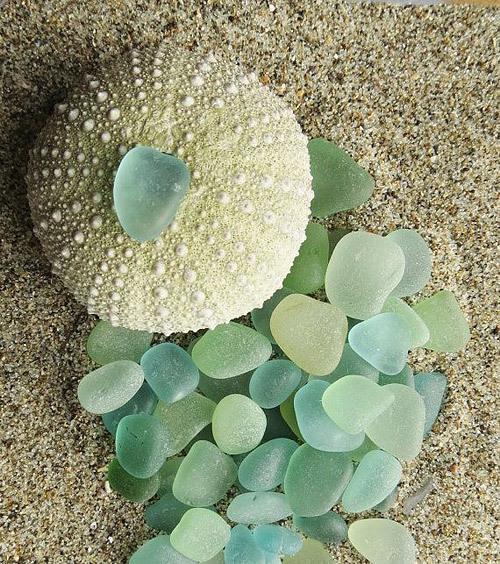 Coastal colour inspiration via Pinterest.
When you think holiday you think Bali… or Byron
For you it's not about whether to take a beach holiday, it's finding a beach you haven't experienced yet. You know your Seminyak from your Wategos and you are only truly content with the sound of the sea lulling you to sleep. In your world it's as close to heaven as you're likely to get.
Visit our Coastal Style Pinterest board.