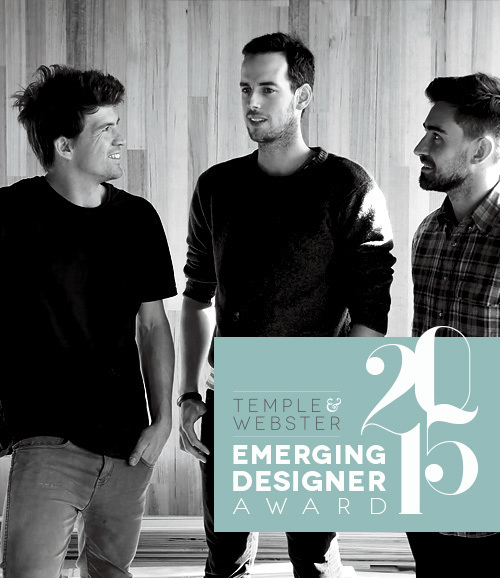 Architects Chris Gilbert, Josh FitzGerald and Chris Haddad launched Archier in 2014 as a multidisciplinary studio designing furniture and lighting. In their first completed project, the Sawmill House, every part of a rural Victorian home was made from scratch, winning them an award and commendation at the Victorian Architecture Awards 2015. They are nominated for our Emerging Designer Award 2015 and a selection of their products is available in our special sale event.
How would you describe your design philosophy and aesthetic?
Chris G:
We believe in taking risks and embracing both state of the art manufacturing techniques as well as traditional craftwork in our design realisation. Our aesthetic is architecturally driven, a filter which comes naturally to us. Ultimately our design is playful, yet approachable.
What is your biggest motivator or muse when you are designing?
Chris G:
Our clients and their spaces have always been the initial drivers of our product design, with these pieces becoming prototypes to work from. Establishing our own workshop has allowed us to remain hands-on throughout the process, with this feedback loop allowing us to learn and design up until production.
What has been the most pivotal point or event in your design life so far?
Chris G:
Building the
Sawmill House
– a hands on design and build which saw us engineering, problem solving and developing ideas from start to finish. This was effectively a large-scale prototype in our eyes.
What (or who) inspired your most recent design?
Chris G:
A friend's sister wanted a dining table for her apartment – so we converted the Otway Dining Table into the Otway Circle Table, reflecting Melbourne's café culture and desire for high quality yet compact pieces for the apartment market.
Do you have a favourite design in your portfolio, and why?
Chris H:
The Highline pendant light. It has gone through such a rigorous design and development process that the final outcome feels very distilled and considered. Every aspect, from material selection to composition, has been driven by the desire to make it as simple and elegant as possible.
What materials, processes or new categories do you hope to explore in future?
Josh:
We're open to suggestions! The beauty of designing products with a client or project in mind means we're free to explore and prototype within otherwise unfeasible categories. Lately we have been looking at intricate concrete casting combined with wet cnc milling. Dirty work but interesting results.
Do you have one piece of styling/ /design advice for home decorators?
Chris H:
Keep it simple and do as the Japanese do!
Quickfire questions:
My favourite iconic design is:
Charles and Ray Eames. We know it sounds token but we feel we are exploring similar ground architecturally and from a product perspective.
(Chris G)

My dream project would be:
A range of micro hotels located in heavy industry or infrastructural zones. Think container ports, steel mills abandoned coal power plants.
(Chris G)

My favourite era for design is:
Now. We can do anything and everything at this point. People are interested in the cutting edge such as 3D printing, but they also appreciate good craftsmanship and traditional techniques. Design is more accessible than ever and there is a crowd for every interest.
(Chris H)

We are creatively fuelled by:
A desire to learn and to accumulate new skills.
(Chris G)
Follow Archier on Facebook or on Instagram @archier_
Voting in our Emerging Designer Award 2015 has now closed.