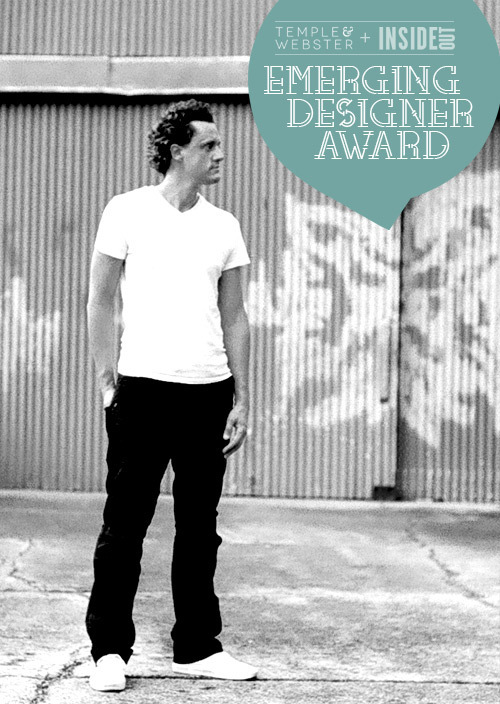 Verity Magdalino chats with industrial designer Surya Graf, the fifth nominee for the Temple and Webster / Inside Out magazine Emerging Designer Award. You can also read Lee Tran Lam's interview with Surya over on Inside Out's blog Homelife.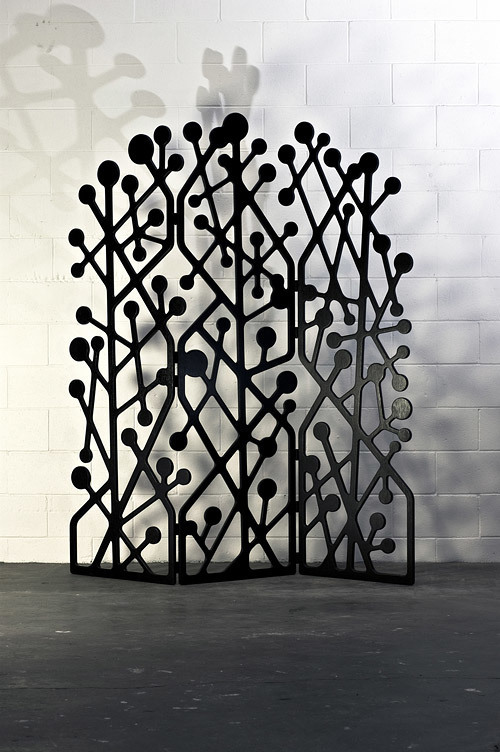 Who?
Surya Graf is a Brisbane-based industrial designer who juggles his main job as an urban designer of predominantly outdoor street-scape furniture with his own design practice specialising in lighting, homewares and furniture. He is also the co-founder of
Snack On
, an online store and design label, and is part of
Quench
, a Brisbane-based design collective.
Why we love him:
Surya finds joy in experimentation and contrasts, merging the industrial with the organic and technology with tradition, the results being smart, practical but beautifully simple designs.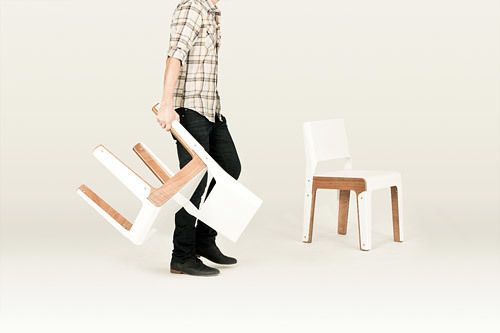 How would you describe your design philosophy?
I focus on materials and processes, identifying a material and investigating how to process it, and then refining it back to keep it as simple as possible. I prefer to find ways of designing with one material, without any embellishment.
Where did your love for design come from?
Like most kids of my generation I enjoyed playing with Lego and drawing. I lost contact with my creative side in high school and at university I studied psychology. In our final year we did environmental psychology and had to analyse how space influenced people's behavior. We had to draw a space and I got right into it. So I went and studied architecture. I worked on major projects like hotels and found myself spending a lot of time designing a door handle, which is when I changed to product design. My parents are German, and travelled a lot before settling in Brisbane. They're creative in their own way but not in their careers.
What inspired you to create your most recent piece, the Crease chair (above)?
I came across EchoPanel, a recycled product, which I found was only ever used as a flat sheet for acoustic panelling in offices. I loved the material and wanted to create 3D structural forms from the flat sheet. It wasn't about designing a chair but about pushing the boundaries of what you could do with the material.
Do you have a favourite design from your portfolio?
The Crease chair
(above)
, Hangman clothing rack
(below)
and Botany screen
(see top)
because they're all made from one material and a different process is used for each. The Hangman for example was made with bent stainless steel tubing. I like the honesty of it and that I'm not trying to conceal anything with it.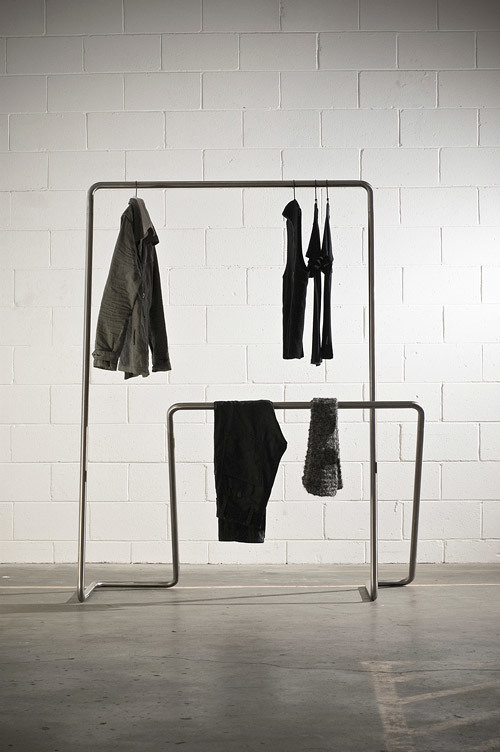 Surya Graf's Hangman clothing rack.
What are you looking at now for inspiration?
I have a large network of friends involved in design, architecture, jewellery and fashion so it's not purely about industrial design. If I come across a jewellery technique that could be applied to furniture I'll investigate it. It's about discussions you have and working in the industry. I keep up to date via blogs and design content too such as
Dezeen
,
Mocoloco
,
Daily Tonic
,
Yatzer
,
It's Nice That
,
Another Something and Company
, and
FormFiftyFive
, a graphic design site.
What are you currently working on?
A public art project for the University of Southern California. It's an adaptation of the Botany screen for a multi-storey health sciences building. I also work with
Quench
, a local design collective. We've exhibited in Tokyo and have just got back from LA and Dwell on Design.
I'm also starting work on a smaller scale, designing homewares, tableware, kitchen and bathroom pieces, which has been fun. I'm re-launching my online store called
Snack On
at the start of next year. Most enquiries are international so it makes sense to design products you can ship easily.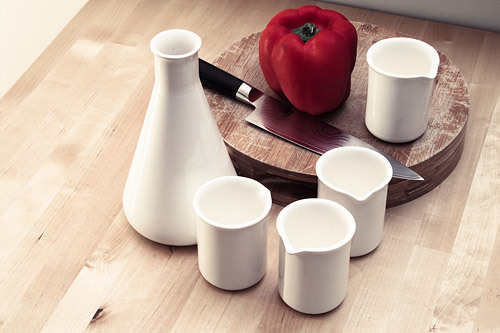 In terms of materials and processes what are you investigating at the moment?
We bought a 3D printer a week ago and it's been running pretty much constantly since it arrived. You can develop product and rapidly visualize things to produce a functional piece quite quickly.
I've been printing vases, cups and bowls. It's exciting. I use them as masters for slip-cast ceramics and you can get some very interesting results. It's early days yet but it's definitely where things are heading, especially for small products. You could have a printer in your kitchen and your 15 year-old kid could produce cups and tableware.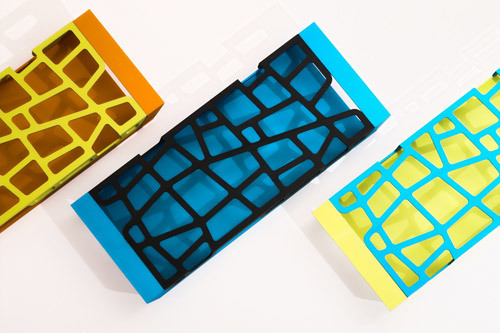 What's your proudest career achievement so far?
Winning the
Design Institute of Australia
award for best furniture design for my Wave outdoor seating. This was a project I completed shortly after graduating back in 2005, and was one of the first things that I ever had built. It was quite an exciting time.
What would be your dream project?
It'd be great to do something collaborative. I'd love to work with
Nendo
in Japan,
the Bouroullec brothers
in Europe, and maybe
Michael Young
. I like his approach, that he's based himself in Hong Kong and is looking at Asian culture. Being in Australia it's what we should be doing.
Images courtesy of Surya Graf - see more of his work here.We're profiling local up-and-coming talent all summer, along with Inside Out magazine's blog, Homelife. After you've met each of the designers and seen their work, you'll have a chance to vote for your favourite. Your votes will narrow the choice down to three finalists, then our expert panel, including Temple & Webster Editorial Director Karen McCartney, Inside Out Editor Claire Bradley and Louise Olsen, co-founder and designer at Dinosaur Designs, will choose the winner of our Emerging Designer Award just in time for Australia Day. The winner will receive $5000 from Temple & Webster, and will also be featured in Inside Out magazine and across the home & interiors media. So far we've featured Tamara Maynes, Kate Stokes, Tate Anson and Chris Hardy.