Stylist Drew shakes up a fruity gin cocktail to serve with some festive spiced nuts, plus reveals a few cheat's tips for that ultimate Christmas dessert: the pavlova.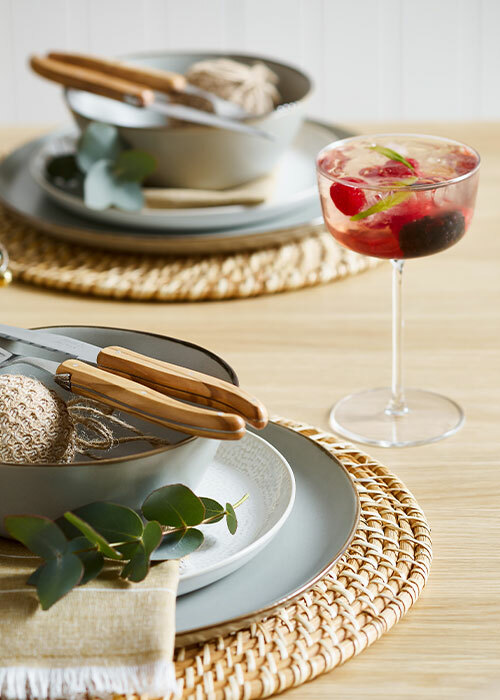 Gin, mint and blackberry Christmas crush
This refreshing cocktail has just the right balance of sweet and sour, and is the easiest Christmas cocktail to make. You will need a
shaken cocktail kit
for this recipe. One part is essentially the pour from one full
jigger
which is 1.5 ounces or around 2 tbs.
1 part gin
1 part Chambord (a brand of black raspberry liqueur from France)
1 part lime juice
Sugar syrup, to taste
Ice, mint leaves and blackberries, to serve
Combine gin, Chambord, lime juice, syrup and ice in a shaker. Shake well, then strain into a
glass
. Garnish with mint leaves and blackberries to serve.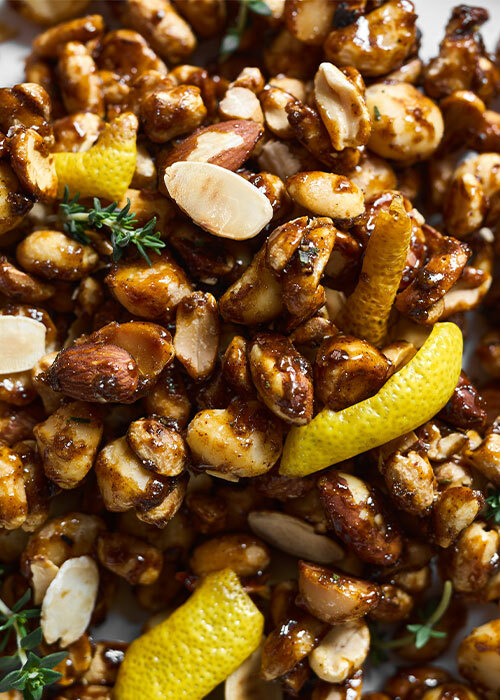 Christmas spiced nuts
This would also make a fantastic gift. Make a few batches and place in
glass jars
tied with a ribbon.
1 tsp each ground cumin, coriander, Chinese five spice and ginger
Ground chilli, to taste
¼ cup sugar
375g bag of salted mixed nuts
Thyme or rosemary leaves, and pared lemon rind, to serve
Combine spices with sugar in a large bowl. Toast the nuts in a large
frying pan
for 2 minutes. Add the spice mixture and cook, tossing, until caramelised. Transfer to a lined
baking tray
, break up with a fork and cool completely. Garnish with thyme or rosemary leaves and lemon rind to serve.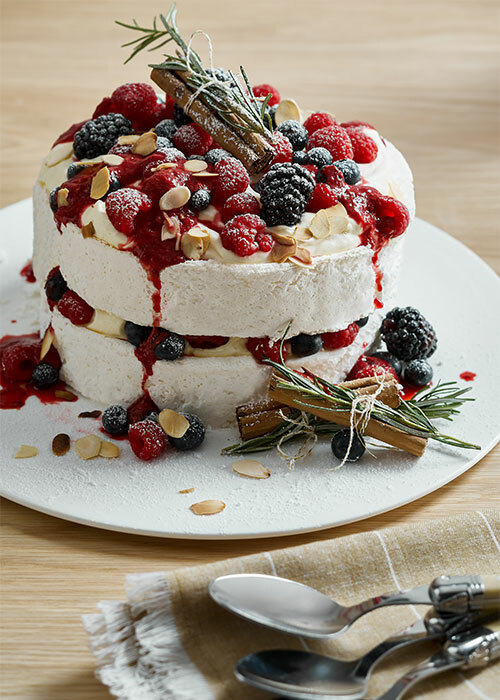 ​
Cheat's pavlova tips
- Take the heat out of the kitchen and use ready-made meringues from supermarkets and bakeries.
- For an impressive towering pav, sandwich two meringue bases together with a mixture of fresh cream and brandy custard, and your favourite summer fruit. Drew is a fan of mixed berries soaked in Chambord (a brand of black raspberry liqueur from France).
- To make a festive topper for your pav, tie a couple of cinnamon quills and rosemary twigs together with twine. You can also use this as a decoration for place settings.