Food writer Jane Lawson recreates nostalgic corner-shop classics in her new book, Milkbar Memories, from homemade musk sticks to shakes and even chips with natural chicken salt. Here she talks food nostalgia and shares a recipe for old-school vegie burgers.
We seem to have gone nuts for American-style food nostalgia the past few years, what sets our Aussie milk-bar version apart?
I think that some young chefs and cooks have taken the concept of 'everything is bigger and better in America' a little too literally. Australian cooks are generally pretty good at doing simple things well using quality ingredients, and I really wanted these recipes to have nostalgic appeal but also taste great by today's standards. A lot of work went into making some relatively basic foods much better for you than the version you find in fast food shops and supermarkets.
What's your own favourite milk-bar memory?
Washing dad's car for 20 cents so that my brother and I could buy a bumper sized bag of mixed lollies from the milkbar on the main road. Once we'd made our selection – which was taken pretty seriously, I might add – we'd hold onto that bag for dear life as we made our way back down the hill in the scorching sun, knowing that dad would be ready to pinch his favourites the minute we walked in the door.
Which recipes have readers responded to so far?
It's early days. The musk sticks seem to be winning some hearts, but I'm waiting for people to cook the really top notch burgers with their own tomato sauce and chips with natural chicken salt, or try making their own lush ice creams and cones.
The design and photography of the book all work a retro feel – how did it all come together?
From day one, I wanted readers to not only connect with the recipes but to be transported to another time. To feel as though they had stepped back into the milkbar of their childhood memories. If you have the right designer and photographic team they'll interpret your desires – and make them even better. And yes, we had a lot of fun and there were some
very
silly blooper shots.
Milkbar Memories by Jane Lawson (Murdoch Books, RRP $39.99) is available now.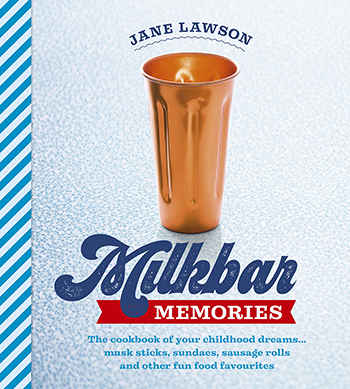 HIPPY TRIPPY VEGIE BURGER
Makes 6

Back when I was in my teens, the only people who ate vegie burgers were hippy surfers with dreadlocked hair and pernmanent tans who drove Kombi vans. While a choice in vego offerings was rather slim, there was this one place in Sydney's northern beaches where even the local carnivores were throwing down the vegie burgers like they were manna from heaven. Warning: flashback-inspired recipe.
Olive oil, for shallow-frying
6 burger buns, or other flattish buns
Satay sauce (below), for drizzling
Patties

185 g (6½ oz/1 cup) cooked green lentils
125 g (4½ oz) firm tofu

500 g (1 lb 2 oz) jap or kent pumpkin, peeled, roasted and mashed

185 g (6½ oz/1 cup) cooked brown rice

3 spring onions (scallions), chopped

2 garlic cloves, chopped

1½ teaspoons finely grated fresh ginger

½ teaspoon finely grated lemon zest

2 teaspoons curry powder
Put all the patty ingredients in a food processor and blend to combine well. Season well with sea salt and freshly ground black pepper, then chill for 1 hour.
To make the salad, use a sharp knife or a potato peeler to slice the cucumbers into ribbons 2 mm (¹⁄₁₆ inch) thick. Combine the vinegar, salt and sugar in a non-metallic bowl and add the cucumber ribbons and onion slices. Set aside for about 30 minutes, or until softened and limp. Drain, then squeeze out the excess liquid. Cover and chill until required; when ready to serve, add the coriander and mint leaves and combine well.
When you're ready to cook, heat 1.5 cm (⁵⁄₈ inch) of oil in a large non-stick frying pan over medium–high heat. When the oil is hot, drop six lots of the pumpkin and lentil mixture, each about 160 g (5¾ oz/²⁄₃ cup), into the pan and smooth out to a 1.5 cm (⁵⁄₈ inch) thickness. Cook for 2–3 minutes on each side, or until golden and hot all the way through. Drain on paper towel.
Meanwhile, toast your burger buns and warm your satay sauce.
To serve, spread a little satay sauce over the bun bases. Top each with a vegie patty, then drizzle with more satay sauce. Top with a handful of the salad, then the burger lids. Chase it all down with a wheatgrass shot, a green smoothie, or the latest health-kick juice that tastes of grass… or not.
SATAY SAUCE
Makes 1½ cups
1½ tablespoons peanut oil
1 small red onion, finely chopped
2 garlic cloves, crushed
1 teaspoon grated fresh ginger
2 teaspoons ground cumin
½ teaspoon ground coriander
½ teaspoon ground cinnamon
2 tablespoons finely chopped fresh coriander root
1 lemongrass stem, white part only, bruised
125 g (4½ oz/½ cup) chopped tinned tomatoes
2 tablespoons Chilli sauce (page 228) or ready-made chilli sauce
400 ml (14 fl oz) tin coconut cream
140 g (5 oz/½ cup) Peanut butter (page 221) or ready-made peanut butter
1 tablespoon brown sugar
3 teaspoons lime juice
2 teaspoons fish sauce
Heat the peanut oil in a large saucepan over medium–high heat. Add the onion and sauté for 10 minutes, or until golden. Add the garlic, ginger and ground spices and stir until fragrant.
Add the coriander root, lemongrass stem, tomatoes, chilli sauce and coconut cream and bring to the boil. Reduce the heat to a simmer and cook for 40 minutes.
Remove the lemongrass, then stir in the peanut butter and sugar. Cook for a further 10 minutes, stirring regularly to stop the mixture sticking. Stir in the lime juice and fish sauce and season to taste with sea salt.
Pour the hot sauce into a sterilised 375 ml (13 fl oz/1½ cup) glass jar or bottle. Screw the lid on tight and turn upside down until completely cool. Store in the fridge and use within 2 weeks. You can also freeze half if you don't think you will use all the sauce within that time.