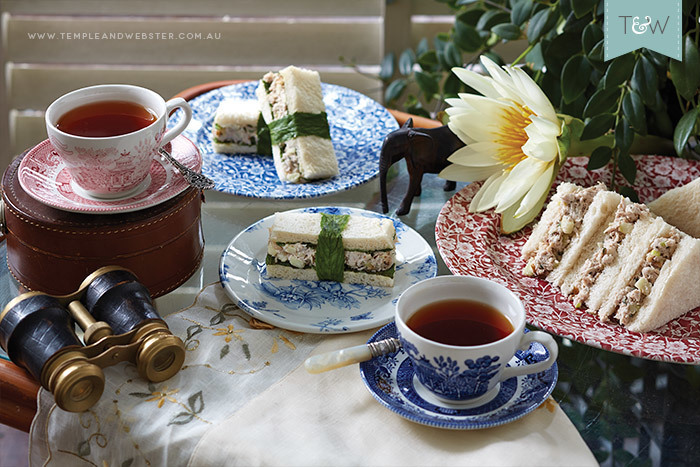 Food stylist, Jono Fleming, has reinvented an old lunch box favourite and dressed it up - pretty as a picture - for the latest Dish of the Day. The perfect compliment to Vintage by Churchill plates and tea wear, available in today's sale event.
Let's be frank: a chicken sandwich is probably not considered the culinary holy grail. We're not trying to pass it off as something else – we know it is what it is. But that doesn't mean the ol' chicken sanga classic can't get a makeover and a bit of a pep up every now and then. Let's pop the "extra" with the "ordinary" and see what happens. In this case, we've decided to don a string or two of pearls and head off for a bit of a high tea, chicken sanga in tow. For those who aspire for greatness in simplicity, this is as good a place as any to start.
Worthy of a space on your plate beside dainty fruit tarts, scones with clotted cream and the odd exotic flavoured macaroon, this little finger sandwich is guaranteed to beat your school lunch box staple on freshness, flavour and, well - just about everything.
So what takes this humble chicken and bread combo from backyard sanga to high tea delicacy? The secret is to create a mixture of textures and flavours, much like the pulled pork slider that's been reliving its glory days in recent years. Shredding the chicken breast can take extra time but it really packs a punch when it comes to the filling.
The beautiful tea settings from
Vintage by Churchill
- with their intricate patterns and traditional porcelain - seem made for pairing with crust-less, soft white finger sandwiches. But this chicken filling is perfect for any occasion: just throw it on a crusty white loaf for a picnic or serve it Bruschetta-style at a dinner party for a canapé or entrée. Dress it up or dress it down, this simple chicken sandwich will have people begging for more!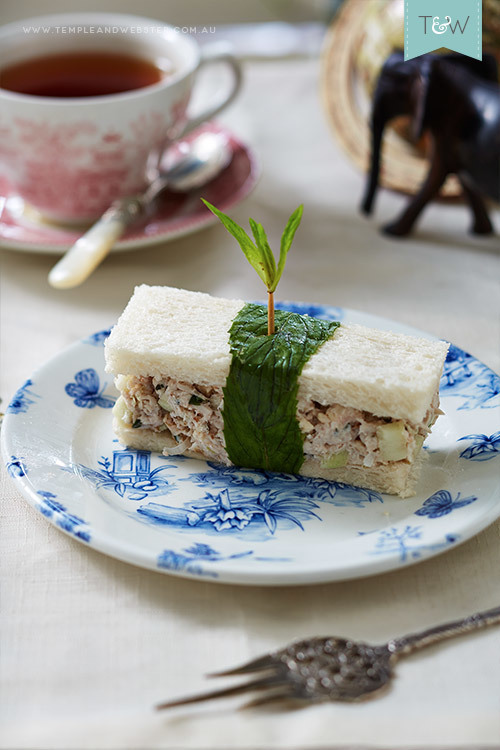 Ingredients (serves 6-8):
2 chicken breasts
4 spring onions, finely chopped
3⁄4 cup of walnuts
1 green apple, diced
handful of mint, finely chopped
3 tablespoons of mayonnaise
fresh white bread, sliced, crusts removed
Method:
In a pot of boiling water, poach the chicken breasts until fully cooked (you can chop them in half if they're too big). Once they're done, set them aside to cool.
In a food processor, whiz up the walnuts for a few seconds. The aim is not to crush them - you still want some crunch and texture. A great alternative to help keep the texture uneven is to place them between some paper towel and give them a roll and whack with a rolling pin.
Chop up your spring onions, mint, and apples and mix in with the mayonnaise in a big bowl.
Once the chicken has cooled, shred it. Do this using your index finger and thumb, and actually pinch the chicken pieces to give it a finer texture. If you prefer, you can very finely chop the chicken, but I find the pinching technique gives it a better consistency in the mixture.
Add the shredded chicken to the other filling ingredients and, using your hands, mix till combined. If you want more mayonnaise feel free to add another tablespoon.
Spoon the mixture onto some nice white bread and there you have it, the "fancy" chicken sandwich.
Shop the Vintage by Churchill sale now.