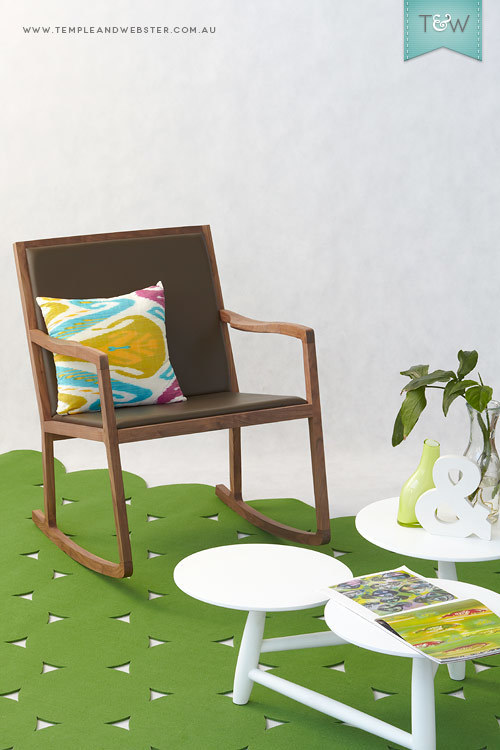 Design aficionado & writer David Harrison profiles Sean Dix, internationally-renowned designer of the tripod coffee table and rocking chair (above) as well as several other pieces in our Design Originals sale event.
Sean Dix is a very well travelled man. Born in Kansas City in 1967, he was introduced to a range of new cultures early on in his life when he travelled extensively throughout the South Pacific
and Southeast Asia, with his father, a Peace Corps diplomat.
After several years living in Fiji, the Philippines, and the tiny island of Saipan, he returned to the United States and began studying fine woodworking in
San Diego before taking up interior architecture and
sculpture as part of a Bachelor of Fine Arts degree at the famous Art Institute of Chicago.
Sean's thirst for a fully rounded understanding of art, design and construction didn't stop there. After a short stay in Dorset in the UK in 1994 to further his study of traditional furniture making, Dix moved to the Netherlands and completed an Industrial Design degree at Rietveld Academy in Amsterdam, followed by a Masters at the equally prestigious Domus Academy in Milan.
Dix continued to live in Milan working on projects for some highly influential design leaders such as James Irvine, Tom Dixon and Sottsass
 Associates, and ultimately opened his own studio in 2000. His broad-ranging practice now includes work for companies like Italian lighting specialist Artemide and designing interiors for prestige fashion labels such as Moschino. Dix's varied educational experience has made him a sought after lecturer and he has taught at both of Milan's key design universities; the Politecnico di Milano and Domus Academy,
 along with Beckmans College of Design in Stockholm and his old school, the Art Institute of Chicago.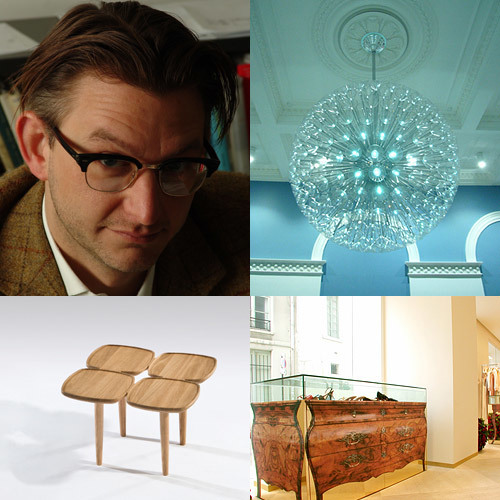 From top left, clockwise: Sean Dix, Dandelion chandelier for Artemide, trompe l'oeil commode in the Moschino flagship store in Paris, the clean lines of the Petal table.
After fifteen years living and working in Milan - widely recognized as the centre of world design - Dix made the move to Hong Kong, a city that Dix believes is the perfect place to embrace the growth of design awareness in Asia. His studio has maintained its impressive client base of luxury brands such as Moschino,
Harrods and Byblos and has now grown to include fashion and restaurant chains from China and Russia. The work of the studio now spans everything from retail concepts, creative direction, interior architecture and product design. Despite his rapidly developing practice, Dix still has a profound love for designing individual furniture pieces and it's his ability to effortlessly distill broad ranging influences from Asia, Italy and America that is most impressive.
Much of his furniture has been influenced by classic mid century Scandinavian styles with an emphasis on simple, elegant forms as seen in his
Dowel
series of chairs and sofas and
Velodrome
mirror. Traces of the influence of design greats like Charles Eames and Robin Day come through in his use of moulded plywood components. In response to commissions for bars and restaurants in Hong Kong and mainland China, Dix has also recently developed a number of pieces that reflect a renewed interest in industrial furniture. His
Sprint
and
Yardbird
chairs have a strong factory feel but are softened by the judicious use of timber making them perfectly at home in a more residential environment.
Image credits: Top image photographed by Denise Braki, styled by Jessica Bellef. Lower images via www.seandix.com
Explore Sean Dix's contemporary furniture in our Design Originals sale event now.