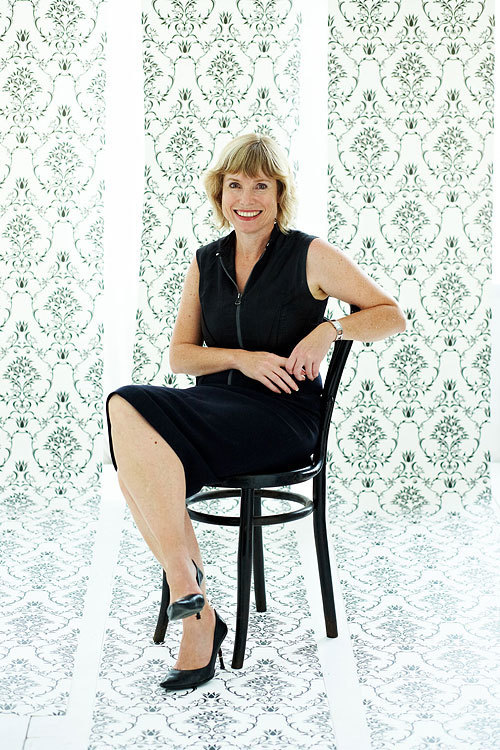 Wallpaper is most definitely back. After a few years in the decorating wilderness, the new crop of contemporary designs reflects the new interest in colour and pattern, whether in small or large doses. Lynne Testoni (above) established Moore & Moore in 2010, after many years working in magazines including Belle and Vogue Entertaining & Travel. "I have always had a passion for design and decorating," she says, "and I just fell in love with the way wallpaper changes a room. I find it such an inspiring medium!"
We love that these wallpapers have a distinctly Australian flavour. Lynne explains: "I worked with an Australian artist, KT Doyle, and together we created something that uses classic patterns, but with Australian touches. For instance, damask is a very popular design in traditional papers, but we created it with flannel flowers, an Australian native." The cascading gum leaves are another home grown design, in subtle colours. "Australians also tend to go with softer colours and more neutrals," says Lynne," so we created colourways that reflected that."
Lynne and KT were also very particular about the quality of the paper, which is made with an Australian-made paper base created especially for Moore & Moore by the last remaining paper company in Australia. It's all FSC-accredited paper and the inks are VOC free. "I spent about a year working on all the technical aspects, such as the paper and the inks. It sounds boring, but it wasn't!" says Lynne. "I found it inspiring to find tradespeople - printers, paper companies, plate-makers - in Australia who were committed to the same levels of excellence as KT and myself."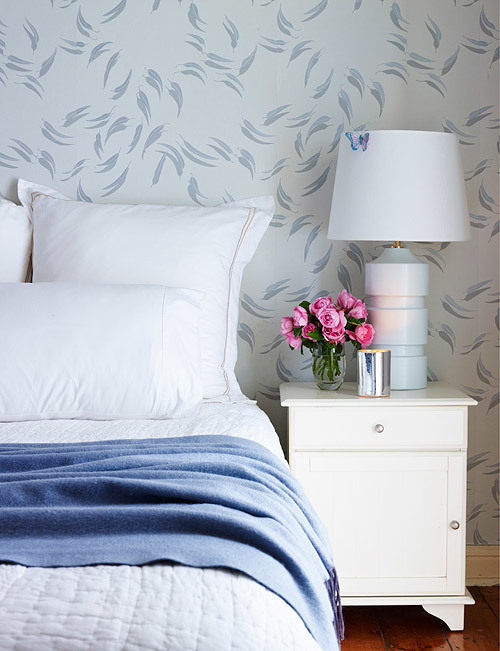 Lynne advises having a professional hang the paper, and is happy to recommend tradespeople for most states of Australia (contact her
here
for details). The specification sheets and instructions can also be found on the
Moore & Moore
website.
We asked Lynne for some ideas on decorating with wallpaper:


Be brave and paper a whole room! Maybe not a strong colour, but a subtle shade is wonderful. My own bedroom (see above) is all papered in our Silver & Grey Gum leaves design, and it is such a soothing space.




Feature walls are very popular - a solid wall in a dining room works particularly well. Try a strong and dramatic paper for feature walls.




Try wallpaper as a backing behind a glass splashback in a kitchen. It's a fabulous way to add personality and colour to a neutral palette and it's also easy to update it every year or two for a refresh.




For something different, we have a bookcase in our guest bedroom (see below) with the backing papered in the Pink Coral, complemented with a drum lampshade in the same paper. I also have a standard lamp with a shade in wallpaper.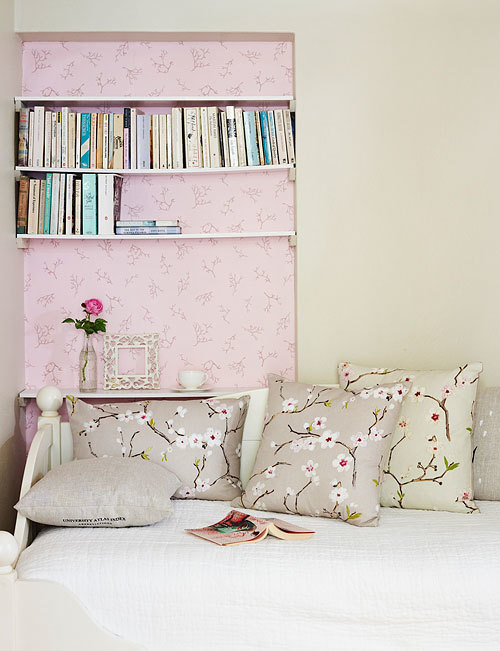 Would you like to try wallpaper in your home? Visit the Moore & Moore sale event now.