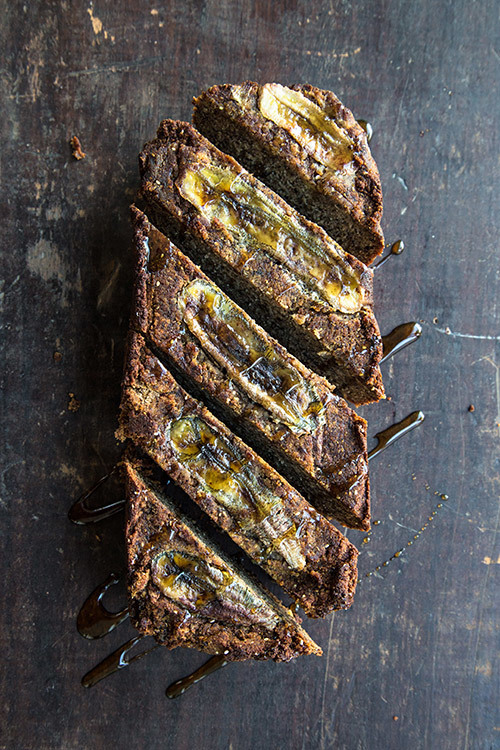 Taline Gabrielian says food has always played a leading role in her life, and she is passionate about healthy and nutritious food for herself and her family. Her magic is creating raw and baked sweet treats that are vegan and free of gluten and refined sugar, and she has developed a huge Instagram following (@talinegabriel) hungry for inspiration. You can try her treats to her family's Sydney cafes (Dose in Willougby and Ritual in Northbridge) or download her new mobile app full of recipes at her Hippie Lane website. Here she shares a taste of her banana and maple bread.
We all love a piece of freshly baked banana bread, especially one that's sugar, gluten and wheat free. Made with a combination of nuts, seeds, fruit and gluten free millet, in our home the banana and maple bread is usually all eaten up within a day or two. It's a perfect accompaniment to your tea or coffee, or perfect on its own for a morning or afternoon snack.
Ingredients (serves 8)
1/4 cup (40g) + 2 tbsp flaxseeds, ground*
3/4 cup (180ml) water
2 cups (220g) almond meal
1/2 cup (40g) desiccated coconut
1/2 cup (50g) millet flakes
1 tsp cinnamon powder
1 tsp vanilla powder
1/8 tsp Himalayan salt
2 tsp bi carb soda
1/4 cup (60ml) coconut oil
1/2 cup (120ml) maple syrup
2 ripe bananas, mashed
1 extra banana, sliced
Preparation
Preheat oven at 160C/310F.
Combine ground flax seeds with water and place in the fridge for 10-15 minutes. Your mixture needs to gel together and resemble an egg-white consistency.
In a large bowl, combine the dry ingredients (almond meal, coconut, millet, cinnamon, vanilla, salt and bicarb soda).
Mash the bananas with a fork in a small bowl and add coconut oil and maple syrup.
Mix wet ingredients with dry ingredients and pour into a loaf tin lined with baking paper. Top with sliced banana and bake for 35-45 minutes.
Store in an airtight container for 2-3 days.
*For best results, use a coffee grinder to grind flaxseeds. Freshly ground seeds produce better results compared to pre-ground flax meal.
Find out more and download the Hippie Lane app at www.hippielane.com.au or follow Taline on Instagram @talinegabriel